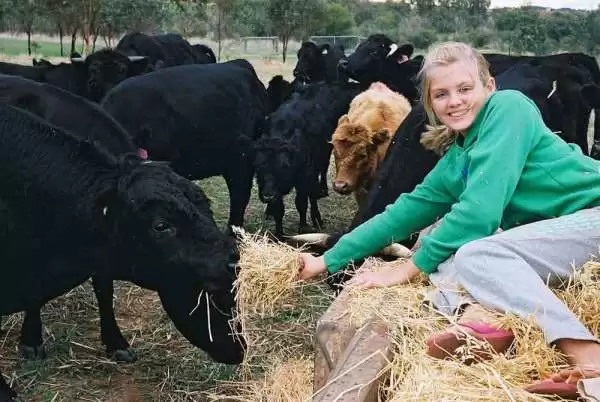 Caption: Image: CC BY 2.0--Spencers Brook Farm
Celiac.com 12/23/2019 - Over the years, there's been some debate among celiac sufferers about meat. Specifically, is beef from conventionally-raised, grain-finished cattle gluten-free and safe to eat? It seems intuitive that cattle fed with grain might somehow contain gluten in their meat.

Many celiac sufferers claim to be sensitive to such beef, while others, either unsure, or worried about the possibility of contamination avoid eating conventional beef. These concerns lead many celiac sufferers to specifically seek out grass-fed beef, which is naturally gluten-free, but also typically more expensive than grain-fed beef.

Since people with celiac disease and non-celiac gluten sensitivity need to avoid gluten, it's crucial for them to know whether their food might contain gluten.

The underlying opinion of most experts, citing the basic principles of ruminant digestion, has been that beef is likely gluten-free. However, since the question about the gluten-free status of conventionally-raised, grain-finished beef hadn't been answered scientifically, there was no clear consensus, and no way to answer the question definitively. 

To get a clear answer, a team of researchers conducted a study and gluten analysis in beef samples collected using a rigorous, nationally representative sampling protocol. The research team included Shalene H. McNeill, Amy M. Cifelli, Janet M. Roseland, Keith E. Belk, Dale R. Woerner, Kerri B. Gehring, Jeffrey W. Savell, J. Chance Brooks, and Leslie D. Thompson.

They are variously affiliated with the National Cattlemen's Beef Association in Centennial, CO 80112, USA; the Nutrient Data Laboratory, United States Department of Agriculture/Agricultural Research Service, Beltsville, MD 20705, USA; the Department of Animal Sciences, Colorado State University, Fort Collins, CO 80523, USA; the Department of Animal Science, Texas A&M University, College Station, TX 77843, USA; and the Department of Animal and Food Sciences, Texas Tech University, Lubbock, TX 79415, USA.

Their study confirms that grain-finished beef is naturally gluten-free, and thus safe for consumption by people with celiac disease and gluten-intolerance.

So, if you were one of those people with celiac disease who has been avoiding grain-fed beef due to potential health concerns, this study offers strong evidence that the final product is gluten-free, and safe to eat. 

Read more in Nutrients. 2017 Sep; 9(9): 936.