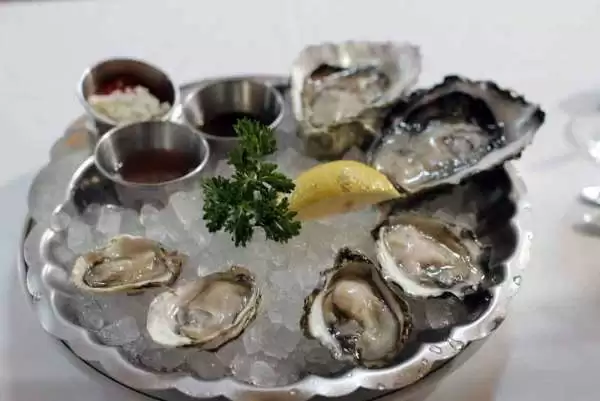 Caption: Oysters on a plate. Image: CC BY-ND 2.0--djromanj
Celiac.com 07/29/2020 - Vitamin and micronutrient deficiencies are common in people with both treated and untreated celiac disease. Fortifying processed foods with vitamins and micronutrients is common method for enhancing public health.
In the latest iteration of that practice, researchers Dr David Aldridge and PhD student David Willer, from Cambridge University and UK company BioBullets, have figured out a way to deliver fortified levels of vitamins in bivalve shellfish such as oysters, clams and mussels by using new micro-encapsulation technology. 
---
Celiac.com Sponsor (A12):


---
---
Celiac.com Sponsor (A12-m):


---
The resulting shellfish offer a way to get high levels of vitamins into people with vitamin deficiencies. The results offer promise for people with chronic vitamin deficiencies, including those with celiac and other diseases. The team is now working with major seafood manufacturers to further test and optimize the efficacy of their "Bio Bullets" micro-encapsulation process.

Shellfish fed Vitamin A and D fortified microcapsules for eight hours while being held in cleansing tanks after harvest, showed the most promise.

Aldrige and Willer found that fortified oysters provide about 100 times more Vitamin A, and over 150 times more Vitamin D, than natural oysters, and far more than Salmon, a good natural source for these nutrients. In fact, a serving of just two supercharged shellfish a day met the U.S. recommended daily allowance for both vitamins A and D. The shellfish are also environmentally friendly, and highly sustainable, with a lower energy demand than animal meat, fish, or many plant crops such as wheat, soya, and rice.

Fortifying shellfish with vitamins offers a "cheap and effective way to get micronutrients into a sustainable and delicious source of protein. Targeted use of this technology in regions worst affected by nutrient deficiencies...could help improve the health of millions," says Willer.

Obviously, some people cannot eat shellfish, but the vast majority of people can, including people with celiac disease. For people with celiac disease who face challenges with vitamin and micronutrient deficiency, fortified shellfish could offer a tasty, easy way to load up on essential vitamins, which will likely improve overall health and wellbeing. This technology could be a gamer changer for both celiacs, and for other people across the globe who are suffering from vitamin and micronutrient deficiencies.

Read more in Newfoodmagazine.com