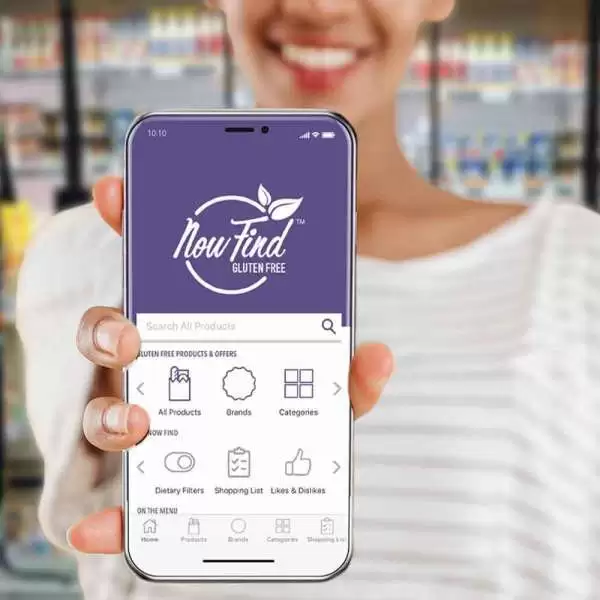 Celiac.com 11/13/2020 - Whether you're looking for gluten-free groceries, baked goods, take-out or dine-in, finding gluten-free food near you is easier than ever. Best of all, there's an app for that, literally. In fact, there are several. 
This list of resources will give you the best way to find gluten-free food near you, and to help you to better navigate your gluten-free world. From Google searches, to apps for gluten-free restaurants, groceries, or even emergency rooms and celiac disease and food allergy resources, this is a list you'll want to keep handy.
---
Celiac.com Sponsor (A12):


---
---
Celiac.com Sponsor (A12-m):


---
Search Google for Gluten-Free Food Near Me
Never underestimate the power of a simple Google search for "gluten-free food near me." Make sure your geo-location is turned on, and be more specific as needed. These days, with geo-targeting Google searches can give you a great deal of information on the fly.

Gluten-Free Restaurant, Fast Food and Grocery Apps
One of the best, easiest ways to find gluten-free food near you is to use a gluten-free restaurant or fast food app. If you need to find gluten-free food at the grocery store, there's also an app, or several, for that. Some apps are free, others require a purchase beyond any trial period. 
Gluten-Free Restaurant and Fast Food Apps Include:
AllergyEats Mobile App
The popular Allergy Eats website is available as a free app for iOS or Android smartphones. The AllergyEats mobile app allows anyone with a food sensitivity or food allergy to use a "find near me" search for restaurants and returns a list ranked by peer-based ratings that show how well restaurants accommodate the needs of guests with food-allergies and food-intolerances. 
Find Me Gluten-Free
Find Me Gluten-Free is a free app for both iPhone and Android that allows millions of gluten-free eaters to rate businesses, check reviews, and see gluten-free menus from local and chain restaurants. Use the app to search based on current location to search, or input any town or city and get local information. Available for iPhone and Android.
Now Find Gluten Free
One thing about the app that was immediately noticeable was its simple, user-friendly interface. From the home page one can browse "All Products," or browse by "Brands" or "Categories," and there are even "Fresh Goods" and "Coupons" areas so you can quickly find fresh items and get great deals on many items...read the rest of Celiac.com's review.
Gluten-Free Restaurant Cards
For anyone with celiac disease or gluten intolerance who plans on traveling abroad, this free iPhone and iPad app includes images of restaurant cards in more than forty languages. Compiled with information from CeliacTravel.com, Gluten-Free Restaurant Travel Cards for celiacs can be shown to a server, chef, or manager to help ensure a safe gluten-free meal. It's easy to use and handy to have when traveling abroad.
iEatOut Gluten & Allergen Free
The iEatOut Gluten & Allergy Free app gluten-free from Allergy Free Passport allows users to select different allergens (dairy, eggs, fish, shellfish, peanuts, soy, tree nuts or gluten) then look through ingredient lists from various sample ethnic and international restaurant menus tohelp find suitable options.
iEatOut Gluten & Allergen Free does not include actual restaurant menus with allergen information. That means you still need to talk to the chef or the manager to double-check ingredients and to make sure the restaurant can serve a gluten-free meal. iEatOut Gluten & Allergen Free, which sells for $2.99, covers Chinese, French, Indian, Italian, Mexican, Steak & Seafood and Thai restaurants.
iCanEat Gluten-Free Fast Food
iCanEat Gluten-Free Fast Food is another app from Allergy Free Passport. It lists gluten-free items from 45 major fast-food chains in the U.S., including larger chains like McDonald's and Domino's and also smaller chains such as Five Guys and Corner Bakery Cafe. iCanEat Gluten-Free Fast Food allows users to choose multiple major allergens to exclude in addition to wheat and gluten. The app is $2.99 and is available for iPhone and iPad.
Gluten-Free Grocery Apps Include:
ContentChecked
ContentChecked makes a number of mobile apps that help people avoid certain allergens or ingredients. The company's original ContentChecked app scans product barcodes for any allergens or ingredients the user wants to avoid. ContentChecked also makes SugarChecked, which scans for added sugar, artificial sweeteners, and sugar alcohol, and MigraineChecked, which looks for ingredients, additives and chemical compounds known to trigger migraines. The apps are available for iPhone and Android devices. ContentChecked costs $2.99.
Cook It Allergy Free App
Cook It Allergy Free a popular tool for busy moms and home cooks. The app allows users to access 100s of gluten-free recipes which can be personalized to meet your gluten-free needs. With this app, you can swap out ingredients that contain allergens for much safer substitutes. Currently available only for the iPhone at $4.99.
Eat! Gluten Free
The Eat! Gluten Free app was developed by the Celiac Disease Foundation. You can check for brands and stores that sell gluten-free products and use filters to search for particular items. You'll also find recipes and other cooking and preparation tips. The app is available for both Android and iOS.
Fooducate
Fooducate allows users to use their smartphones as scanning devices for checking product barcodes. Consumers can get instant information on whether their product contains gluten and other allergens such as lactose, soy, fish, peanuts, tree nuts, shellfish, milk, and eggs. Moreover, it comes equipped with a "One Click" option that can be used to contact the manufacturer directly for extra information about a particular product. Available for both Android and Apple for just $4.99 a month.
Gluten Free Scanner
Gluten Free Scanner allows users to scan the barcodes of over 500,000 different products in the grocery store and see if they are gluten-free or not. The information is based on ingredients, not on manufacturers' gluten-free labeling or disclosure of potential gluten cross-contamination risks. Gluten Free Scanner is available for iOS devices only. Users can try a free version before purchasing the full version for $3.99. 
MyFoodFacts
MyFoodFacts is another app that allows users to scan products' barcodes to check for allergens—12 different potential allergens in all. You enter your family's list of allergens into the app, and once it scans a bar code, it provides you with an easy-to-read list of ingredients (in a large font, unlike most ingredients lists), plus pop-up allergy warnings. The app also can tell you whether products include a particular ingredient. MyFoodFacts is available for iPhone and costs $1.19.
Is That Gluten Free?
Is That Gluten Free? delivers verified gluten free product information at your fingertips. App allows users to search over 36,000 manufacturer verified gluten free products from over 1,500 brands. Searches by category, brand, or product name, with filters to help identify safe, unsafe, and potentially unsafe ingredients. No internet connection required. One-touch manufacturer phone links to more detailed information. Pricing: $7.99 (offers in-app purchases)
Shopwell
Use your smartphone to snap photos of a food barcode and then find out how it aligns with your personalized profile set up in the app. Those who eat a gluten-free diet can find out if a particular food contains gluten and also get recommendations regarding better choices. The Shopwell app is available for iOS and Android.
Sift
Sift is a free, easy-to-use, app that lets you scan the barcode of any food product with your phone and get instant information from a database of over 400,000 products. Sift translates the ingredients into simple terms and can flag ingredients that pose health risks. Sift can be used by those on a gluten-free diet, but also by those following other types of diets or simply setting food or nutrition goals. The app is available on iOS and Android.
Gluten-Free Celiac Disease and Food Allergy Resources and Apps Include:
Celiac Disease Diet Tips & Gluten Free Foods Help
This free Android app provides general information about celiac disease, gluten sensitivity, and wheat allergy along with food lists and common foods that contain gluten. You can also choose to contact a dietitian by tapping a contact button within the app. In-app purchases require additional fees ranging from $2.49 to $22.99 per item.
Track Celiac Triggers and Symptoms
Whether you eat out or at home, mySymptoms Food Diary helps people with food allergies or sensitivities to identify triggers by tracking what they eat, along with any symptoms, in a diary format. Currently available for iOS devices, but soon to be available for Android.
EMNet FindER
EMNet FindER is a free app developed by Massachusetts General Hospital that allows users to find the closest emergency room from a comprehensive nationwide list.
The app shows map locations of nearby hospitals, with a footer that reads: "The closest ER is __ miles away. Tap here for directions." The app also provides up to date address and phone numbers. Potentially helpful for anyone traveling with food allergies. EMNet FindER is available for iPhone.