Flour-Less Birthday Chocolate Cupcakes (Gluten-Free)
Flour-Less Birthday Chocolate Cupcakes (Gluten-Free)
For a fun spin on these cupcakes - I made them with almond butter and pistachios on my blog.
Gluten-Free, Grain-Free and Dairy-Free.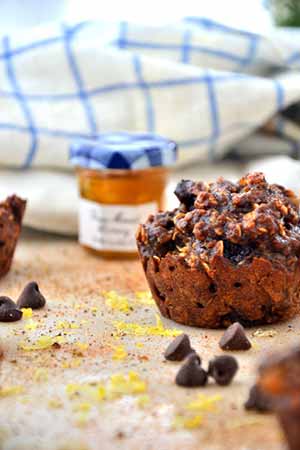 Ingredients:
10 large eggs
3 oz. baking chocolate such as Green & Black
½ cup dark chocolate chips
¼ tsp. sea salt
2/3 cup sugar
2 cups cashews, finely chopped
1 ½ tsp. almond extract
½ cup sugar
¼ cup cashew butter, for serving
Instructions:
Preheat the oven to 350 degrees F. Prepare cupcake tins with nonstick baking spray.
Separate eggs into large small bowls; one for egg yolks and one for egg whites.
In a small saucepan, melt baking chocolate and dark chocolate.
Meanwhile, beat the egg yolks on medium-high speed until and thick, approximately 7 minutes. Reduce speed to low; add sea salt and 2/3 cup granulated sugar until mixture becomes thick and creamy, approximately 8 minutes. Add melted chocolate and cashews; continue to beat with mixer on low speed.
Add almond extract to the large bowl of egg whites. Beat until foamy, approximately 3 minutes. Add 1/4 cup sugar; beat on high speed until soft peaks form, approximately 5 minutes.
Fold egg whites into the chocolate mixture.
Divide the batter evenly among cupcake tins. Transfer to the oven; bake for 15-20 minutes or until a toothpick inserted in the center of each cupcake comes out clean.
Remove from oven; set aside to cool on baking racks.
Slice each cupcake in half. Serve warm with a spread of cashew butter for a healthy spin on sugary icing.
Celiac.com welcomes your comments below (registration is NOT required).

Get Email Alerts (More Info)
Article Options
Amie Valpone
Amie Valpone, HHC, AADP is a Manhattan based Personal Chef, Culinary Nutritionist, Professional Recipe Developer and Food Writer specializing in easy Gluten-Free and Dairy-Free recipes. Amie is the Editor-in-Chief of the gluten-free blog, The Healthy Apple. Amie shares her passion for and approach to "Clean Eating" by focusing on natural, whole foods and ingredients that are good for you and your body. Amie works with Whole Foods Market as their Gluten-Free Manhattan Cooking Instructor and is a Gluten-Free Industry Innovator when it comes to helping clients, the community, companies and client live a healthy and happy life. Visit her site at: thehealthyapple.com.
View all articles by Amie Valpone
In Celiac.com's Forum Now:
From the Chicago Celiac Disease Center which is one of the premier celiac disease research & treatment centers in the world: Are you scheduled for a biopsy? Are you eating gluten? Any changes in your diet can affect the accuracy of your biopsy result...
My panel was the same as yours........all tests positive by large numbers so you can consider yourself a Celiac. Are you very symptomatic? I will add that I did not eat Whole Foods exclusively when healing. I needed to gain weight badly so ate gluten-free bread and a few other things that ...
My allergist did suggest I cut out gluten right away, but I?ll call the GI tomorrow and discuss that. Thank you!
He only did 2 of the full panel & you are positive on one of them, the DGP IgG. It only takes one positive to move on to an endoscopy. Here's the full celiac serum panel: Anti-Gliadin (AGA) IgA Anti-Gliadin (AGA) IgG Anti-Endomysial (EMA) IgA Anti-Tissue Transglutaminase (tTG) Ig...
That's about the most definitive positive across the board that I've ever seen. You're way positive on every one. Keep eating gluten every single day until the endoscopy! You don't have to eat a ton, 1 or 2 slices of gluten bread per day will do it. Orrrrrrrrrrr you could take this time to pig ou...