Celiac Disease Associated with Asthma Risk
Celiac Disease Associated with Asthma Risk
Tina Turbin
Tina Turbin is a renowned Author and a Celiac and Gluten Free advocate. She researches and writes about the benefits of the Gluten-Free, Paleo-ish, Keto, and Lower Carb inclined diets while also supporting and promoting ethical companies she believes in. Tina's award-winning site, PaleOmazing, houses many of her multi-award-winning recipes and research articles. She founded GlutenFreeHelp.info, voted #2 .info site in the world in 2009 out of over 6.7 million other .info sites, turning it over to her celiac daughter Miranda Jade Turbin in 2012. Tina does 1 on 1 private consulting for a Customized-Diet and Lifestyle Change, The Home Kitchen Ingredient's Facelift and Restaurant Menu consulting. She is the CEO and Founder of TTAT, Inc. Founder of PaleOmazing.com, partner in two Los Angeles restaurants and co-owner of a café. Tina has released numerous award-winning eBooks, hundreds of articles, is a mother of three and also carries an additional title of award-winning children's author of Danny the Dragon Meets Jimmy.
View all articles by Tina Turbin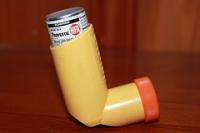 Photo: CC-Dottie Mae
Celiac.com 05/20/2011 - Over the years, researchers have been discovering more and more about celiac disease, an autoimmune disease which is caused by gluten, a protein found in wheat, barley, and rye. Studies have linked the disease to a variety of other medical conditions, such as irritable bowel syndrome, rheumatoid arthritis, and osteoporosis. Researchers have now found a connection between celiac disease and asthma.

Asthma is chronic lung disease that causes the passages of the lungs to become inflamed and narrowed, resulting in wheezing, shortness of breath, tightness in the chest area, and coughing. It often begins in childhood, and according to the U.S. Department of Health and Human services, more than 22 million people suffer from the condition. Many studies have linked asthma to airborne allergens, but doctors have begun to look into food culprits as well. One such study shows a connection to celiac disease, which isn't an allergy but rather an autoimmune response to gluten.

In a study published in the Journal of Allergy and Clinical Immunology, European researchers found that celiac individuals were 60 percent more likely to develop asthma than those without the condition. Celiac disease affects approximately one percent of the population and without treatment, which is a gluten-free diet, can cause a variety of physical and mental symptoms including chronic fatigue, headaches, malnutrition, chronic headaches, and stomach problems.

Dr. Jonas Ludvigsson of Orebro University Hospital and the Karolinska Institutet in Sweden and his colleagues compared more than 28,000 Swedish celiac patients to
One possible factor may be Vitamin D. According to Reuters Health, Dr. Ludvigsson said in an email, "Personally, I think the role of vitamin D deficiency should be stressed." Vitamin D has been demonstrated to be a factor in the development of tuberculosis and osteoporosis, both of which celiacs are more likely to develop. In celiac disease, gluten causes an autoimmune reaction that causes the immune system to attack the small intestine, specifically the
villi
, the finger-like structures that absorb the nutrients from food; thus celiac patients usually exhibit deficiencies in vitamins and minerals. If a celiac patient isn't getting enough vitamin D into their system, according to Dr. Ludvigsson, the risk for asthma disease may be increased.
According to Dr. Ludviggson, Swedish celiac patients adhere well to the gluten-free diet. The study didn't determine how closely the 28,000 subjects were sticking to their diets, but Ludviggson told Reuters health, "Generally dietary compliance is high in Sweden, so I actually believe that also patients with good adherence are at increased risk of asthma."
It is recommended that people who suspect they may have celiac disease or asthma should consult with a qualified medical practitioner for testing, diagnosis, and treatment.
Resources:

As always, Celiac.com welcomes your comments (see below).
Get Email Alerts (More Info)
Article Options