Gluten-Free Recipes: Snacks & Appetizers
Gluten-Free Recipes: Snacks & Appetizers
Gluten-Free Recipes: Snacks & Appetizers - Please submit your favorite gluten free snack or appetizer recipe here by registering as an author on our site. Your recipes will appear here and help thousands of other people with celiac disease.
Published 04/12/2011

Unrated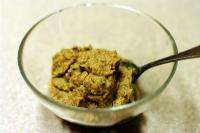 The finished spicy eggplant dip. Photo:
This lighter version of a typical baba ghanoush has a kick all its own from jalapeños. Serve with vegetables, gluten-free chips, or use as a sandwich spread.

Great, fresh year round fruit salad. Good compliment to with most dishes or alone as a dessert. Colorful too!
Published 06/23/2010
Rating:



Gluten-Free Nut Crackers (photo courtesy of s58y)
So often I hear people asking how to make their own healthy, gluten-free snacks. The following nut cracker recipe is easy, inexpensive, and yes it's also healthy. Feel free to substitute the nuts and seeds listed below for other nuts or seeds of your preference. I always like to soak my nuts before using them; soaked nuts are much easier to digest.
Ingredients: 2 Cups Flour (Replace with gluten-free flour blend) 1 Teaspoon Salt ¼ Cup Bu
This recipe comes to us from Rose Menassas. Preheat oven to 300F degrees. Bring to a boil: 1/3 cup
This recipe comes to us from Paula Santos. 4 cups cooked mashed potatoes 1 can of tuna fish &f
This recipe comes to us from Judy Tolliver. The state of Minas Gerais is known throughout Brazi
This recipe comes to us from Teresa Wendt. 2 cups of Tapioca Flour 1 egg 1 tablespoons of oil
This recipe comes to us from Elysse Paige. 1 cup sour cream ½ teaspoon celery salt 1 c
This recipe comes to us from Elysse Paige. 1 can of artichoke hearts (9 oz.) 2 tablespoons but