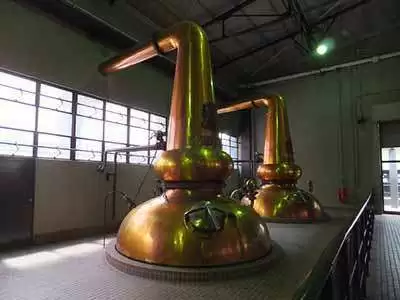 Caption: Photo shows Japan's Yamazaki distillery. Photo: CC--Toukou Sousui
Celiac.com 06/18/2015 - An Irish distillery has run afoul of regulatory authorities over labels that tout its gin and vodka as "gluten-free." The artisanal, Cork-based, St Patrick's Distillery claims it is a common misconception that all gin and vodkas were gluten-free.

The company claims that, since its products are made with gluten-free ingredients, its labels are accurately distinguishing its vodka and gin from other products made with wheat. However, after numerous complaints, the Food Safety Authority of Ireland plans to follow up on the distillery's claims.

The FSAI points out that all distilled beverages are gluten-free, calls the claims misleading, and says the company could be in breach of strict Irish food-labeling laws.

A spokesperson for th FSAI said: "Under the Food Information for Consumers Regulation, the food information must not mislead the consumer by suggesting that the food possess special characteristics when, in fact, all similar foods (in this case, vodka and gin) possess such characteristics."

Niamh O'Connor, who runs Cork Nutrition, said she that she was incredulous about the company's claims.

"It is an absolute indisputable fact that distilled spirits are gluten-free, even if gluten-containing grains are used as a raw ingredient," said O'Conner. "Therefore…all gin and vodka products are gluten-free so one cannot label their own product as "gluten-free."

Ireland's Coeliac Society, which supports people with the food intolerance, described the claims from St Patrick's Distillery as "unhelpful".

"Wine, spirits, and cider are gluten free," said the society's Gráinne Denning.

In addition to labeling their gin and vodka as "gluten-free," the company also refers to their new range of spirits as being lactose free. Of course, all distilled spirits are naturally dairy free and lactose free.

What do you think? Are such labels helpful, or misleading?

Share your thoughts below.