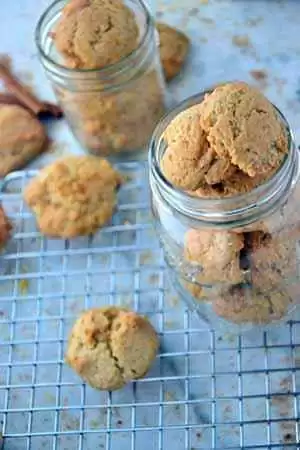 Caption: The finished gluten-free sugar cookies.
Here's my tasty Gluten-Free Sugar Cookie Recipe just in time for the holidays.
Gluten-Free, Dairy-Free and Vegan Sugar Cookies
---
Celiac.com Sponsor (A12):


---
---
Celiac.com Sponsor (A12-m):


---

Ingredients:
2 cups all purpose gluten free flour
1 tsp. baking soda
1/2 tsp. sea salt
1/2 tsp. cinnamon
1/4 tsp. nutmeg
1/2 cup Earth Balance Vegan Butter Sticks, softened
1 cup sugar or sugar substitute such as Stevia
Egg Substitute for 1 large egg
2 tsp. almond extract
1/4 cup almond milk
Instructions:
Preheat oven to 350 degrees F.
In a small bowl, combine flour, baking soda, sea salt, cinnamon and nutmeg. In a separate bowl, beat butter and sugar until creamy, then add egg substitute, almond extract and almond milk; mix well. Add flour mixture to the wet mixture; mix well.
Scoop dough into balls. Place 2 inches apart on a cookie sheet.
Bake for 12 minutes or until golden brown. Remove from oven; set aside to cool for 5 minutes before serving.