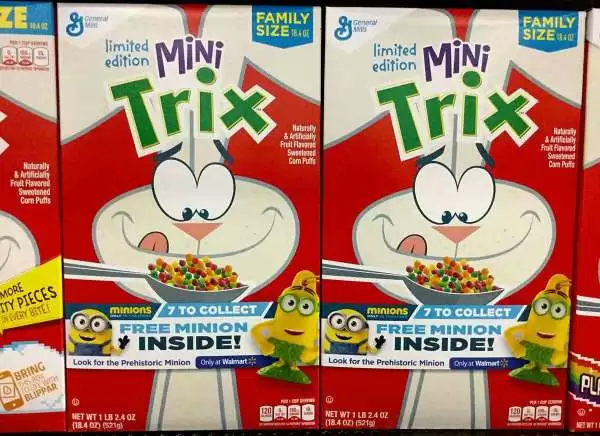 Caption: Image: CC BY 2.0--JeepersMedia
Celiac.com 01/08/2021 - We know Trix is for kids, but is Trix cereal gluten-free for celiac kids?
We get a lot of questions about which breakfast cereals are gluten-free, and we recently made up a list of nearly one hundred gluten-free breakfast cereals. 
---
Celiac.com Sponsor (A12):


---
---
Celiac.com Sponsor (A12-m):


---
We've also compiled a list of unsafe non-gluten-free breakfast cereals. But, the questions keep coming, especially about some of the most popular cereals that are not gluten-free.

The number of popular breakfast cereals that are not gluten-free is too long to count, but we get a lot of questions about Trix. Specifically, is Trix gluten-free and safe for people with celiac disease?

According to the General Mills Web site, Trix does not contain any gluten ingredients, however, they do not use the "gluten-free" claim on their label. They also do not include "wheat" as a possible allergen and say "Does Not Contain Any of the 8 Major Allergens":
Quote

(Regular Box) Ingredients: 

Whole Grain Corn, Sugar, Rice Flour, Corn Syrup, Canola Oil, Salt, Trisodium Phosphate, Natural And Artificial Flavor, Red 40, Yellow 6, Blue 1 And Other Color Added, Citric Acid, Malic Acid. Vitamins And Minerals: Calcium Carbonate, Tricalcium Phosphate, Vitamin C (Sodium Ascorbate), Iron And Zinc (Mineral Nutrients), A B Vitamin (Niacinamide), Vitamin B6 (Pyridoxine Hydrochloride), Vitamin B2 (Riboflavin), Vitamin B (Thiamin Mononitrate), Vitamin A (Palmitate), A B Vitamin (Folic Acid), Vitamin B12, Vitamin D3.
Quote

(Food Service Single Serving) Ingredients & Allergens

WHOLE GRAIN CORN, CORN MEAL, SUGAR, CORN SYRUP, CANOLA OIL, SALT, COLOR (VEGETABLE AND FRUIT JUICE, TURMERIC EXTRACT, ANNATTO EXTRACT), TRISODIUM PHOSPHATE, NATURAL FLAVOR, CITRIC ACID, MALIC ACID. VITAMINS AND MINERALS: CALCIUM CARBONATE, TRICALCIUM PHOSPHATE,IRON AND ZINC (MINERAL NUTRIENTS), VITAMIN C (SODIUM ASCORBATE), A B VITAMIN (NIACINAMIDE), VITAMIN B6 (PYRIDOXINE HYDROCHLORIDE),VITAMIN B1 (THIAMIN MONONITRATE), VITAMIN A (PALMITATE), VITAMIN B2 (RIBOFLAVIN), A B VITAMIN (FOLIC ACID), VITAMIN B12, VITAMIN D3.
So, Trix is naturally gluten-free, and doesn't include "wheat" as an allergen warning, so it may be suitable for some children (or adults) with celiac disease. However, Celiac.com recommends that people with celiac disease choose a cereal that does include "gluten-free" on its packaging because this means that the manufacturer is actively monitoring each batch for cross-contamination issues, and it appears that this may not be happening yet with Trix cereal.
Check the company website for more information on Trix and other General Mills products.
Source: generalmillscf.com, generalmills.com