Celiac.com 06/13/2013 - When I was a kid, my aunt used to make lemon bars that I remember thinking were the best things in the whole world at that time.
Any lemon bar I've eaten since then has been measured by the rather high bar of quality and memory, and many have failed that comparison. However, I recently learned how to make a gluten-free lemon bar that came pretty close.
---
Celiac.com Sponsor (A12):


---
---
Celiac.com Sponsor (A12-m):


---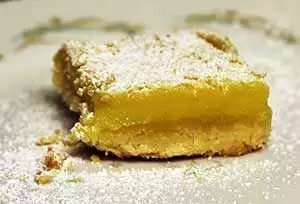 I think any good, light gluten-free flour would work for this recipe, which makes a delicious, sweet, tangy lemon bar.

The lavender flowers add a fresh, aromatic twist. You can easily skip them, if you prefer a more traditional lemon bar. The bars taste great either way.

Ingredients
Butter, for greasing dish
Gluten-free flour, for dusting dish

Bars:
1 stick (4 ounces) unsalted butter, at room temperature
1 cup all-purpose gluten-free flour
2 tablespoons finely chopped fresh lavender flowers
½ teaspoon salt
½ cup powdered sugar
¼ teaspoon lemon zest
3 tablespoons fresh lemon juice
¼ teaspoon pure vanilla extract
Glaze:
3-4 tablespoons fresh lemon juice
¼ cup powdered sugar
Directions:
Place an oven rack in the center of the oven. Preheat the oven to 325 degrees F. Butter and flour an 8 by 8-inch glass baking dish.
For the bars:
In a small bowl combine flour and salt. Set aside.
Using a stand mixer with a paddle attachment, beat 1 stick of butter and powdered sugar on high speed until light and fluffy, about 30 seconds.
Beat in the lemon juice, lemon zest, lavender flowers and vanilla. Reduce the speed to low and gradually add the flour mixture.
Using damp fingers, press the dough into the prepared pan. Bake for 30 minutes until golden. Cool for 30 minutes.
For the glaze:
In a medium bowl, whisk the lemon juice and powdered sugar together until smooth. Spoon the glaze over the cooled crust. Allow the glaze to harden, at room temperature, for at least 1 hour.
Using a metal spatula, remove the crust from the pan. Cut into 1 ½-inch square bars and arrange on a serving platter or store covered at room temperature.