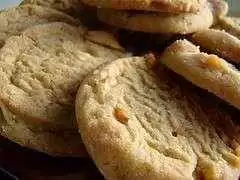 Delicious, easy, and really--peanut butter and chocolate--need I say much more!? Gluten-free (flourless) cookies that will literally melt in your mouth.
Ingredients:

1 pkg Vanilla Candiquik
1 pkg Chocolate Candiquik
2 ½ cups Peanut Butter
1 tsp Vanilla Extract
2 tsp Baking Soda
Two eggs
6 oz. flaked coconut, toasted (optional)
Directions:
Preheat your oven to 350F degrees!
Melt Vanilla Candiquik according to directions on the package
Add all the ingredients and mix well. Tip: place this mix in the fridge to cool (approx 30 min)…This is an important step.
On a cookie sheet, scoop 1/2"  -1" balls, tightly formed (smaller is usually better since they are gluten free), and bake for 10 minutes
Let cool on a sheet of wax paper.
Melt chocolate Candiquik and simply dip half, or however much of the cookie you want... in the Candiquik.
Set on the wax paper to dry and you're done!