Celiac.com 11/28/2013 - I have pledged my allegiance to delicious stir-fry dishes on many occasions, and this dish has me doing it again.
This quick, delicious stir-fry brings together juicy pork, green beans, green onions, sweet red peppers, ginger, garlic and other simple ingredients to deliver a sophisticated flavor.
---
Celiac.com Sponsor (A12):


---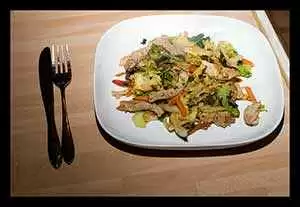 Ingredients:
1 pound pork loin, trimmed of excess fat
1 pound broccolini or Chinese broccoli, trimmed and cut crosswise into 2-inch pieces
1 red bell pepper, ribs and seeds removed, cut into thin strips
1 handful of green beens chopped into 1 in pieces
3 or 4 green onions, trimmed and cut crosswise into 2-inch pieces
2 tablespoons gluten-free soy sauce
1 tablespoon rice vinegar
1 teaspoon sugar
Kosher salt
3 teaspoons vegetable oil
2 cloves garlic, minced
2 tablespoons peeled fresh ginger, minced
¼ cup fresh cilantro, chopped
¼ teaspoon red-pepper flakes, as desired
Cooked white rice, for serving
Directions:
Put a pot of salted water on the stove to boil for the greens.
Cut pork into slim, bite-sized pieces about an inch long, and season with ½ teaspoon salt.
In a small bowl, mix soy sauce, vinegar, and sugar; set sauce aside.
Heat a teaspoon oil in a large skillet over medium-high.
Add half the ginger, pepper flakes, and pork. Cook, stirring, until pork is no longer pink. Transfer to a plate.
Add another teaspoon of oil to the pan, and cook the remaining ginger, pepper flakes, and pork; transfer to plate.
Cook green beans in a medium pot of boiling salted water until crisp, but tender, about 4 minutes. Drain well, and dry with paper towels.
Add remaining teaspoon oil to the skillet. Add beans, bell pepper, and 2 tablespoons water; cook over high heat, stirring often, until peppers are tender, about 2 minutes.
Add pork mixture and reserved sauce. Cook, stirring, until pork is coated, about 1 minute. Top with cilantro, as desired, and serve immediately, over rice.