Celiac.com 04/09/2015 - This easy delicious sauce blends butter, brandy, chives and parsley with Dijon mustard.
Simply brown pork shops in a pan, then top finished chops with warm sauce for a memorable entreé.
---
Celiac.com Sponsor (A12):


---
---
Celiac.com Sponsor (A12-m):


---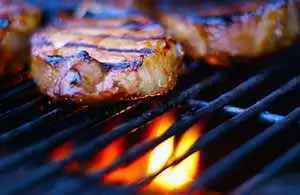 Ingredients:
4 large boneless pork chops, extra thick
½ cup chicken broth
2 tablespoons olive oil
3 tablespoons butter
3 tablespoons chopped chives
1 teaspoon fresh lime juice
3 tablespoons brandy
3 tablespoons chopped fresh Italian parsley
2½ tablespoons Dijon mustard
1 teaspoon sugar
1¼ teaspoon salt
1 teaspoon fresh coarse ground black pepper
Directions:
Heat oven to 350 degrees F.
Sprinkle pork chops with with salt and pepper.
Heat 1 tablespoon each oil and butter in large skillet.
Brown chops quickly over high heat on each side.
Remove skillet from heat.
Transfer browned chops to oven-safe dish and cook at 350 degrees F, until no longer pink in center—about 20 minutes or so.
Put the skillet back on the heat.
In the pork chop skillet, add chives, lime, brandy, parsley, sugar and mustard, and whisk constantly for 15 seconds.
Whisk in broth. Whisk in remaining butter and oil.
Cook, stirring until sauce is smooth.
Remove sauce from heat.
Plate the finished pork chops and pour sauce over each one.
Serve immediately. Add rice and salad for a great gluten-free meal.