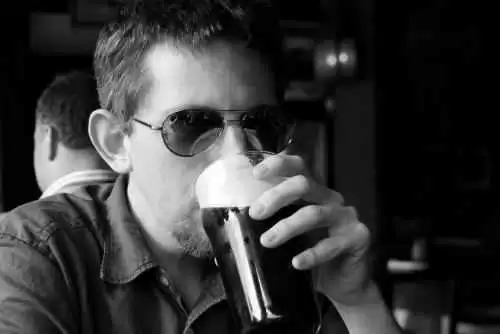 Caption: Ireland brews its first ever gluten-free stout. Photo: CC--IntangibleArts
Celiac.com 04/07/2017 - If watching all those pints of Guinness being downed on St. Patrick's Day left you wishing that someone, somewhere in Ireland, would brew a tasty gluten-free stout, your wish has come true.
The people at the 9 White Deer brewery have heard your whispered wishes and responded with Stag Saor. Ireland's first gluten-free stout, a beer that puts a fresh twist on the Emerald Isle's long stout-brewing tradition.
---
Celiac.com Sponsor (A12):


---
---
Celiac.com Sponsor (A12-m):


---
Now, a gluten-free stout was not always part of the plan. Less than a year after found the 9 White Deer microbrewery, co-founder, Don O'Leary was diagnosed with a gluten intolerance. Rather than view this development as a setback, however, O'Leary and his partners used it as fuel to drive their business.

Working with his partner, the former marine engineer, Gordon Lucey , O'Leary set about creating the company's first gluten-free brew. O'Leary says that developing Stag Saor "changed everything for the business." Their market research taught them that, while Ireland has a fairly high percentage of people with celiac disease, it has a relatively paltry number of gluten-free beers.

Saor launched in 2015 and received a bronze medal at the 2016 Blás na hEireann awards, winning against traditional beers in a blind taste test.

Offered a preview sip of the new stout, writer Kevin Kennedy, calls the beer "top quality... as good as if not better, than any bottled stout I've had in the past."

The 9 White Deer brewery draws its name from a 6th Century fable, in which angels told the famous Irish Saint, Gobnait, that she would establish an Abbey and a church on a site where she found 9 White Deer. The sight is just down the road from the brewery, which now employs eight people, in Ballyvourney, Co. Cork.

Source: Newstalk.com