Gingersnaps are one of my favorite holiday treats, and one of the treats that I had given up as part of my gluten-free diet.
Here's a recipe for delicious soft, chewy, gluten-free gingersnaps that will put a holiday smile on your face and have people begging for more.
---
Celiac.com Sponsor (A12):


---
---
Celiac.com Sponsor (A12-m):


---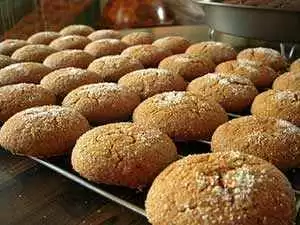 Ingredients:
¾ cup shortening
1½ cups brown sugar
2 eggs
⅓ cup molasses
⅓ cup white sugar
2 teaspoons apple cider vinegar
2¾ cups gluten-free flour mix
1 teaspoon xanthan gum
1 teaspoon baking soda
1 teaspoon ground ginger
1 teaspoon cinnamon
½ teaspoon ground cloves

Directions:
Preheat the oven to 350°. Mix the gluten-free flour, xanthan gum, and baking soda together in one bowl.

Cream the butter and sugar in another bowl. This works best with an electric mixer. If you are doing it by hand, make sure the butter is soft.

Add the eggs, then molasses (Plantation Barbados unsulphured molasses gets high marks, so I use that for this particular recipe), then apple cider vinegar to the creamed butter and sugar.

Add the spices, and slowly, stir in the combined dry ingredients until the mixture is just blended. The dough should be somewhat firm, so add more or less flour as needed. I usually bake a test cookie or two to get it just right.

Roll the dough into small balls (about one inch). Place them on a greased cookie sheet, and bake for 10 to 12 minutes, depending on your oven. Watch the first batch carefully, to judge how much time to give them.

Here's the recipe for my basic gluten-free flour:
Gluten-free flour mix:
1 part white rice flour
1 part tapioca starch
1 part cornstarch
I find it convenient to mix a large batch ahead of time, and then store it in an airtight container.