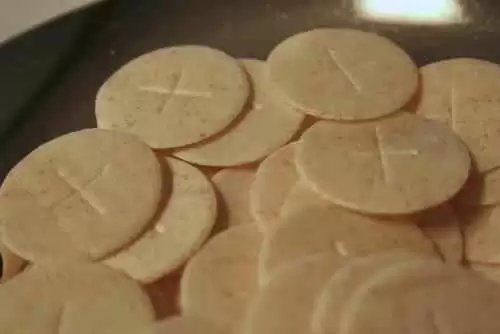 Caption: The Vatican has banned gluten-free bread for Catholic Communion. Photo: CC--Awareness Campaign.
Celiac.com 07/31/2017 - For a time, it looked like gluten-free Catholics might be able to take full communion with special gluten-free wafers.
But, gluten-free Catholics hoping to enjoy both the wine and the bread of a full communion had their hopes dashed this week, when the Church put the kibosh on gluten-free communion wafers.
---
Celiac.com Sponsor (A12):


---
---
Celiac.com Sponsor (A12-m):


---
The decision was announced in a letter to bishops by Cardinal Robert Sarah, prefect of the Congregation for Divine Worship and the Sacraments, and read, in part:

"The bread used in the celebration of the Most Holy Eucharistic Sacrifice must be unleavened, purely of wheat, and recently made so that there is no danger of decomposition...It follows therefore that bread made from another substance, even if it is grain, or if it is mixed with another substance different from wheat to such an extent that it would not commonly be considered wheat bread, does not constitute valid matter for confecting the Sacrifice and the Eucharistic Sacrament."

He has said the bread can be low-gluten, but the wheat must contain enough protein for it to be made without additives.

According to Roman Catholic doctrine, the bread and wine served at the Eucharist are converted into the body and blood of Christ through a process known as transubstantiation.

Gluten-free Catholics will still be able to take communion, as the church holds that simply taking the wine is sufficient to receive communion.

Still, the ruling, which must be followed by the 1.2 billion Catholics around the globe, is bound to disappoint numerous gluten-free members. Share your thoughts below.

Source: