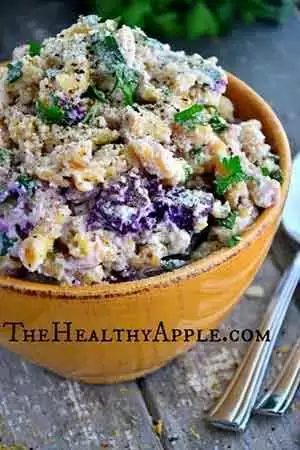 Caption: Photo: TheHealtyApple.com
This is the perfect dish to bring to a potluck lunch or dinner...everyone loves potato and pasta salad, and this one has a nice twist!
Serves 4
---
Celiac.com Sponsor (A12):


---
---
Celiac.com Sponsor (A12-m):


---

Ingredients:
2 lbs. large purple sweet potatoes
1 container GO Veggie! Vegan Plain Cream Cheese, room temperature
1 1/2 cups cooked gluten-free pasta
1/3 cup red onion, finely chopped
2 Tbsp. fresh lemon juice
2 Tbsp. finely chopped parsley
2 Tbsp. finely chopped fresh basil
1/4 tsp. sea salt
1/4 tsp. freshly ground pepper
3 scallions, finely chopped
2 Tbsp. extra-virgin olive oil
3 Tbsp. GO Veggie! Vegan Parmesan Cheese, plus more for serving
Directions:
    1.      Place potatoes into a large saucepan filled with cold salted water; bring to a simmer. Cook potatoes for 15 minutes or until tender; drain.
    2.      In a large bowl, mash potatoes using a fork.  Add remaining ingredients; mix well to combine. Serve.