Blondie Fruit Bars (Gluten-Free and Dairy-Free)
Blondie Fruit Bars (Gluten-Free and Dairy-Free)
Published 04/2/2009
Rating:
I've been trying to will the coming of warm springtime weather by baking foods I'll want on my next picnic. No matter that my kids and I eat them on a tablecloth spread out on the living room floor ... our hearts are in the great outdoors! Whether you're picnicing indoors or out, these filling snack bars will be a treat everyone will enjoy. Using a hodgepodge mix of dried fruits I have had on hand, I have made this recipe several times with differing ingredients. Feel free to substitute with whatever dried fruits and or nuts you have on hand -- the base recipe remains the same -- although I recommend at least using figs in this recipe, as they are high in fiber and minerals like potassium, calcium and iron, and their crunchy sweetness is unmistakable throughout.
Be sure to let the bars cool before you cut them, and if you have any extra crumbs left behind from cutting the bars, save them to sprinkle on top of yogurt or use as a granola-like breakfast cereal with milk. Any way you prefer, these nutritious gluten and dairy-free bars are sure to be a hit!
Ingredients:
1 cup butter or non-dairy alternative like Earth Balance Buttery Sticks or Shortening Sticks (room temperature)
1 cup light brown sugar
1/3 cup granulated cane sugar
2 large eggs
2 tsp. gluten-free vanilla extract
½ tsp. gluten-free almond extract
½ tsp. salt
¾ tsp. baking soda
1 tsp. ground cinnamon
2 cups Jules Gluten Free All Purpose Flour™ *
2 Tbs. flaxseed meal
1 cup chopped pecans or walnuts
1 cup dried tart cherries or cranberries
1 cup chopped dried figs
½ cup golden raisins or dried blueberries
½ cup chopped dried dates, apricots, or other dried fruit (optional)
Directions: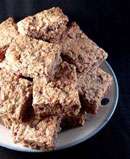 (*Note - This recipe calls for Jules Gluten Free All Purpose Flour™ which may be made at home according to directions found in my books, Nearly Normal Cooking for Gluten-Free Eating and The First Year: Celiac Disease and Living Gluten-Free, as well as in various media links on my website. It produces amazing results in all your gluten-free baking!)
Preheat oven to 350 F. Prepare a jelly roll pan (approximately 15" x 10") or cookie sheet with raised edges by wrapping foil over the top of the pan and greasing the foil-wrapped pan with cooking spray, shortening or butter. Set aside.
In a large mixing bowl, cream the shortening with the sugars, beating until the dough is light and fluffy. Gradually add in the vanilla and almond extracts and eggs.
In a separate bowl, whisk together the Jules Gluten Free All Purpose Flour™, baking soda, flax seed meal, cinnamon and salt. Slowly beat this dry mixture into the first large bowl, mixing until incorporated.
Chop the dried fruit and nuts and stir into the dough. Spread the thick dough evenly across the prepared pan and bake for approximately 25 minutes, or until lightly browned on top and a toothpick inserted into the center comes out clean.
Cool fully before cutting or removing. Cut horizontally and vertically (like a window pane) to form brownie-sized bars and remove carefully to a plate. Enjoy!

Celiac.com welcomes your comments below (registration is NOT required).

Get Email Alerts (More Info)
Article Options
Jules Shepard
Atop each of Jules Shepard's free weekly recipe newsletters is her mantra: "Perfecting Gluten-Free Baking, Together." From her easy-to-read cookbook ("Nearly Normal Cooking for Gluten Free Eating") to her highly rated reference for making the transition to living gluten free easier ("The First Year: Celiac Disease and Living Gluten Free"), Jules is tireless in the kitchen, at the keyboard and in person in helping people eating gluten free do it with ease, with style and with no compromises.
 
In the kitchen, she creates recipes for beautiful, tasty gluten-free foods that most people could never tell are gluten free. As a writer, she produces a steady stream of baking tips, living advice, encouragement and insights through magazine articles, her web site (gfJules.com), newsletter, e-books and on sites like http://celiac.com and others. Jules also maintains a busy schedule of speaking at celiac and gluten-free gatherings, appearing on TV and radio shows, baking industry conventions, as well as teaching classes on the ease and freedom of baking at home.
 
Her patent-pending all-purpose flour literally has changed lives for families who thought going gluten free meant going without. Thousands read her weekly newsletter, follow her on Twitter and interact with her on FaceBook. Â 
View all articles by Jules Shepard
In Celiac.com's Forum Now:
Thanks Ennis!
There is light at the end of the tunnel. Like GFinDC said, the recovery time after a gluten exposure can vary due to so many different variables. I hope your recovery is fast! ?
Welcome to the forum. Thank you for sharing your story. I am sorry that you have had to suffer for so long. Celiac disease is so frustrating and still people (and that includes medical) are not aware if it. Thank goodness for that home test kit. I hope your recovery is swift! Please f...
Hi Arduaine, Welcome to the forum! Glutenings can cause different symptoms in people. When you are new to the gluten-free diet and early in the recovery, they may cause more intense symptoms than later. Most likely because your immune system is already in a heightened state of alert f...
Sales on many places https://www.christopherbean.com/collections/flavored-coffee Desert flavored coffee,,,,yeah it is that epic, check out my reviews on some of them under Ennis, they are dead on to the cupping notes with a bit of sweetener. Use SAVE10 for a bonus $10 off your cart. YOU will be...