Strawberry Pie (Gluten-free, Dairy-Free & Egg-Free)
Strawberry Pie (Gluten-free, Dairy-Free & Egg-Free)
Published 07/9/2009
Rating:
Pie Ingredients:
2 ½ cups coarsely chopped strawberries (or 2 cups strawberries + ½ cup blueberries)
¼ cup sliced strawberries
1 cup chopped, dried dates or figs
1 ½ bananas, ripe and mashed
2 Tbs. light agave nectar or honey
¼ cup Jules Gluten Free All Purpose Flour*
(*If you use another flour, be sure to use one which already includes xanthan gum and is not bean or rice-based, so that it has a proper bulk to starch ratio and will not make the pie dense or gritty. The recipe for my all purpose flour may be found in my cookbook, Nearly Normal Cooking for Gluten-Free Eating, or in various media links from my website, and my flour mix can be purchased premixed from my site as well.)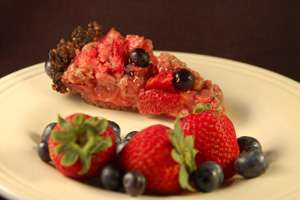 Crust Ingredients:
1 ½ cups finely chopped pecans
1 ¼ cup chopped, dried figs or dates
1 tsp. gf vanilla extract
Directions:
Preheat oven to 350 F.
Prepare the crust ingredients by chopping the pecans in a food processor, then adding the dried fruit and chopping together. Finally, pour in the vanilla and blend all together in the food processor.
Press the mixture into the bottom and sides of a pie plate and set aside.
Clean the blade and bowl of your food processor and add the dates or figs, bananas, agave and Jules Gluten Free All Purpose Flour. Combine until well mixed and pour into a large bowl. Stir in the chopped strawberries, then pour all into the prepared crust. Top with sliced strawberries.
Bake in the preheated oven for 20-30 minutes, or until it begins to be slightly bubbly in the center. Remove to cool and refrigerate until serving.

Celiac.com welcomes your comments below (registration is NOT required).

Get Email Alerts (More Info)
Article Options
Jules Shepard
Atop each of Jules Shepard's free weekly recipe newsletters is her mantra: "Perfecting Gluten-Free Baking, Together." From her easy-to-read cookbook ("Nearly Normal Cooking for Gluten Free Eating") to her highly rated reference for making the transition to living gluten free easier ("The First Year: Celiac Disease and Living Gluten Free"), Jules is tireless in the kitchen, at the keyboard and in person in helping people eating gluten free do it with ease, with style and with no compromises.
 
In the kitchen, she creates recipes for beautiful, tasty gluten-free foods that most people could never tell are gluten free. As a writer, she produces a steady stream of baking tips, living advice, encouragement and insights through magazine articles, her web site (gfJules.com), newsletter, e-books and on sites like http://celiac.com and others. Jules also maintains a busy schedule of speaking at celiac and gluten-free gatherings, appearing on TV and radio shows, baking industry conventions, as well as teaching classes on the ease and freedom of baking at home.
 
Her patent-pending all-purpose flour literally has changed lives for families who thought going gluten free meant going without. Thousands read her weekly newsletter, follow her on Twitter and interact with her on FaceBook. Â 
View all articles by Jules Shepard
In Celiac.com's Forum Now:
Thank you i have the colonoscopy on Tuesday and am dreading the prep more than anything lol. I think what ever the outcome I will try a gluten free diet to see if it helps with the symptoms. I've read so many stories of people going gluten free and symptoms such as depression, anxiety...
A positive on any one celiac test should lead to an endoscopy/biopsies being done by a gastroenterologist. You should keep eating gluten until the endoscopy is done.
Hi LexieA, It's perfectly ok to grieve or feel down because of a diagnosis of celiac disease. Feelings are not obligated to perform on command. But, over time you can adjust to the new diet reality and even like it. Getting used to eating mostly whole foods and more natural foods is a goo...
Hertzya, Congrats to you for sticking with your service in spite of celiac disease. That seems like it would be hard to do, And thanks for your service to our country!
Thank you all