Strawberry Pie (Gluten-free, Dairy-Free & Egg-Free)
Strawberry Pie (Gluten-free, Dairy-Free & Egg-Free)
Published 07/9/2009
Rating:
Pie Ingredients:
2 ½ cups coarsely chopped strawberries (or 2 cups strawberries + ½ cup blueberries)
¼ cup sliced strawberries
1 cup chopped, dried dates or figs
1 ½ bananas, ripe and mashed
2 Tbs. light agave nectar or honey
¼ cup Jules Gluten Free All Purpose Flour*
(*If you use another flour, be sure to use one which already includes xanthan gum and is not bean or rice-based, so that it has a proper bulk to starch ratio and will not make the pie dense or gritty. The recipe for my all purpose flour may be found in my cookbook, Nearly Normal Cooking for Gluten-Free Eating, or in various media links from my website, and my flour mix can be purchased premixed from my site as well.)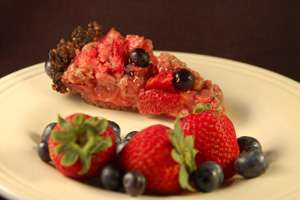 Crust Ingredients:
1 ½ cups finely chopped pecans
1 ¼ cup chopped, dried figs or dates
1 tsp. gf vanilla extract
Directions:
Preheat oven to 350 F.
Prepare the crust ingredients by chopping the pecans in a food processor, then adding the dried fruit and chopping together. Finally, pour in the vanilla and blend all together in the food processor.
Press the mixture into the bottom and sides of a pie plate and set aside.
Clean the blade and bowl of your food processor and add the dates or figs, bananas, agave and Jules Gluten Free All Purpose Flour. Combine until well mixed and pour into a large bowl. Stir in the chopped strawberries, then pour all into the prepared crust. Top with sliced strawberries.
Bake in the preheated oven for 20-30 minutes, or until it begins to be slightly bubbly in the center. Remove to cool and refrigerate until serving.

Celiac.com welcomes your comments below (registration is NOT required).

Get Email Alerts (More Info)
Article Options
Jules Shepard
Atop each of Jules Shepard's free weekly recipe newsletters is her mantra: "Perfecting Gluten-Free Baking, Together." From her easy-to-read cookbook ("Nearly Normal Cooking for Gluten Free Eating") to her highly rated reference for making the transition to living gluten free easier ("The First Year: Celiac Disease and Living Gluten Free"), Jules is tireless in the kitchen, at the keyboard and in person in helping people eating gluten free do it with ease, with style and with no compromises.
 
In the kitchen, she creates recipes for beautiful, tasty gluten-free foods that most people could never tell are gluten free. As a writer, she produces a steady stream of baking tips, living advice, encouragement and insights through magazine articles, her web site (gfJules.com), newsletter, e-books and on sites like http://celiac.com and others. Jules also maintains a busy schedule of speaking at celiac and gluten-free gatherings, appearing on TV and radio shows, baking industry conventions, as well as teaching classes on the ease and freedom of baking at home.
 
Her patent-pending all-purpose flour literally has changed lives for families who thought going gluten free meant going without. Thousands read her weekly newsletter, follow her on Twitter and interact with her on FaceBook. Â 
View all articles by Jules Shepard
In Celiac.com's Forum Now:
Thought cyrex is very similar to a celiac testing panel? Mostly I was just curious if IGG test results are worth anything as an indicator. I've read they can just indicate that you're actually tolerate or have recent eaten the foods (I was prior to the test).
The other alternative is just eliminating it from your diet and seeing if you do end up feeling better. There?s a chance your not celiacs and could be intolerant which is just as bad for reactions but can?t be proven with the celiac testing. It depends on how bad you would feel eating it every ...
I am the only one in my immediate family (out of my 3 siblings and both parents) to have celiacs even thought I inherited the autoimmune thyroid issues from my parents, but have a second cousin who was diagnosed 8 years ago and that?s it.
One other thought to consider is other food allergies/intolerances you may have that you didn?t know of before that could be causing this change. Is there any food that you may have added in or increased the frequency of eating since removing gluten from your diet? I know this has happened with...
Hey I?m new here too- but totally get what your talking about! I have some friends that claim to be ?gluten free? but if they are hungry will eat a piece of bread and it can be frustrating to have them later complain to you about how hard it is to eat a gluten-free diet!