Celiac Disease and Gluten-Free Diet Support
---
---
---
---
Follow / Share
FOLLOW US:
SHARE:

Popular Articles
Linzertorte (Gluten-Free)
Published 03/5/2010
Rating:
Linzertorte -- or Linzer tart -- may be made into one large tart, several small ones or even sweet cookies. Whatever the presentation, what awaits your tastebuds is a light, crumbly, aromatic crust bursting with sweet berry filling!
Hailing from Linz, Austria, this dessert takes several forms today (especially in North America). You can make one large tart, several small ones or make them into cookies. I've seen it made into bars, as well. Any way you slice it (pun intended) what awaits your tastebuds is a light, crumbly, aromatic crust bursting with sweet raspberry or black currant filling!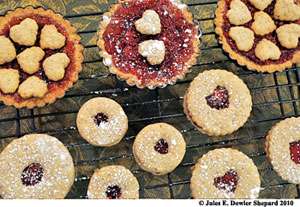 Gluten-Free Tart Ingredients:
½ cup unsalted butter or non-dairy alternative (e.g. Earth Balance Buttery Sticks), room temperature
2/3 cup lightly packed brown sugar
1 large gg
½ cup toasted almonds, ground*
1 ½ cups Jules Gluten Free All Purpose Flour
1 tsp. gluten-free baking powder
1 tsp. cinnamon
½ tsp. salt
confectioner's sugar for dusting
*Toasting Almonds: Spread ½ cup raw almonds on an ungreased baking sheet, and toast in an oven preheated to 350 F for 12-15 minutes, or until golden brown, aromatic and not burned.
Filling Ingredients:
1 cup fresh or frozen and thawed raspberries
1/3 – 1/2 cup seedless raspberry jam
Directions:
Beat butter and sugar with an electric mixer until light and fluffy. Add in egg and cream. Slowly stir in the dry ingredients: ground almonds, Jules Gluten Free All Purpose Flour, baking powder, cinnamon and salt. Mix until thoroughly incorporated. Shape dough into a disc and wrap tightly with plastic wrap. Chill in the refrigerator for at least 2 hours, or until cold and no longer sticky.
Preheat oven to 375 F (static) or 350 F (static).
Pull off pieces of cold dough and press into the bottom and up the sides of a large tart pan (9-inch) or 4 small tart pans with removable bottoms. The dough will rise when baked, so keep this layer of dough thin. Prick bottoms with a fork in several places to prevent bubbles from forming in the dough. Bake tart pan(s) for 12 minutes then remove to a cooling rack.
With remaining dough, roll out onto a clean surface or baking mat lightly dusted with Jules Gluten Free All Purpose Flour or cornstarch. Roll to the thickness of a graham cracker – approximately 1/8 - inch thick. Use small cookie cutters to cut out shapes like hearts, circles, stars, leaves ... if using small tart pans, use miniature cookie cutters; if using one large tart pan, the cutters can be 1 - 3- inches.
Place cut out cookies onto a parchment-lined cookie sheet and bake in still heated oven for 5-8 minutes, depending on the size of your cookie cutters. Remove cookies once golden brown but not crispy. Set out to cool on a wire rack.
Meanwhile, spoon jam and berries into a small saucepan and warm over low heat, stirring until thinner and pourable. Once warmed, spoon jam over the centers of each tart, creating a 1/8 – inch thick layer of jam and berries. Return tart(s) to still heated oven and bake for another 10-12 minutes for smaller tarts, 20-25 minutes for a larger tart. Arrange cookies on top of cooked, filled tart and dust with confectioner's sugar before serving.
Note: This recipe may also be used for making Linzer Cookies instead, by cutting cookies with a larger cutters and cutting one small hole in the center of every other cookie. Bake according to cookie directions above. When cooled, spread each cookie without a hole cut in the center with the raspberry filling; top with a cookie with a hole cut out. Dust with confectioner's sugar before serving.
Celiac.com welcomes your comments below (registration is NOT required).

Get Email Alerts (More Info)
Article Options
Jules Shepard
Atop each of Jules Shepard's free weekly recipe newsletters is her mantra: "Perfecting Gluten-Free Baking, Together." From her easy-to-read cookbook ("Nearly Normal Cooking for Gluten Free Eating") to her highly rated reference for making the transition to living gluten free easier ("The First Year: Celiac Disease and Living Gluten Free"), Jules is tireless in the kitchen, at the keyboard and in person in helping people eating gluten free do it with ease, with style and with no compromises.
 
In the kitchen, she creates recipes for beautiful, tasty gluten-free foods that most people could never tell are gluten free. As a writer, she produces a steady stream of baking tips, living advice, encouragement and insights through magazine articles, her web site (gfJules.com), newsletter, e-books and on sites like http://celiac.com and others. Jules also maintains a busy schedule of speaking at celiac and gluten-free gatherings, appearing on TV and radio shows, baking industry conventions, as well as teaching classes on the ease and freedom of baking at home.
 
Her patent-pending all-purpose flour literally has changed lives for families who thought going gluten free meant going without. Thousands read her weekly newsletter, follow her on Twitter and interact with her on FaceBook. Â 
View all articles by Jules Shepard
In Celiac.com's Forum Now:
Oh and plaster dust was a problem for me.
Oh I worried about that too It'll be ok though. It's just a question of working it out x
Then I would suggest wearing a mask while running your errands. See if this prevents a flare-up. Lots of folks wear one if they have the flu or a cold. I do not have DH, but from what other members have posted, antibodies in the skin can take a long time to develop or will flare up for ...
Hi, Sorry to hear you have been getting these symptoms. I too had symptoms despite my strict diet. I agree with the above. First port of call Eating out - I advise not doing this Sharing a kitchen with people who eat gluten - I advise not doing this Eating processed foods - ...
No. But I just want to say I am sorry that you took a hit. I hope you recover fast!