Celiac Disease Prevalence is on the Rise
Celiac Disease Prevalence is on the Rise
Celiac.com 10/12/2011 - According to recent estimates, three million Americans suffer from celiac disease—approximately 1% of the population, and only three percent of them have to this writing been correctly diagnosed. As startling as that sounds to us all, according to a news article on Medscape Today, the incidence of celiac disease has increased markedly over the last three decades, perhaps even as fourfold, and studies are suggesting the incidence may actually be higher than 1% of the population.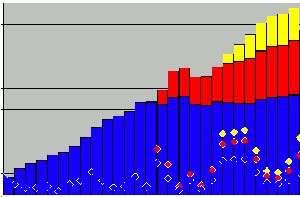 What is the reason for this? According to Dr. Jonas Ludvigsson, MD, from the Department of Medicine, Epidemiology Unit at the Karolinska Institute and Orebro University Hospital in Sweden, and a renowned celiac expert, there may be many factors explaining this, but there probably is an actual increase underlying these.
The Medscape article went on to report that the Mayo Clinic has confirmed increase in celiac disease incidence, reported in Discovery's Edge, the Mayo Clinic's research magazine. Dr. Joseph Murray, MD, and colleagues analyzed stored blood samples from Air Force recruits in the early 1950s for gluten antibodies. It was assumed that 1% would be positive, given today's estimates, but the number of positive results was far smaller. Dr. Murray and his colleagues compared their results with two more recently collected sets with the conclusion that celiac disease is about four times more common today than it was in the 1950s.
Additionally, Dr. Ludviggon's research team in Sweden has found that those living with celiac disease and latent celiac disease have higher mortality than those who don't have these conditions. Latent celiac disease is also known as "gluten sensitivity," a term to describe those who have "normal small intestinal mucosa but positive celiac disease serology," estimated to affect 1 in 1000 people. According to Dr. Ludvigsson's research team, in 1 year, 10 of 1000 individuals with celiac disease will die, as compared with 7 in 1000 individuals without the disease. The mortality rate is increased among those who also have latent celiac disease as well. The increased risk, however, is quite small.
As alarming as the statistics are regarding the increasing rate of celiac disease, Dr. Ludvigsson shares some good news with Medscape—the methods of diagnosing celiac disease are actually improving. According to some other estimates, the rate of celiac diagnosis rate is increasing. For those who are testing positive for the celiac disease, the only method of treatment currently available is eliminating gluten from the diet. Yes, this is a simple treatment, although it can require some challenging lifestyle adjustments for the gluten-free community, something which I address in my work as an author, researcher, and gluten-free advocate. In the future, we may see other treatments such as gluten-digesting enzymes (which are on the rise) or even the genetic modification of the structure of gluten in wheat so that it will not cause an autoimmune reaction in celiac patients. Even with celiac diagnosis incidence on the rise, with raised awareness and effective diagnosis, we can help change the lives of millions of celiac Americans for the better. This is an important endeavor.

Celiac.com welcomes your comments below (registration is NOT required).

Get Email Alerts (More Info)
Article Options
Tina Turbin
Tina Turbin is a world-renowned Celiac advocate who researches, writes, and consults about the benefits of the gluten-free, paleo-ish, low carb and keto diets, and is a full time recipe developer and founder of PaleOmazing.com. Tina also founded and manages the popular website, GlutenFreeHelp.info, voted the #2 .info website in the world. Tina believes that celiacs need to be educated to be able to make informed decisions and that Paleo needs to be tailored to the individual's physiology to obtain desired results. You can reach her at: INFO@PaleOmazing.com.
View all articles by Tina Turbin
In Celiac.com's Forum Now:
Just wondering if you have an update at all? Going through the same thing at the the moment with my type 1 14 yr old. I would be interested to know what your gi said and how your daughters doing now? xx
Please check the date on post, you just responded and tried talking to a person from 7 years ago. On consideration to the subject Poatoes are a huge flare factor for my UC and cause my blood sugar to sky rocket...I am not even diabetic but for some reason potatoes (hash browns) that I tried a few...
Have you tried eliminating high glycemic foods? Fruits, added sugars, starchy grains, potatoes. etc? Also adding in slow digesting fibers and fats can prevent insulin spikes, MCT oil is also known to help and protein. Many find consuming nuts and seeds higher in fiber early on in the meal or befo...
Dear AWOL Cast Iron Stomach, Your husband is right bread is bad for you. Of course it's more than bread and gluten, until now it was amateur hour trying to self diagnose and tame this "lion". However they let you down. You slipped through the cracks over and over again it is not your fault y...
I know for certain gastritis is one of the main reasons I had the scope. That and my EOE symptoms . If it wasn?t for those I would have never been diagnosed