Celiac Disease and Gluten-Free Diet Support
---
---
---
---
Follow / Share
FOLLOW US:
SHARE:

Popular Articles
Venison, Ale and Mushroom Pie (Gluten-Free)
Venison, Ale and Mushroom Pie (Gluten-Free)
I based this recipe on one from UKTV Food. This pie has a crisp golden pastry and succulent rich filling. Pureed beans and onion thicken the sauce. If you don't want to puree them just add them to the rest of the ingredients at the start of the slow cooking stage.
Serves 6-8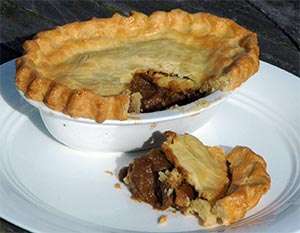 Ingredients:
1 pack diced venison (c340g)
1 pack mushrooms (c 200g) I used chestnut
1 bottle beer - I used Nick Stafford's Hambleton Ales GFA Gluten and Wheat Free Ale
2 onions - chopped
2 carrots- diced
3 cloves garlic - squashed
vegetable oil
1 tsp. fresh thyme leaves or 1/4 tsp. dried
stock / water - I used chicken as I always have that available in the freezer.
1 small can beans - cannellini / borlotti or gluten-free baked beans
1 tbsp. tomato paste
pepper
Pastry:
500 g gluten-free flour (40% urid (lentil), 40% tapioca, 20% cornmeal)
250 butter
water to bind
egg wash for pastry top if wanted (an egg beaten with a little water, brushed on to pastry before cooking).
Directions:
Trim any cartilage from the venison pieces. Dry with paper towel. This will make it spit less when you fry it.
Cover the bottom of your pan with a thin layer of oil. Place individual pieces of meat in this oil when hot and allow to brown. Don't over-crowd the pan; you may need to do it in two batches. When the meat is brown set aside in another dish.
Put the onion and whole squashed garlic cloves in the pan and cook slowly until translucent. Add extra oil if needed. Remove from the pan.
Cook the carrots and mushrooms for two or three minutes then add the meat back to the pan. Add the stock, ale, thyme, tomato paste and pepper, and also salt if you want to. The liquid should cover the meat. Put the lid on and simmer gently for 1.5 hours, checking the levels of the liquid every half hour or so. If it is getting dry add some water.
Meanwhile, put the cooked onions, garlic and the can of un-drained beans in a blender and puree. This will form the thickened gravy for the pie. You can leave the onions and beans un-pureed if you prefer.
When the meat and vegetables have cooked for the hour and a half, add the bean and onion puree. Check for seasoning. Cook for a few minutes, stirring, until the gravy is the texture you like. This stew is now ready to be eaten by itself, frozen for another occasion, or used as the pie filling. Leave to cool before making the pie.
To make the pastry: cut the butter into the flour either by hand or in the food processor. Add water a little at a time until the dough coheres in a slightly claggy ball. Wrap in cling film and set aside for at least fifteen minutes for the flours to absorb the water. If you make it ahead of time, keep it in the fridge but allow it to come to room temperature before rolling out or it will be too stiff to work.
Roll pastry out on a floured board to fit your pie dish or dishes. This recipe is enough for two 1 pint / half liter pie dishes. If you aren't sure of the fit of your dishes, measure how much stew you have and see how that much water fits into your dish. Place a layer of pastry in the bottom of the dish and put the cooled filling in. Dampen the top edge of the pastry and place on the top layer of pastry. Crimp or fork the edges together. Brush egg wash on if you want a deeper golden and shiny pastry. Bake for 35 minutes at 170C until pastry is golden brown.
Left over pastry can be made into jam tarts, or rolled out and frozen between greaseproof paper sheets until wanted.
Celiac.com welcomes your comments below (registration is NOT required).

Get Email Alerts (More Info)
Article Options
Lois Parker
Avid baker before realized exquisitely gluten sensitive. Now working to help people bring back the bliss to their eating through baking, teaching, writing and campaigning.
View all articles by Lois Parker
In Celiac.com's Forum Now:
First degree relatives of celiacs should be tested every 2 years in the absence of symptoms & immediately if symptoms present since celiac can present at any age. Celiac affects every cell in the body & inflammation is common. My inflammation began in my lower back and the bend of my leg (on...
Thanks for all that info and the links. It would be such a relief if I could know what is causing the fever, and that maybe it will go away as I stay gluten-free. Both my gastro dr and rheum dr said to still stay gluten-free even though I apparently don't have celiac. They are saying to give i...
HEB organics does not bother me at all. Their plain one has to be boiled before I can drink it so I tend to use it in moderation in cooking...it also has xantham gum which explained that issue. MALK gives me no issues (Local Only Brand I think). Used to drink something called Mooala but could not...
Oh goodness me so do you guys bother to get histamine level diagnosed or do you just treat it as you did the food diary ? taking note of high histamine time of year/ season and diet into your seasonal food diet? I'm pretty good at rotating foods I've done that longer than I've known about my issu...
Yeah I have 2 stationary pedal bikes. I use one on the desk sometimes while watching a show and work out my arms. I keep one under the desk and pedal on it for hours a day, really helps with my restless leg issues and stress (just gotta keep moving or I start feeling like a panic attack is coming...