Celiac Disease and Gluten-Free Diet Support
---
---
---
---
Follow / Share
FOLLOW US:
SHARE:

Popular Articles
A Gluten Free Diet May Alleviate Gastroesophageal Reflux Symptoms in People with Celiac Disease
A Gluten Free Diet May Alleviate Gastroesophageal Reflux Symptoms in People with Celiac Disease
Published 12/16/2011
Rating:
Celiac.com 12/16/2011 - To date, symptoms of gastroesophageal reflux disease (GERD) - heartburn and acid regurgitation - have been among the only GI symptoms absent from the list of common manifestations of celiac disease. They are usually definitive indicators of gastric acid reflux. But a report from Julio César Bai's group in Buenos Aires notes that at the time of diagnosis, patients with celiac disease were more likely to complain of GERD symptoms than healthy controls. Moreover, maintaining a gluten free diet alleviated these symptoms.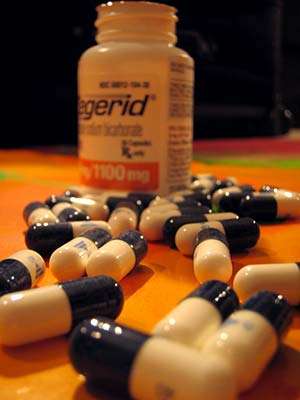 Their results are reported in Clinical Gastroenterology and Hepatology. GERD is a chronic condition usually resulting from the reflux of acidic stomach contents up into the esophagus. It is commonly treated with proton pump inhibitors, but some cases are refractory to this treatment. There has been conflicting data as to whether GERD symptoms are more common in people with celiac, and whether a gluten free diet might help. Dr. Bai's group designed a two pronged study to answer these questions: They undertook a cross sectional analysis of 133 people upon their diagnosis with celiac over the course of 2005, and a longitudinal assessment of 53 of them as they maintained a gluten free diet over the next four years.
At the time of their diagnosis, the proportion of celiac with reflux was six-fold higher than that in the the 70 healthy controls included in the study. Interestingly, more severe reflux symptoms were associated with the classical, rather than the silent, presentation of celiac disease. However, it should be noted that this was somewhat of a selected population; these data were obtained from patients coming to a malabsorption clinic, where the classic presentation of celiac is more prevalent than the silent type. Moreover, for whatever reason, these healthy volunteers had less GERD symptoms than is usually reported. After three months on a gluten free diet symptoms were comparable to those seen in healthy controls. Interestingly, though, this was the case for patients who reported only partially complying to a gluten free diet as well as those who adhered to it strictly.
Because these symptoms are alleviated upon assumption of a gluten free diet, the authors hypothesize that they might be caused by a nontraditional mechanism in celiac patients rather than by actual reflux. One suggestion they posit is reduced upper gastrointestinal motility, and another is a permeability defect in the stratified esophageal epithelium. In an editorial accompanying the paper, delayed gastric emptying and disturbed neuroendocrine control of upper GI function are floated potentially contributing to GERD symptoms in untreated celiac. Further research would have to be done to bear out these and other ideas.
Nachman F, Vázquez H, González A, Andrenacci P, Compagni L, Reyes H, Sugai E, Moreno ML, Smecuol E, Hwang HJ, Sánchez IP, Mauriño E, Bai JC. Gastroesophageal reflux symptoms in patients with celiac disease and the effects of a gluten-free diet. Clin Gastroenterol Hepatol. 2011 Mar;9(3):214-9. Epub 2010 Jun 30.
Source:

Celiac.com welcomes your comments below (registration is NOT required).

Get Email Alerts (More Info)
Article Options
Diana Gitig Ph.D.
Diana received her B.A. in Biochemistry from the University of Pennsylvania, and then a Ph.D. in Cell Biology and Genetics from Cornell. Now she is a freelance science writer and editor in White Plains, New York.  Her son was diagnosed with celiac disease in 2006, at the age of five, and she has been keeping her family healthy by feeding them gluten free treats ever since.


View all articles by Diana Gitig Ph.D.
In Celiac.com's Forum Now:
Thanks for letting me know. My back hurts all the time
I had a pillcam done two and a half months after I went gluten-free and it only showed gastropathy. three and a half months before the pillcam and endoscopy showed damage consistent with celiac. That damage was after a 10 or 11 week gluten challenge. prior to that I was gluten-free for a ...
It works much better for me but everyone is different. I have a physical job and sometimes get lower back pain. A hot shower and an Aleve will usually relieve it. It's worth your giving it a try.
Is Aleve better than ibuprofen? My back pain doesn't budge with 800 mg Motrin.
When I was diagnosed, I had only anemia. That is it. Later I found that I had osteoporosis as a result of untreated celiac disease. There are over 200 symptoms attributed to celiac disease. You may have many or NONE at all (called silent). After going gluten free within months my anemi...