Celiac Disease and Gluten-Free Diet Support
---
---
---
---
Follow / Share
FOLLOW US:
SHARE:

Popular Articles
Lengthen Your Telomeres and Live Longer?
Lengthen Your Telomeres and Live Longer?
Celiac.com 07/27/2012 - In my work as a celiac advocate and researcher, I've promoted taking daily vitamin supplements for better health for quite some time, but now with a study published in the American Journal of Clinical Nutrition confirming this I am pushing it even more.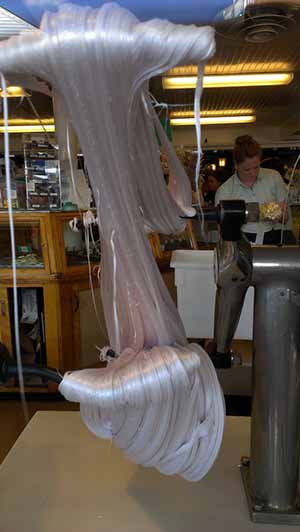 Telomeres are considered to be the "key" to anti-aging. As you age, your telomeres get shorter and shorter. Lengthening your telomeres will lead to a longer, healthier life. The study in the Journal of Clinical Nutrition shows that multivitamin use can lengthen one's telomeres. This can be accomplished by specific vitamins such as B12, C and E due to the fact that they are antioxidants. This means they fight damaging effects of oxidant (radicals) and even can repair damage which already has been received by the cells.
It's important for one to take B12, C and E regularly and to also get these in your daily diet. Grass-fed beef, salmon, tuna and milk all contain B12. You can get your vitamin C from foods such as strawberries, grapefruit, green bell peppers, etc. Vitamin E is found in broccoli, almonds and many other sources.
It's probably easier to just take a multivitamin, but be careful of ones containing iron. Iron has been shown to have a shortening effect on telomeres. Just adding something as simple as a multivitamin can boost your life span and make you feel great!
Resources:
Celiac.com welcomes your comments below (registration is NOT required).

Get Email Alerts (More Info)
Article Options
Miranda Jade
Miranda Jade became extremely involved in celiac disease, gluten sensitivity and gluten issues a number of years ago after many years of misdiagnosing. Since this time, she has engaged in diligent research and writing about these topics, developing gluten-free recipes, and reviewing companies for the celiac consumer's safety on her award-winning website: GlutenFreeHelp.info. Being a first time mother, Miranda is diligently working hard to help all families increase their awareness, the signs, diet changes and testing options regarding gluten issues. She believes raising a healthy happy gluten-free family doesn't have to be difficult.
View all articles by Miranda Jade
In Celiac.com's Forum Now:
I had the usual blood tests at my GI in early May. I saw him 2 days after this started, but didn't realize anything was actually going on. I was bloated, but passed it off as side effects of my sinus meds. In reality, it was new dairy intolerance. I'd had a cup of milk before I left for the ...
As has already been stated, the doctor can't tell by a visual. They can in very rare cases when the damage is so complete as to result in total villous atrophy but it's certainly not the norm. The pathology on the biopsies will tell the tale. I hope he took the recommended 6 biopsies. Get a copy ...
Hi Whitepaw I think maybe you are asking C-rats this question but in case you meant me too, I get acid at random times of the day - but usually towards the end; diarrhea with the Omeprazole (prisolec); constipation with RAnitidine; burping when I drink hot drinks (for some reason it brings i...
Xantham gum is not a gluten ingredient but many celiacs develop a intolerance to it. Gluten is found in the grains Wheat, Barley, Rye, and their relatives and cross breeds. It is also contained in ingredients like malt, in some forms of natural flavors, etc. There is a full listing of ingredients...
C-rats - thank you. Did you pursue Prilosec for many weeks before things settled? I felt slightly off when I was taking Omeprazole but I was only on the full dose for three weeks, then started to taper it. Perhaps I should have tried it for longer?