Celiac Disease and Gluten-Free Diet Support
---
---
---
---
Follow / Share
FOLLOW US:
SHARE:

Popular Articles
Vitamin Deficiencies and Celiac Disease
Vitamin Deficiencies and Celiac Disease
Celiac.com 08/19/2014 - It is common for many people with celiac disease to have vitamin deficiencies. Eating a wide variety of foods such as meat, fish, eggs and vegetables can assist in with fixing those deficiencies. Children need vitamins to promote growth, development and good immune health. As adults we need them to prevent disease and stay healthy.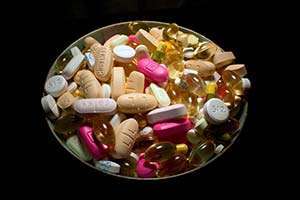 First, including small amounts of free-range, grass-fed beef in the diet will help you recover from iron deficiency. Fresh fish may help lower cholesterol, as it contains healthy omega-3 fatty acids and vitamin D. Egg whites from free range hens are high in protein and omega-3 fatty acids. Eating a balanced diet is the best way to receive the daily allowance of vitamins, rather than taking supplements, although many celiacs will also need to take supplements for some time to fully recover.
Next, vegetables supply vitamins and minerals, contain no cholesterol, and are low in calories. Vegetables that are colorful are very important in the daily diet. Bell peppers, broccoli and string beans are good sources of vitamin A. Fresh dark green leafy vegetables like kale are a strong source of folic acid, which assist in red blood cell formation. Spinach is full of vitamin D, Iron and Calcium. Vegetables are also high in complex carbohydrates and fiber. Try Romaine and dark leafy green lettuce for salads, as they will have more nutrients than Iceberg lettuce, which has a high amount of water and sodium.
Last, what are some of the best methods for cooking food to keep the most vitamins and nutrients in them? Steaming vegetables can retain the majority of nutrients, while boiling them can overcook them and cause a loss of vitamins. Try to cook vegetables, poultry and fish without extra fat by steaming them over low sodium broth, instead of water. Another healthy alternative is to stir fry vegetables. Since stir fry uses a small amount of oil, it is a fast and low-fat method to cook meals. The best part about cooking with the stir fry method is that food will retain vitamins and flavor better, since it is a fast healthy alternative.
Always talk with a doctor about dietary needs before making changes to your diet, and have your doctor test you for celiac disease before going on a gluten-free diet.
Celiac.com welcomes your comments below (registration is NOT required).

Get Email Alerts (More Info)
Article Options
Melissa Reed
Melissa Bess Reed has been living gluten-free after diagnosed with celiac disease in 1998, and Hashimoto Thyroiditis in 2012. Both autoimmune disorders require a gluten-free diet. Melissa is a CMA via an Associate of Science Degree in Medical Assisting. She graduated top of her class Alpha Beta Kappa, volunteers for Celiac Disease Foundation Team Gluten Free and is an advocate for awareness groups like National Foundation for Celiac Awareness. She has continued on to Law School working on a Juris Doctorate Degree. Melissa has a Harvard Medical School CME Certification for Celiac Disease Gluten-Free Diet Education and a Great Kitchens NFCA Gluten-Free FOH Training Certificate. She is an author of gluten-free cookbooks and has a certified gluten-free line of foods; Gluten Free Lifestyle Series. PHOTO CREDIT: Kelly Segre
View all articles by Melissa Reed
In Celiac.com's Forum Now:
I bought Spicely Organics Chili powder from Whole Foods in Bellevue, WA. I got very sick after eating it, so I tested it with three separate gluten tests. They all came up positive for >10ppm, which is what their "certification" says they test below. I just wanted to warn everyone away f...
It's no secret that nearly all traditionally brewed beers contain barley. The flavor and body barley imparts on traditional beers is partly responsible for their rich, full taste. Finding alternatives to barley that are suitable for brewing gluten-free beer has been a challenge. One solution has...
First have you been tested for celiac disease? Any doctor can do the blood test but you have to be eating gluten on a daily basis for the test to work, nut much just a half slice of bread a day. You should get this tested, the high constipation, coughing stuff up was very common for me before dia...
Some of your symptoms sound like my ulcers. I take carafate before every meal now and they are much better. I have 3 ulcers possibly caused by taking iron supplements. They are worse when I eat spicy food and dairy. I might be wrong but for your sake I hope it's just ulcers. They were fo...
The yellow is probably fat you are not absorbing. The pain could be from your intestines being inflamed. Go see the gastroenterologist. The ER did not help me with any of those symptoms. Good thing it's clear so you know it's not your appendix or any other vital organ. It takes time but prob...