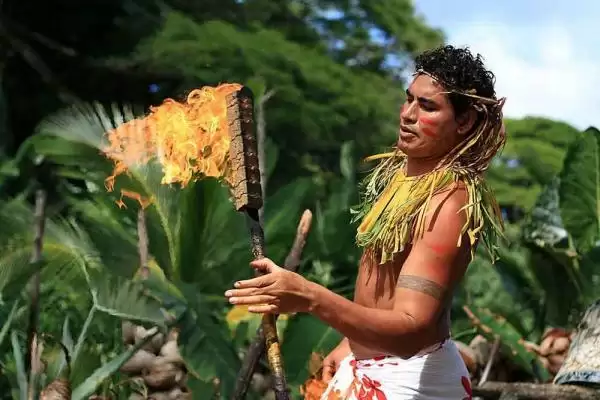 Caption: Image: CC--Brock Roseberry
Celiac.com 09/08/2018 - On a recent trip to Hawaii I was often attracted to a particular entrée on the menu of several restaurants. It went by many different names, but basically the dish was fish dredged in a mixture of spices and pulverized nuts to produce a chunky crust. Since Hawaii is the home of macadamia nuts, this popular nut was often used.
I love fish and I'm very fond of macadamia nuts, so I was particularly enticed by this entrée but I was wary because I know that many chefs like to use panko (Japanese bread crumbs) and add flour to such mixtures even though it isn't absolutely necessary and is often not mentioned in the entrée's description on the menu. So, I found myself engaged in a very typical conversation with the waiter. It went something like this:
Me: I'm wondering about the nut mixture used to coat the fish. Is there wheat flour or bread crumbs in it?
Waiter: I don't know, but I'll check with the chef and let you know.
Me to husband: I better choose another entrée just in case he/she comes back with bad news.
Waiter: The chef says there is (flour or bread crumbs or both) mixed in with the nuts and spices. Sorry.
Me: That's fine. Thanks for checking on that for me. Instead, I'll have the…
---
Celiac.com Sponsor (A12):


---
---
Celiac.com Sponsor (A12-m):


---
After I returned from this otherwise fabulous trip, I vowed to create my version of this entrée so I could have it at home whenever I wanted. I will share it here with you, but first a little background on macadamia nuts.

Macadamia Nuts
Though expensive, macadamia nuts are a treat and Hawaii is well known for this delicious nut. If macadamia nuts are too expensive or not available in your area, you can use slivered almonds instead. Despite their sometimes "bad" reputation, nuts offer important nutrients and good, healthy fat. But the real reason I was attracted to this dish was the crunchy texture that is so important to me in my gluten-free diet.

The best way to crush the macadamia nuts is to put them in a small coffee grinder or food processor and grind just until they reach a coarsely chopped stage. Don't grind them any further or you might end up with "mush" instead of pulverized nuts. To prevent the nuts from sticking together, I grind them with a small amount of cornstarch.

Some of you may never have traveled to Hawaii. Others, like me, may not get a chance to return to Hawaii for a long time but at least we can bring a little bit of the islands to our dinner table with this tempting dish.

Macadamia-Crusted Snapper with Pineapple Salsa

Ingredients:
4 fish fillets (red snapper, mahi mahi, or firm-flesh fillets--about 6 ounces each)
4 tablespoons olive oil, divided
1 teaspoon ground ginger
1 teaspoon ground coriander
1 teaspoon paprika, plus some for dusting
1 teaspoon salt
½ teaspoon freshly ground pepper
1 cup coarsely ground macadamia nuts or almonds (ground with ¼ cup cornstarch)
Additional salt and pepper to taste
Salsa Ingredients:
1 can (8 ounces) pineapple tidbits, drained
½ cup finely diced red bell pepper
½ cup chopped fresh cilantro
¼ cup finely diced red onion
1 tablespoon fresh lime juice
1 tablespoon rice vinegar
1 teaspoon olive oil
1 serrano chile pepper, seeded and finely diced
¼ teaspoon salt
¼ teaspoon sugar
Directions:
At least an hour before dinner, combine all of the salsa ingredients in a small serving bowl, cover, and let sit at room temperature. Preheat the oven to 400°F. Lightly grease a baking dish or sheet large enough to hold the fish fillets side by side and at least 2 inches apart. Use 1 tablespoon of the olive oil or you may line the pan with aluminum oil and lightly coat with cooking spray. Grind the nuts and cornstarch together. Evenly spread the nut mixture on a large dinner plate.
Combine remaining 3 tablespoons of the oil, ginger, coriander, and paprika. Brush each filet with this mixture; sprinkle both sides with salt and pepper. Dredge each fillet in the nuts, pressing mixture on fish with your fingers to cover it evenly on both sides. Gently transfer fish to prepared baking dish. Sprinkle with a dusting of paprika. Bake fish fillets until they are cooked through and the nut crust is golden brown, anywhere from 10 to 15 minutes or more depending on the thickness of the fish. Season with additional salt and pepper to taste. Serve immediately with 1/3 cup of Pineapple Salsa per serving. Serves 4.
You don't have to save this nut crust for fish. It works great on chicken fillets, too. Plan ahead by grinding more nuts than you need then freezing the remainder. That way, it's just a simple step to mix in the necessary spices or whatever else the recipe calls for.