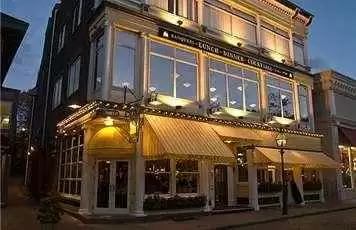 Caption: The Brick Alley Pub in Newport, RI
If you have ever traveled to Newport, RI then you know there are plenty of great restaurants to choose from. But if you have celiac disease or a gluten-intolerance then you know that dining out in an unfamiliar city is very difficult. Luckily, Newport has many gluten-free friendly restaurants that can easily be found if you know about them. I have comprised a list of celiac friendly restaurants in this scenic, colonial city. These restaurants have responded to a survey that was sent to over 100 restaurants and bakeries in Newport. All of the places listed have also stated that they are familiar with the necessary precautions that come with preparing gluten-free food such as avoiding cross-contamination. I have attempted to verify the accuracy of the statements provided by the restaurants to the best of my ability. If you are a tourist or local, I hope this list can help in keeping your gluten-free lifestyle.

Places that offer gluten-free menus:
Brick Alley Pub
140 Thames Street Newport, RI
(401) 849-6334
www.BrickAlley.com

Eva Ruth's Specialty Bakery
796 Aquidneck Avenue Middletown, RI
(401) 619-1924
www.EvaRuths.com
* Eva Ruth's is located 10 minutes out of downtown Newport and specializes in making only gluten-free products.
---
Celiac.com Sponsor (A12):


---
---
Celiac.com Sponsor (A12-m):


---
O'Briens Pub
501 Thames Street Newport, RI
(401) 849-6623
www.theobrienspub.com

Safari Room at Ocean Cliff (Sunday brunch menu)
65 Ridge Road Newport, RI
(401) 849-4873
www.newportexperience.com

Tucker's Bistro
150 Broadway Newport, RI
(401) 846-3449
www.tuckersbistro.com

Yesterday's and the Place
28 Washington Square Newport, RI
(401) 847-0116
www.yesterdaysandtheplace.com
Places that are familiar with gluten-free foods and offer gluten-free options:
A Little Café
27 Connell Highway Newport, RI
(401) 849-0123
www.Alittlecafe.us

Bouchard Restaurant and Inn
505 Thames Street Newport, RI
(401) 846-0123
www.bouchardnewport.com

Callahan's Café Zelda
528 Thames Street Newport, RI
(401) 849-4002
www.cafezelda.com

Castle Hill Inn
590 Ocean Drive Newport, RI
(401) 324-4522
www.castlehillinn.com
* Castle Hill Inn is working with Eva Ruth's bakery to offer more gluten-free options.

Diego's
11 Bowen's Wharf Newport, RI
(401) 619-2640
www.diegosnewport.com

Fathoms Restaurant at the Newport Marriott
25 Americas Cup Avenue Newport, RI
(401) 849-7788

Fluke Wine Bar and Kitchen
41 Bowens Wharf Newport, RI
(401) 849-7778
www.flukewinebar.com

Gas Lamp Grille
206 Thames Street Newport, RI
(401) 845-9300
www.gaslampgrille.com
* Gas Lamp Grille is in the process of creating a gluten-free menu.

It's My Party Bake Shoppe
84 William Street Newport, RI
(401) 619-4600
www.itsmypartynewport.com
* Must call in advance to place an order for gluten-free products at It's My Party Bake Shoppe.

Lucia Italian Restaurant
186 B Thames Street Newport RI
(401) 846-4477
www.luciarestaurant.com

Mamma Luisa Restaurant
673 Thames Street Newport, RI
(401) 848-5257
www.mammaluisa.com

SAPO Freaky Burrito
16 Broadway Newport, RI
(401) 847-1526
www.freakyburrito.com

Sardellas Restaurant
30 Memorial Boulevard W Newport, RI
(401) 849-6312
www.sardellas.com
* Sardella's carries gluten-free pasta, but it is recommended that you call in first to make sure that they have it in stock.

Sushi-go
215 Goddard Row Newport, RI
(401) 849-5155
www.sushi-go.com

Tallulah on Thames
464 Thames Street Newport, RI
(401) 849-2433
www.Tallulahonthames.com

The Barking Crab Restaurant
151 Swinburne Row Newport, RI
(617) 206-8294
www.barkingcrab.com

The Mooring Seafood Kitchen
1 Sayer's Wharf Newport, RI
(401) 846-2260
www.mooringrestaurant.com

The Smokehouse Café
31 Scotts Wharf Newport, RI
(401) 848-9800

The White Horse Tavern
26 Marlborough Street Newport, RI
(401) 849-3600
www.whitehorsetavern.us
*Some of these restaurants may only offer naturally gluten-free items, but will be more than willing to accommodate any changes to their options if asked