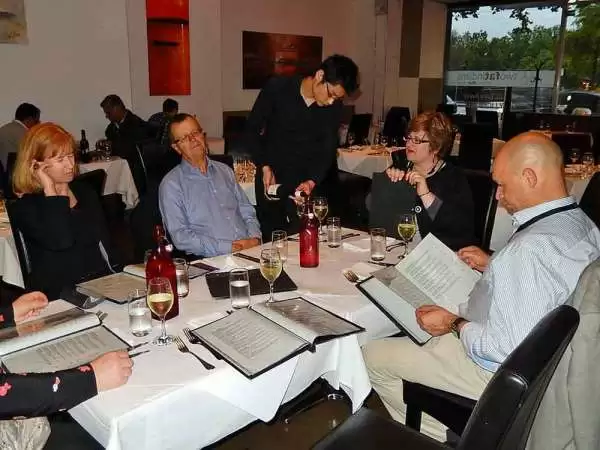 Caption: Image: CC BY 2.0--Michael_Coghlan
Celiac.com 12/11/2009 - I recently embarked on a quest for family-friendly restaurants that offered gluten-free selections.  I explained this vision to my husband and three children as we set the rules of our experiment: five family members to eat at five restaurants during a five week period.  The challenge - the children were to choose the restaurant, the chosen restaurant couldn't sell Happy Meals or have a drive-thru window and the restaurant had to be a franchise rather than a local venue.  Additionally, the mom, me, and the only celiac in the family, had the option of not eating if it might compromise her small intestines.  Here is what we discovered:
Restaurant # 1: Applebee's
My children chose to eat at Applebee's on a Sunday afternoon for lunch.  The atmosphere was friendly and a plentiful kids' menu was offered.  With over 1900 restaurants nationwide and in 15 other countries, according to the company website, it seems there is an Applebee's almost everywhere.  Additionally, Applebee's offers a Weight Watcher's menu for restaurant patrons who are counting points, which led me to hope an allergy/gluten-free menu would also be provided.
---
Celiac.com Sponsor (A12):


---
---
Celiac.com Sponsor (A12-m):


---
After we were seated, I perused the menu to read this statement, "To our guests with food sensitivities or allergies.  Applebee's cannot ensure that menu items do not contain ingredients that might cause an allergic reaction.  Please consider this when ordering."

I spoke to a manager and asked if a gluten-free menu was available.  I was informed, "Applebee's policy is not to guarantee allergy-free food.  Our company does not carry a gluten-free menu, but we can modify food.  For example, we can prepare grilled chicken breast strips for kids, rather than giving them breaded chicken fingers.  Again, we don't guarantee the food will not come in contact with the allergen."

Restaurant #2: Red Robin
The next stop on our restaurant expedition was Red Robin, which also offers an extensive children's menu.  According to the company website, there are over 430 Red Robin restaurants, in North America.  After we were seated in our booth, I asked our server if a gluten-free menu was available.  She immediately went to the kitchen and returned with a printed Wheat/Gluten Allergen menu.  Printed on the top of the menu was the statement, "Red Robin relied on our suppliers' statements of ingredients in deciding which products did not contain certain allergens.  Suppliers may change the ingredients in their products or the way they prepare their products, so please check this list to make sure that the menu item you like still meets your dietary requirements.  Red Robin cannot guarantee that any menu item will be prepared completely free of the allergen in question."

Gluten-free offerings were grouped in the following categories: salads; salad dressings; burgers; chicken burgers; entrees; and available side dishes.  The Kids' menu offered a beef patty burger, turkey patty, and chicken-on-a-stick.  It stated: "Kids may also select from any items listed on the Wheat/Gluten menu as adult items to custom design a wheat/gluten free meal for your child.  This menu is current and valid until 10/1/09."

I was informed by our server that when a customer orders from the gluten-free menu, an allergy alert is put on their ticket and the area of food preparation is cleaned to avoid cross-contamination.  Additionally, the fries are prepared in oil specifically designated for fries, and those with a gluten allergy should avoid the fry seasoning.

I ordered off of the Red Robin gluten-free menu and personally recommend the Crispy Chicken Tender Salad with grilled chicken rather than crispy, no garlic bread, and the honey mustard dressing.

Restaurant #3: Garlic Jim's Famous Gourmet Pizza
It was a Friday evening and my children decided they really wanted to eat pizza for dinner.  This led us to almost break our fast food rule by ordering carryout from a pizza restaurant.  Ordering pizza is an extreme challenge for those suffering from gluten intolerance. Therefore, I had to do my research ahead of time.  I called Papa John's, Domino's, Papa Murphy's and Pizza Hut to confirm that gluten-free pizza is not offered, at any of these pizza chains.  I did find a pizza franchise in my state, called Garlic Jim's, which offers a gluten-free crust. 

According to the chain website, "Garlic Jim's is proud to be the first pizza chain accredited for gluten free food service by the Gluten Intolerance Group of North America."  Garlic Jim's Famous Gourmet Pizza is currently located in seven states including; Washington, Oregon, California, Idaho, Colorado, Tennessee, and Florida.

I was informed at the restaurant that the gluten-free crust is covered with sauce in a separate area in order to avoid cross contamination although the toppings are put on in the same location where wheat-based crusts are prepared.  Different pans and utensils are used in the preparation of this gluten-free thin crust which costs three dollars more than their traditional pizzas.  The restaurant also posts a sign stating that although they do offer gluten-free pizza, they cannot guarantee the pizza will not come in contact with allergens.

I recommend the gluten-free pepperoni pizza, and can attest that pizza has never tasted so good.

Restaurant #4:  The Old Spaghetti Factory
The Old Spaghetti Factory was established in 1969, and as of today, boasts 39 locations nationwide.  I was quite pleased to discover, when my children chose to eat at The Old Spaghetti Factory, that they offer gluten-free pasta.  Before being seated, I inquired at the hostess desk if a gluten-free menu was available and I was presented with a laminated copy. 

Each entré includes complimentary salad, bread, and ice cream. Obviously, those with gluten intolerance need to give the bread a pass, but there are viable options available for the remainder of the meal.  Gluten-free salad dressings include pesto and vinaigrette—hold the croutons on the salad.  The main course is a rice pasta with the following sauce choices: marinara; meat; mushroom; mizithra cheese, and; brown butter.  Diners also have the option of adding gluten-free sausage and sliced chicken breast to their meal.  For dessert, a choice of spumoni or vanilla ice cream is offered. 

 I ordered the Manager's Favorite pasta, which includes a combination of two sauces.  I chose gluten-free pasta topped with marinara sauce and mizithra cheese.  My dinner also included a salad with vinaigrette dressing and spumoni for dessert. 

Restaurant #5: Outback Steakhouse
Our final dining choice was the Outback Steakhouse which, according to the company's website, is an Australian Steakhouse with over 950 locations worldwide.  I was offered a gluten-free menu that is nearly as large as the main menu.  Offerings included appetizers, steaks, chicken, seafood, salads, side dishes, and even a brownie dessert.  The entire gluten-free menu is available on the Outback Steakhouse website, www.outback.com .

Our server was very knowledgeable of gluten intolerance. I ordered off of the gluten-free menu.  When ordering salads, it is recommended that you request that they be mixed separately to avoid cross contamination.  Overall, it was a very pleasant dining experience for my entire family, with a plentiful menu for me and an ample kids' menu.

I would certainly recommend what I ordered— Victoria's Filet with a baked potato and a salad without croutons.  I passed on the bread which accompanies every meal.  It was a pleasant dining experience at what is quite possibly the restaurant that has set the current gold standard for gluten-free dining.

Overall, our experiment was a great success with four of the five restaurants we visited offering gluten-free menus.  I advise diners to be cautious wherever they eat because even if a company offers gluten-free options you must also take into account the knowledge of the chef preparing your food and the server assisting you.  It is encouraging that major restaurant chains are acknowledging the need to modify their menus for those suffering from gluten intolerance.  Good luck and happy dining.