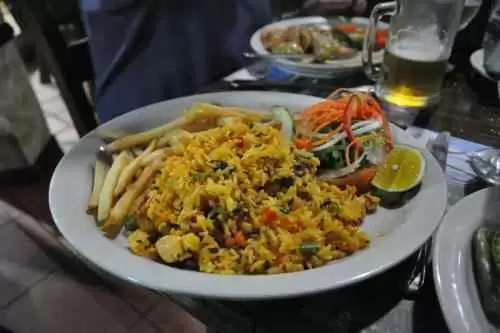 Caption: Cuban-Style Chicken and Rice. Photo: CC--gsloan
Celiac.com 01/20/2018 - This Cuban-style version relies on annatto oil to give it a red color. You can make your own annatto oil by putting achiote chili seeds in vegetable oil and heating it up for a few minutes over the stove. Cool and store. This version of chicken and rice is tasty, gluten-free and keeps well in the freezer.
Ingredients:
3 pounds chicken thighs, bone-in, skin-on
6 cups chicken stock
3 cups medium-grain white rice
¼ cup orange juice
¼ cup fresh lemon or lime juice
3 cloves garlic, minced
3 cloves garlic, chopped
2 teaspoons ground cumin
2 teaspoon dried oregano
¼ cup Annatto oil
1 cup yellow onion, chopped
½ cup green bell pepper, chopped
½ cup red bell pepper, chopped
1 cup tomato, seeds removed, chopped
½ cup dry white wine
¼ tsp saffron threads, crumbled
½ cup gluten-free lager-style beer
2 tablespoon capers
2 cups frozen peas, thawed
1 cup roasted red pepper, sliced thin
Salt and pepper
Directions:
In a large bowl, combine the chicken thighs, orange and lemon/lime juice, minced garlic, cumin, and oregano. Season with salt and pepper and mix well.
Marinate the chicken for a minimum of 30 minutes or up to overnight in the refrigerator.
Remove the chicken from the marinade and pat dry.
In a large, wide pot, heat the annatto oil over medium heat.
Working in batches, add the chicken, skin side down, and cook, turning once, for 7 to 8 minutes per side, or until golden brown. Remove to a plate and set aside.
In the same pot, combine the onion, green pepper, and red pepper and cook for 5 to 6 minutes, or until soft. Add the chopped garlic and cook for 1 minute.
Add the chopped tomato and white wine and cook for 3 to 4 minutes to cook off the alcohol a bit.
Pour in 2 cups of the stock and return the chicken to the pot. Reduce the heat to medium-low and simmer for 10 minutes.
Add the rice and saffron and continue to cook for 5 to 7 minutes, or until most of the liquid is absorbed.
Pour in another 2 cups of the stock and continue to cook, stirring occasionally, until most of the liquid has been absorbed, 7 to 8 minutes.
Add the final 2 cups of the stock and the beer and cook for 5 more minutes.
Add the capers, peas, and roasted red pepper. Turn off the heat, cover, and let sit for 10 minutes more.
Adjust seasoning to taste.