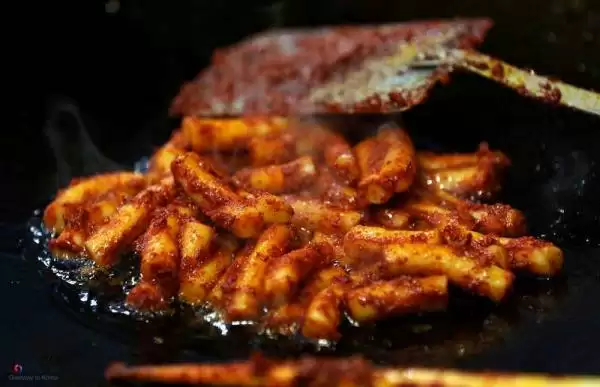 Caption: Image: CC--Republic of Korea
Celiac.com 09/21/2018 - The English as a Second Language (ESL) pie is so large in countries such as South Korea that there seem to be enough helpings for anyone interested. However, these generous slices may be off limits to individuals with severe food allergies or intolerances, including those with celiac disease. If you have diet restrictions and are thinking of heading to South Korea or another Asian country, the following information will help you decide whether or not this move is a good idea.
One might think that Asia, the land of rice-based meals, would be a celiac's paradise. As one naïve dietician told me before I moved to Seoul, "You couldn't be going to a better place." This assumption could not be further from the truth. If cooked with traditional ingredients, many local dishes are gluten-free. However, in Korea, wheat flour is now cheaper than other kinds of flour, despite the fact that it has to be imported. Wheat flour and barley are currently the two most common ingredients in Korean food products.
In Korea, eleven major food allergens must be included on product labels: poultry eggs, milk, buckwheat, peanuts, soybean, wheat, mackerel, crab, pork, peaches, and tomatoes. As for anything else, the Korean Food and Drug Administration states that only the five major ingredients in a product have to be labeled. Furthermore, a label need only include intentional ingredients, not things accidentally mixed into a product through cross-contamination. So you can say goodbye to warnings like: "this product may contain traces of peanuts." Stricter labeling regulations will be put into effect in September 2006. However, these laws will remain less stringent than those in North America and Europe. According to a source at the KFDA, labeling restrictions are similar in Japan and more lax in China and South East Asia.
One can easily learn Korean for "I'm allergic to ____" in any phrasebook or from a Korean coworker, friend, or even the guy in the next seat on your Korean Air flight. Yet it is the cultural barrier, not the language barrier, which poses the most difficulties for a celiac.
Korean culture revolves around the sharing of food due to food shortages during the Japanese occupation; Koreans do not ask, "How are you?" but, "Have you had your meal?" Co-workers, friends, and even the occasional stranger will offer to share food. The politest way to refuse is by saying, "Thank you, but I can't. I'm allergic." Also, rather than saying you are allergic to something in Korean—allerugi—it is much more effective to say you cannot have it. (see the list of useful phrases). Unfortunately, even these statements are unlikely to be fully effective when eating Korean food. Many Koreans are completely unaware that frequently-used ingredients such as tashida soup flavouring and soybean powder contain wheat.
Most Koreans I spoke with were shocked to hear that, as a celiac, I could not eat food which had so much as touched gluten. Generally, they assume that people with food allergies are still able to consume a product with a 1-2% trace of the allergen. Food allergies, celiac disease, vegetarianism, and other kinds of diet restrictions are rare in this country and are not taken very seriously. Furthermore, according to gastroenterologist Dr. Kim of Severance Hospital in Seoul, only two people were ever diagnosed with celiac disease in Korea.
The world of North American restaurants, where servers cater to those with food allergies, food sensitivities, and plain old picky eaters, is very far away. Koreans generally order what is on the menu without making any special requests. Even Westerners who learn enough of the Korean language to explain their diets often end up being served something they asked specifically not to have. Furthermore, Korean food is not served on personal plates: everyone at the table reaches his or her chopsticks into the various communal dishes, causing cross-contamination.
I was at a restaurant with some Korean friends and was trying to explain my gluten-intolerance to them, when one young man told me he was so sensitive to peaches that he could not so much as touch a peach without breaking out into a rash. Five minutes later I saw him eat a dish containing peach slices. This is the attitude of Koreans to food allergies—both theirs and yours.
The gluten-free meal which is safest and easiest to find in Korea is samgyupsal. This dish features fatty, thick slices of pork cooked over a clean grill right at your table. Just make sure that all sauces are kept off the grill. Bibimbop is a rice, vegetable, and egg dish usually served with kochujang, a red pepper paste which unfortunately contains wheat. Bibimbop can be ordered, however, with the kochujang on the side.
Most foreigners are in Korea to work rather than visit, and having an apartment provides the extra advantage of having one's own cooking space. There are a few of us who have managed the gluten-free diet in Korea. However, it has not been easy. If you have celiac disease or food allergies and are thinking of moving to this part of the world, I can guarantee you that it will be a monumental challenge.
Useful Korean phrases:
Thank you, but I can't. I'm allergic: kamsa hamnida man, allerugi issoyo.
I cannot have barley, rye, or wheat: chonun pori hago homil hago mil motmuhgeyo.
Barley: pori
Wheat: mil
Rye: homil
Bibimbop with the red pepper paste on the side: bibimbop kochujang garu
Grilled Pork: samgyupsal