One of the few things better than a delicious soup is a rich, delicious soup that is easy and quick to make.
In this recipe for potato leek soup, butter, chicken broth, leeks, cream and potatoes come together to yield a rich, luscious soup that goes great with your favorite toasted gluten-free bread.
---
Celiac.com Sponsor (A12):


---
---
Celiac.com Sponsor (A12-m):


---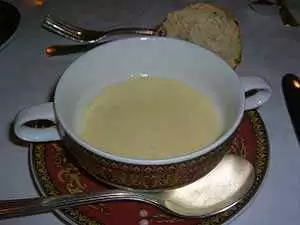 Ingredients:
1 cup butter
2 leeks, sliced
2 bay leaves
2 tablespoons chives, chopped
4 sprigs fresh thyme
10 black peppercorns
1 quart gluten-free chicken broth
1 cup dry white wine
4 cups Yukon Gold potatoes, peeled and diced
1½ cups heavy cream
½ tablespoon white pepper
salt and pepper to taste

 

Directions:
Trim away the green portions of the leek, leaving just the white part.

Keep the two largest and longest leaves, and make a bouquet garni by folding the 2 leaves around the bay leaves, peppercorns and thyme. Tie into a package-shaped bundle with kitchen twine and set aside. Or, place two leek leaves, bay leaves, peppercorns and thyme together in a piece of cheesecloth.

Cut the white part of the leek in half lengthwise, and rinse well under cold running water to make sure the leek is clean. Slice thinly crosswise and set aside.

In a large pot over medium heat, melt butter. Cook leeks in butter with salt and pepper until tender, stirring frequently, about 15 minutes. Add the chopped leeks and cook until wilted, about 5 minutes.

Add the wine and bring to a boil. Add the reserved bouquet garni, chicken stock, potatoes, salt and white pepper, and bring to a boil. Reduce the heat and simmer for 30 minutes, or until the potatoes are falling apart and the soup is very flavorful.

Remove the herbs and peppercorns. Adding just a little bit at a time, puree the soup in a food processor or blender. Be careful! Cover top with a towel to prevent scalding if any soup escapes.

Stir in the creme and season with salt and pepper as desired.

Spoon soup into serving bowls and top with chopped chives.