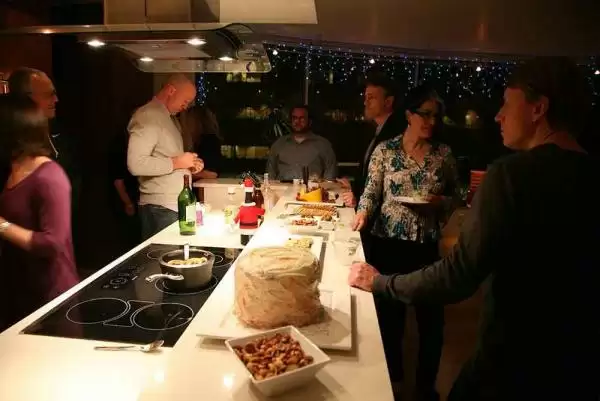 Caption: Image: CC--ryan harvey
Celiac.com 10/17/2018 - In the interviews I conducted last year, the Celiac.com viewers shared with me some disturbing stories about how others either sabotaged their gluten-free diet or how their gluten-free requirements are continually scrutinized and doubted. Here are a few examples:
A co-worker at my office ate a gluten-containing burrito and thought it would be funny to cross-contaminate my work space.  With his gluten-coated hands, he touched my phone, desk, pencils, pens, etc. while I was not at my desk.  I came back and was contaminated.  I had to take several days off of work from being so sick.
The waiter at a restaurant where I was eating dinner asked me if I was really "a celiac" or if I was avoiding gluten as a "fad dieter." He told me the food was gluten-free when he served it, only to come up to me after I ate the dinner and admit there was "a little" gluten in it.
My cleaning people were eating Lorna Doones (gluten-containing cookies) while cleaning my gluten-free kitchen, cross-contaminating literally everything in it. When I noticed I exclaimed, "I am allergic to gluten, please put your cookies in this plastic bag and wash your hands."  They chided, "You have insulted our food.  We are hungry and we will eat anything we want to, when we want to."
At a family dinner, Aunt Suzie insisted that I try her special holiday fruit bread. In front of everyone around the table, she brushed off my protests and insisted that I over exaggerated my food sensitivities saying, "a little bit wouldn't hurt you."  
These are but a few of an exhaustive list of situations that we regularly contend with. What can possibly be the rationale for any of this conduct?  I'm providing some recent headlines that may impact the attitudes of those we interact with and would like to hear what you think influence this behavior (see questions below). 
Recently, the New York Times published an article entitled, "The Myth of Big, Bad Gluten."  The title alone casts doubt on the severity of gluten exposure for those with CD (Myth, 2015)  
In his political campaign, Senator Ted Cruz stated that if elected President, he would not provide gluten-free meals to the military, in order to direct spending toward combat fortification (Wellness, 2/18/16). 
Business Insider.com called Tom Brady's gluten, dairy free diet "insane" (Brady, 2017).
Michael Pollen is quoted as saying that the gluten-free diet was "social contagion." Further, he says, "There are a lot of people that hear from their friends, 'I got off gluten and I sleep better, the sex is better, and I'm happier,' and then they try it and they feel better too.  [It's] the power of suggestion" (Pollan, 2014).
Jimmy Kimmel said, "Some people can't eat gluten for medical reasons… that I get. It annoys me, but that I get," and proceeded to interview people following a gluten-free diet, asking them "what is gluten." Most interviewed did not know what gluten is. (ABC News, 2018).
---
Celiac.com Sponsor (A12):


---
---
Celiac.com Sponsor (A12-m):


---
Do headlines like this enable others to malign those of us making our dietary needs known?  Do these esteemed people talking about gluten cast doubt on what we need to survive? 

Humans are highly influenced by others when it comes to social eating behavior. Higgs (2015) asserts that people follow "eating norms" (p. 39) in order to be liked. Roth, et al. (2000) found that people consumed similar amounts of food when eating together.  Batista and Lima (2013) discovered that people consumed more nutritious food when eating with strangers than when eating with familiar associates. These studies indicate that we are hypersensitive of what others think about what we eat. One can surmise that celebrity quips could also influence food-related behaviors. 

Part of solving a social problem is identifying the root cause of it, so please weigh in by answering the following questions:  
How do you handle scrutiny or sabotage of others toward your dietary requirements?
Please speculate on what cultural, religious or media influences you suppose contribute to a rationalization for the sabotage and/or scrutiny from others when we state we are observing a gluten-free diet? Are people emulating something they heard in church, seen on TV, or read online?   
We welcome your answers below.
References:
ABC. (2018). Retrived from https://abcnews.go.com/Health/video/jimmy-kimmel-asks-what-is-gluten-23655461 
Batista, M. T., Lima. M. L. (2013). Who's eating what with me? Indirect social influence on ambivalent food consumption. Psicologia: Reflexano e Critica, 26(1), 113-121. 
Brady. (2017). Retrieved from https://www.businessinsider.com/tom-brady-gisele-bundchen-have-an-insane-diet-2017-2 
Higgs, S. (2015). Social norms and their influence on eating behaviors. Appetite 86, 38-44.
Myth. (2015). Retrieved from https://www.nytimes.com/2015/07/05/opinion/sunday/the-myth-of-big-bad-gluten.html 
Pollan, M. (2014). Retrieved from https://www.huffingtonpost.com/2014/05/14/michael-pollan-gluten-free_n_5319357.html 
Roth, D. A., Herman, C. P., Polivy, J., & Pliner, P. (2000). Self-presentational conflict in social eating situations: A normative perspective. Appetite, 26, 165-171.
Wellness. (2016). Retrieved from  https://www.huffingtonpost.com/entry/ted-cruz-gluten-free-military-political-corectness_us_56c606c3e4b08ffac127f09f