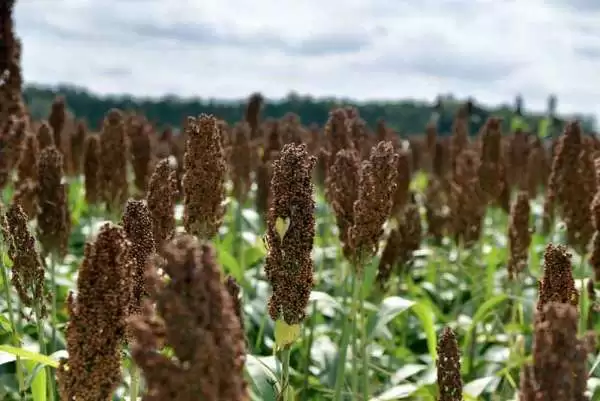 Caption: Sorghum is safe for celiacs. Image: CC BY 2.0--Michele Dorsey Walfred
Celiac.com 05/26/2020 - One of the most popular questions we get is: Which grains are safe for people with celiac disease, and which are not?
Unsafe Non-Gluten-Free Grains for Celiacs
Wheat, Rye and Barley and comprise the short list of grains that are unsafe and forbidden for people with celiac disease.
---
Celiac.com Sponsor (A12):


---
---
Celiac.com Sponsor (A12-m):


---
Unfortunately, there are a number of equally unsafe variants of these grains that go by other names. 

Durum and semolina are wheat varieties that have been bred for specific uses. Both spelt and kamut are also types of wheat, and are sometimes sold under other names, including spelt, Polish wheat, einkorn and small spelt. 

Bulgur is wheat that's been specially processed. 

Triticale, a grain crossbred from wheat and rye, is definitely on the unsafe list.
Safe Gluten-Free Grains for Celiacs
As long as the items discussed below are not contaminated with wheat, they should be safe for most celiacs. It's always best to look for "gluten-free" on a product label, and it's even better if you can find certified gluten-free versions.
Of the common grains, rice is the favorite for most celiacs, as it rarely troubles anyone. Though corn (aka maize) is a grain that may trigger allergic reactions in some people, both with and without celiac disease, corn has not been shown to cause damage to the villi in celiacs. In fact, corn is well-tolerated by most people with celiac disease. Aside from corn and rice, there is a wide variety of other naturally gluten-free grains that are used in gluten-free cooking. We even use beans and peas (aka legumes, pulses).
The following can be milled into gluten-free flours or cooked and eaten in side dishes: amaranth, buckwheat (or kasha), chickpeas (garbanzos), Job's tears (Hato Mugi, Juno's Tears, River Grain), fonio, lentils, millet, peas, quinoa, ragi, sorghum, soy, tapioca, teff, and wild rice. Many of these flours are available in health food stores. Others, like rice flour, may be available in grocery stores. 
Oats can be tricky, and if you are just starting out on a gluten-free diet you may want to avoid them for a while. If you do eat them make sure to only eat ones that are labelled "gluten-free," as they are often cross-contaminated with wheat. Some people also have an intolerance to oats, which is a separate issue from celiac disease.
For more detail lists, be sure to see our Safe & Forbidden Lists below:
SAFE GLUTEN-FREE INGREDIENT LIST

UNSAFE NON-GLUTEN-FREE INGREDIENTS LIST