Celiac Disease and Gluten-Free Diet Support
---
---
---
---
Follow / Share
FOLLOW US:
SHARE:

Popular Articles
Gluten-Free Grocery Store Bread Reviewed
Gluten-Free Grocery Store Bread Reviewed
Published 11/17/2015
Rating:
Journal of Gluten Sensitivity Summer 2015 Issue - Originally published July 16, 2015
Celiac.com 11/17/2015 - For most people, when they think of gluten, the first thing that comes to mind is bread. And for most people with celiac or a gluten sensitivity, that is what we miss most.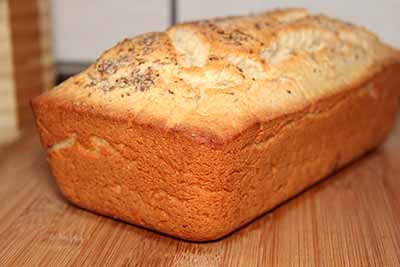 While people with celiac or gluten sensitivity may never be able to experience the wide selection or soft texture that "glutenous" bread offers, there are still some tasty gluten-free bread options available at most grocery stores. In order to find the best gluten-free bread options, I went to my local Giant Eagle and tried all of the gluten-free bread available and explored four main aspects: taste, texture, price, and variety.
The three brands of gluten-free bread offered at Giant Eagle were Schar, Udi's, and Goodbye Gluten.
In the variety category, Udi's offered the largest selection of bread with the choice of white bread, multigrain bread, cinnamon raisin bread, and millet-chia bread and omega flax and fiber bread. Udi's also offers a large variety of other products ranging from muffins and cookies, to pizza crusts and tortillas.
While Udi's may have the largest variety of the three brands, Schar offered a few different kinds of bread as well, with a cinnamon raisin and multigrain option along with an assortment of rolls.
In the category of price, Goodbye Gluten came in as the most inexpensive per ounce at $0.27 per ounce. Udi's was in the middle $0.37 per oz. and Schar was the most expensive of the three, coming in at $0.40 per oz.
Now let's get down to business. Taste and texture—the two aspects that are hardest to get right when making gluten-free bread. In my opinion, Udi's won both categories with the tastiness, most normal textured bread. My only critique was the slices of bread weren't big enough! All three brands seemed to have their slices of bread on the smaller side, but Udi's bread seemed to be especially small.
Although Udi's took the first prize in three of the four categories, that is not to say the other two brands were not good. I was impressed with all three brands, but my main critique covers the texture category.
The Goodbye Gluten bread seemed to be very dense, and while most gluten-free bread crumbles more than normal, I felt that the Goodbye Gluten loaf broke easier than the other two. However, it was very moist, something that is hard to come by in gluten-free bread.
With the Schar bread, I felt that it was a little dry and grainy rather than moist and chewy like normal gluten filled bread. However, I found that when I toasted the bread, it had a texture more consistent with normal toast.
Overall, I was satisfied with all three brands, but Udi's was the favorite. With the texture and taste being spot on, I did not need much else to convince me, but the added bonus of the reasonable price and large variety made it the most desirable gluten-free bread available.
Celiac.com welcomes your comments below (registration is NOT required).

Get Email Alerts (More Info)
Article Options
Maria Lerario
My name is Maria and I am a college senior majoring in print journalism. I found out that I have celiac disease about two years ago. Since then, I have tried my best to make eating gluten-free as tasty, easy and affordable as possible. Although I only got diagnosed two years ago, my sister has had celiac since I was 6, so my family has been used to eating gluten free, and we now know all the tricks to make it as easy and delicious as possible!
View all articles by Maria Lerario
In Celiac.com's Forum Now:
There are plenty of people that have gone gluten free without the official diagnosis because a gluten challenge would make them too sick. I think you are the only one that will know if it's right for you. There are some benefits to getting diagnosed as either celiac or NCGS. 1. If you are...
Oh, I would hate to have you test negative because your gluten challenge was not long enough. http://www.cureceliacdisease.org/faq/what-is-a-gluten-challenge/ https://www.beyondceliac.org/celiac-disease/Testing-and-Diagnosis/The-Gluten-Challenge/1510/ https://www.ncbi.nlm.nih.gov/p...
thank you guys. I'm hoping the Gi will call back tomorrow. I'm getting the kitchen totally gluten free, except for a few things my sister who is a bit disabled is going to have. But no bread, flour, pasta and most other things will not have gluten. And my daughter doesn't go to school, she d...
Unprocessed food is great, but a life without chocolate no way! Am sure you will find a suitable brand. I don't eat Lindt, think they may use barley, others may know more. The Moser Roth are Aldi own brand. Looks like Aldi aren't in CR so not an alternative for you sorry. Maybe chec...
Ok guys, I'm not an expert. Maybe it was really just cc as Matt said. Or my body is just too sensitive now and this thing is too artificial/chemical. I feel that real unprocessed food is better for me now. It won't be a problem to find another brand. The Moser Roth doesn't sound familiar t...