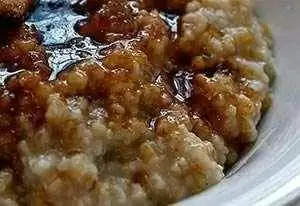 Image Caption: The finished gluten-free oatmeal. Photo: CC - Muffet
If you're like me, the recent cold weather has you longing for the heat waves of the past summer.  While grabbing a piece of fruit or even a refreshing smoothie on your way to work might fly during the summer, chilly winter mornings call for something much warmer before leaving the house.  This is a recipe for an easy-to-prepare oatmeal dish that mixes plain oatmeal, Konsyl Original Fiber supplement, pecans, syrup and whatever else you enjoy to give it an extra savory kick.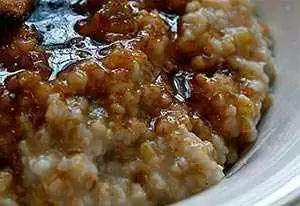 Harvest Oatmeal is also a great meal because it can accommodate many allergies.  If you're lactose-intolerant like me, changing the type of milk used in the recipe to coconut, almond, lactose-free or another version won't affect the final taste.  And if you're allergic to pecans or other nuts, they can be left out without subtracting from the deliciousness of the recipe.  Feel free to substitute or add any other garnishes of your choice - the maple syrup in this recipe is a personal favorite. I actually prefer the taste of sugar-free syrup, so if sugar is a concern for you, that's one easy way to modify your diet.

Your mom always told you that oatmeal was a great meal, and she's right.  Plus, making your own oatmeal feels great because the end result is delicious AND you can mold it to your own specifications (shh, don't tell anyone how easy it is!).  The oats warm you up right away, the Konsyl helps you feel full and aids your digestion, and the maple syrup and other delicious toppings mean that breakfast feels more like a treat rather than a chore.  And, because there's no real cooking involved, just heating, this is a great meal for those on the go.  Hope you enjoy!

Ingredients:
1 cup cooked, old fashioned gluten-free oatmeal
1/4 cup canned pumpkin puree
1 tbsp milk (coconut, almond or otherwise)
1 tbsp pumpkin pie spice
1 tsp real vanilla extract
1 rounded tsp Konsyl Original psyllium fiber
Maple syrup, pecans, dried cranberries or raisins for toppings, if desired

Directions:
Heat cooked oatmeal in pan on stove top or in microwave until just warm.

Add the milk, pumpkin, spices, vanilla and Konsyl Original.

Mix well and reheat.

If it is too thick, add 1 tbsp hot water at a time and stir until desired consistency is reached.

Top with syrup, nuts and dried fruit to your liking. Makes two servings.