For many years now, every winter I've made this vegetable bacon soup that is so rich and hearty it resembles a stew. Savory bacon, chunky vegetables, beans, Parmesan rind and chard deliver big, bold flavors. This recipe owes a debt of gratitude to Ina Garten, The Barefoot Contessa's, Winter Minestrone recipe for the inspired addition of pesto.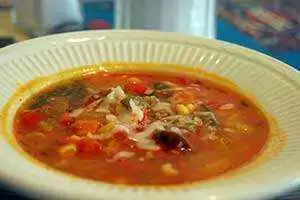 Ingredients:
Olive oil
6 cups chicken stock
24 ounces canned or boxed chopped tomatoes
8 ounces fresh chard, stalk removed, chopped
15-ounce can navy beans, drained and rinsed
4 ounces pancetta, or quality bacon ½-inch-diced
3-4 carrots, diced
3 stalks celery, diced
1 large yellow onion, chopped
2 cups peeled butternut squash, diced into ½-inch cubes
5 cloves minced garlic
1 bay leaf
2 tablespoons pesto
2 teaspoons chopped fresh thyme leaves
½ cup dry white wine
1 ounce piece Parmesan cheese rind
1 fresh rosemary sprig
Kosher salt and freshly ground black pepper
Freshly grated Parmesan cheese, as desired
Directions:
In a large, heavy soup pot, heat 2 tablespoons of olive oil over medium heat
Add pancetta and cook over medium-low heat until lightly browned.
Add shallots, carrots, celery, squash, garlic, and thyme and cook over medium heat, stirring occasionally, for about ten minutes, until the vegetables begin to soften.
Add Parmesan cheese rind, tomatoes, 6 cups of the chicken stock, the bay leaf, rosemary sprig, 1 tablespoon salt, and 1½ teaspoons pepper.
Bring pot to a boil, then lower the heat and simmer uncovered for 30 minutes, until the vegetables are tender.
Discard the bay leaf and rosemary sprig.
Add the beans and heat until simmering.
The soup should be nice and thick. If it's too thick, add more chicken stock. If you want it thicker, let it cook a bit longer.
Add the chard and cook until the leaves are tender. Stir in the white wine and the pesto.
Salt as needed.
Sprinkle with Parmesan cheese, drizzle with olive oil, and serve hot.
---
Image Caption: The finished vegetable bacon soup. Photo: CC--Stu Spivak