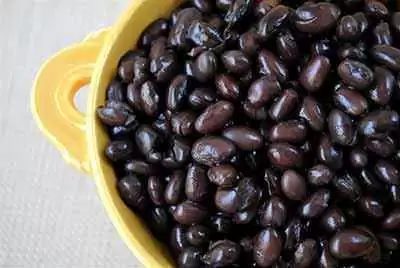 Celiac.com 11/03/2015 - Many people today are dealing with the need to be gluten-free, whether from allergies, intolerance or celiac disease. Being gluten-free can be the difference between being healthy and having chronic, potentially debilitating, symptoms.
However, sometimes being gluten-free is not enough.
---
Celiac.com Sponsor (A12):


---
---
Celiac.com Sponsor (A12-m):


---
The challenge with a gluten-free diet is that many of the most popular gluten-free flours are actually high in oxalate! Oxalate is a toxin that occurs naturally in most plant foods, but at very different levels, some relatively safe, and some not. Oxalate can even kill at high enough doses. The scientific challenges in the oxalate field, as well as oxalate's potential relationship to celiac sprue, were discussed in the feature article by Susan Costen Owens which appeared in the Spring issue of this journal. In this follow up article, you'll find the practical advice on how you can reduce the level of oxalate in your gluten-free diet.

A great example of a popular high oxalate gluten-free flour is almond flour. Almonds are one of the very highest oxalate foods, with about 300 mg of oxalate for one half cup of whole nuts. Given that you will actually have more nuts in a half cup of flour than you will in a half cup of whole nuts, you could have 400 or more milligrams of oxalate in that single half cup of flour.

So, your daily morning muffin made with almond flour could be 200-250 mg of oxalate. This means that you may not feel as good on your gluten-free diet as you might expect because your digestive tract can be suffering with ongoing inflammation from a new source – oxalate.

Now 250 mg of oxalate might not seem so bad – unless you consider that a low oxalate diet is defined as 40-60 mg of oxalate per day! That makes your morning muffin the equivalent of 4-5 days worth of oxalate, for someone who is eating a typical low-oxalate eating plan.

If you've been eating a lot of nut flours, you might be wondering what you can substitute instead? The one nut flour that is low oxalate is coconut flour. This can be a great option, if you like the density of nut flours, and want a flour with higher nutrition. All other nut flours are high; most seed flours are high too. Nuts themselves are some of the highest oxalate foods in nature. Baked products made with nut flours will be particularly high in oxalate – and if you add chocolate, you compound the problem.

Unfortunately, this is more bad news for lovers of chocolate baked goods. Chocolate is another extremely high oxalate ingredient: cocoa has more than 35 mg of oxalate per tablespoon and the substitute carob, is no better! Given that many baked goods could easily have 1-2 tablespoons of chocolate or carob per serving, you can see how your oxalate intake could really add up. Of course, this doesn't include the fact that many baked goods – like brownies – will combine both cocoa and nuts, for a double hit of oxalate.

The same problem arises with many of our common gluten-free baking flours and spices. They can often add an overload of oxalate to each serving, with the potential for problems later as oxalate accumulates in the body. So, how can you avoid gluten, and not introduce more of a known toxin into your body?

The trick is knowing enough about oxalate to avoid it effectively.

The first thing to learn is how to get flavor in your food without the oxalate. Oils and extracts are typically much lower in oxalate than the whole herb or spice, and yet retain the flavor for baking and cooking purposes. The process by which oils are pressed and extracts are made appears to leave the oxalate behind.

This rule of thumb gives us a way to get the taste we want, and avoid oxalate. For instance, to get a chocolate taste without too much cocoa, you can carefully craft a recipe that balances the use of cocoa with chocolate extract, chocolate flavoring and even a bit of coffee. Using food grade cocoa butter, which has zero oxalate, in place of butter or oil, is another way to boost that chocolate flavor. If you use the lowest oxalate flours as well, you leave some room for a bit more cocoa because you are not adding a lot of oxalate in the flour. By doing this, you can get the flavor you want while avoiding the oxalate.

Another example of baking smart is an almond flavored cookie. You can actually make a cookie with almond oil as well as almond extract for extra taste – while almonds themselves are extremely high, both the oil and the extract have almost no oxalate at all!

This concept of using oils and extracts is particularly important if you like the sweet taste of cinnamon. Cinnamon is a very high oxalate spice with over 38 mg of oxalate for just one teaspoon! Choose instead cinnamon oil or cinnamon extract. Cinnamon oil is available from various outlets that sell culinary oils. You can get cinnamon extract in the supplement section of your grocery or health food store – generally, it is sold in capsules. When cooking with it, you simply open the capsules and put the powdered extract into your dish. Substitute about the equivalent amount of dry extract for ground cinnamon.

The second thing to learn is how to pick low oxalate flours. While many of the gluten-free flours are high in oxalate, the process of picking appropriate flours may not be as hard as it first appears.

Oxalate is often present in the "bran" of a grain. As a result, most whole grain flours are actually high in oxalate. This seems strange to us because we are told to get more fiber and eat whole grain. But the truth is that not all whole grains are good for us and we can get our fiber in other ways not so tied to oxalate.

Interestingly, most starches are low oxalate (even if they come from high oxalate whole foods), in the same way that oils are low oxalate. This means that starches are our friends when we want to cook! Most starches (including potato, corn, green bean and sweet potato) are low in oxalate, and can be used as part of the flour combination in a baked good to get a lighter, fluffier result.

Again, the explanation is similar to the explanation regarding oils and extracts: when we remove the starch from even a high oxalate food, we appear to leave the majority of the oxalate behind. But be careful to get starches and not flours when you are dealing with high oxalate whole foods – items like potato flour or sweet potato flour are extremely high in oxalate, and should be avoided. Only the starches are safe on a low-oxalate eating plan.

You can consume some medium oxalate foods, and still remain low oxalate overall. This expands the possible flours that you can use. Good options include white masa (which is a corn flour), green pea, lupin, sorghum, and sweet rice flours. While buckwheat and quinoa are also common in gluten-free foods, these grains are very high in oxalate. You should ideally avoid them.

So what do you do if you are used to baking with nut flours? If you want high nutrition flours that are much lower in oxalate than nut flours, look to legume flours. Consider black-eyed pea flour (also called cowpea bean flour), garbanzo bean flour, or yellow pea flour. All of these legume flours are low in oxalate. However, because legume flours can be heavy, combine them with low oxalate starches, like corn, rice, green bean, potato or sweet potato starch to get the right texture in your baked goods.

When we combine the lowest oxalate flours with others that are medium (and sometimes small amounts of higher oxalate flours), we can get the right kind of flavor and texture, yet remain low in oxalate per serving. A great example is a flour mix that contains a variety of flours. One easy combination of flours is ½ cup of sweet rice flour (medium oxalate), with ½ cup of coconut flour (medium oxalate), ½ cup of potato starch (low oxalate) and ½ cup of cornstarch (low oxalate). This particular flour combination can be used in crepes, and results in a crepe that has the same kind of stretch that you have with gluten flours, because of the properties of the various flours used in the combination.

While some of us will be experimental and will like the idea of playing with flours and starches to develop our own recipes, others will not. If you are looking for a good quality gluten-free flour mix that you can use at home, consider Orgran. Another great option for baking (as well as pancakes) is gluten-free Bisquick.

So far we've presumed that you are baking or making your own gluten-free items. But what if you are buying packaged gluten-free foods?

When looking at baked goods, look for starches in the first five ingredients. So, you should see low oxalate flours early in the ingredients, because these will be the largest components of your baked good. Avoid items with buckwheat flour, hemp, quinoa, sesame seeds, and teff in general. All of these ingredients are so high in oxalate, that even small amounts would be a problem. While tapioca starch and white rice flour are high in oxalate, in smaller amounts, they should be fine.

If you are considering reducing oxalate in your diet, the best way to do that is slowly! When you reduce oxalate too quickly, you can experience stressful symptoms as the oxalate that is stored in your body leaves too quickly. The process of oxalate moving out of your tissues and into your blood, seeking then a site of secretion, is called "dumping" by our project since it is a very common experience. This can be the culprit behind digestive symptoms, fatigue, brain fog, rashes and other symptoms.

Ideally, you would slowly phase high oxalate foods out of your diet. So rather than completely abandoning your morning muffin made with almond flour, you would slowly reduce your portion by ¼ of a muffin per week, until you were no longer eating an almond flour muffin after 4 weeks. During those 4 weeks, you slowly introduce your new morning muffin, ¼ at a time, which is now made with coconut flour.

You would also want to remove only one food at a time in this way – so that oxalate is very slowly phased out, and you can also use up some of the high oxalate foods that you have in your home. It's not only easier on your body to do this change slowly, but it's also easier on your pocket book!

Oxalate is not just an issue with grains and flours – it can also be an issue with other foods. So while this article has focused more on the specific issues with gluten-free baking and cooking, there are other high oxalate foods that you need to be aware of if you want to reduce oxalate in your overall diet.

You may have heard or seen information that points at leafy greens as high oxalate foods. While such common staples as spinach, beets and Swiss chard are extremely high in oxalate, you can enjoy other greens in a healthy diet. Consider other leafy greens like arugula, turnip greens, mustard greens or certain varieties of kale, like dino / lacinto or purple, to get leafy veggies in your diet. Most lettuces are low in oxalate and high in nutrition, including romaine and leaf lettuce. Eating low oxalate does not have to mean removing whole food groups from your diet, nor losing all your high nutrition options!

Many of the common fruits are lower in oxalate and can be incorporated in your diet – including berries. Many people have mistakenly heard that all berries are high oxalate. Testing done by Dr. Michael Liebman of the University of Wyoming shows this is not true! According to test results from his lab, both blueberries and strawberries are low oxalate, and raspberries are medium oxalate. So while you might want to avoid blackberries (which are very high in oxalate), you can safely eat other healthy berries.

However, other fruit can be extremely high in oxalate. Citrus can be tricky because it's important to know not just which fruit you are eating, but which parts. Many citrus juices, like grapefruit, orange, lemon and lime, are low oxalate per serving, so you can still get the taste of these items when cooking with the juice. But don't eat a lot of grapefruit – the whole fruit is high oxalate. Similarly, if you use citrus zest for extra flavor, you'll find that it's a problem: the oxalate levels are too high.

Sometimes you need to know the variety of a food, or need to watch your serving size. Pears are a great example. Some varieties of pears have tested low; others have tested high. When choosing pears, go for Bartlett (also called Williams pear).

Many exotic and tropical fruits are high, including kiwi, figs, papaya, gauva, and pomegranate. Some are so high that they could be dangerous to consume in a single serving! Star fruit has this dubious distinction: it is so high that people have had seizures and even died from eating star fruit when their kidneys were in trouble.

It is important to recognize that many of the foods that we think of as being the healthiest may also contain a lot of oxalate. Vegans can be particularly susceptible to eating a very high oxalate diet, as they may be getting their protein primarily from high oxalate legumes, including soybeans. If you want to include legumes in your diet for the fiber and nutritional benefits, focus on the low and medium oxalate legumes. That list includes red, green, brown and yellow lentils, green peas, red kidney beans, tofu, garbanzo beans, yellow and green split peas, lima beans and black-eyed peas.

Note that tofu is okay – but whole soybeans are not. This is one of the most challenging aspects of the diet. Some foods are okay in the right form, or with the proper processing. So much as extracts, oils and starches are lower in oxalate than the whole foods they come from, some processed forms of foods are lower than the whole, unprocessed food. So you can eat tofu – but don't eat edamame.

A last point that can help you to reduce oxalate in your diet is to consider how a food is cooked. When a food is boiled, you may actually reduce the amount of oxalate in the food. Oxalate can be soluble, and so it will leach into the cooking water, and can then be thrown away. There is no other cooking method that can reliably reduce oxalate, other than cooking or soaking in water. However, this flies in the face of current nutritional advice, which focuses on eating as many foods as possible raw. While you don't have to boil everything you eat – there are a number of very low oxalate veggies and fruits that can be eaten and enjoyed raw – boiling can be a valuable strategy to reduce this known toxin, and leave you with a more nutritious end result.

If you have more questions about oxalate and your diet, please see the website www.lowoxalate.info. There is also an associated support group, which is currently at Yahoo, called Trying_Low_Oxalates. In addition, we have a Facebook group with the same name. On Facebook, we also have two additional recipe groups, one of which is focused specifically on vegan eating. These support groups can help you to make lower oxalate choices part of your diet and can also help you gain a perspective on how oxalate may have been affecting other issues in your health.
Lower Oxalate Flours, Starches and Products
Potato starch
Cornstarch
Green Bean starch
Sweet Potato starch
Flax meal / seed
White masa corn flour
Green pea flour
Lupin flour
White rice flour
Sweet rice flour
Coconut flour
Black-eyed pea (cowpea) flour
Garbanzo bean (chickpea) flour
Water chestnut flour
Yellow pea flour
Low Oxalate per serving
General Mills Corn Chex (1/2 cup)
General Mills Rice Chex (1/2 cup)
Arrowhead Mills gluten-free Popcorn (1 cup)
Eden Kuzu Pasta (1/2 cup)
Thai Kitchen Rice Noodles (1/2 cup)
Annie's Homegrown Macaroni and Cheese, gluten-free (1/2 cup)
Tinkyada White Rice Spaghetti (1/2 cup)
Lotus Foods Bhutan Red Rice (1/2 cup cooked)
Higher Oxalate Gluten-free Products
Medium oxalate per serving
Udi's White Sandwich Bread (1 slice)
Nabisco Cream of Rice (1/4 cup dry)
Envirokids Gorilla Munch (1 cup)
Orville Redenbacher's Popcorn (1 cup)
Mission Yellow Corn Tortillas (1)
Tinkyada Brown Rice Spaghetti (1/2 cup cooked)
Tolerant Foods Red Lentil Rotini (1/2 cup cooked)
Lundberg Brown Jasmine Rice, boiled (1/2 cup)
Extremely High Oxalate foods
Beans (Anasazi, Black/Turtle, Cannellini, Great Northern, Navy, Pink, Pinto, Red, Soy, White)
Cactus/Nopal
Carob
Cocoa Powder/dark and milk chocolate
Fruits (Apricot, Blackberries, Figs, Guava, Kiwi, Pomegranate, Rhubarb, Star Fruit/Carambola)
Grains (Amaranth, Buckwheat, Quinoa, Teff)
Nuts (Almonds, Cashew, Brazil, Hazelnut/filberts, Macadamia, Peanuts/Spanish Peanuts, Pine)
Seeds (Caraway, Chia, Hemp, Poppy, Sesame)
Herbs/Spices (Allspice, Cinnamon, Clove, Cumin, Curry Powder, Ginger, Onion Powder, Turmeric)
Potatoes (Russet, Burbank, Idaho, Fingerling)
Vegetables (Artichoke, Beets, Eggplant, Hearts of Palm, Jerusalem Artichokes, Okra, Plantain, Swiss chard,
Spinach, Sweet Potato/Yam)
Guide to Lower Oxalate Substitutions 
(chart on substitutions is used by permission from: https://www.facebook.com/pages/Low-Ox-Coach/551330634959001/)
High Oxalate Ingredient(s)

What it's used for

Lower Oxalate Substitution

Spinach

Greens in a stir fry

Cooks down for sauces / dips

ARUGULA. Similar flavour and consistency. Substitute one for one.

 

Beets

Greens in a stir fry

Sweet root veggie

Used for detox

For stir-fries, try other greens, like turnip or kohl rabi. You can also use red cabbage for a red veggie (if you need something red). Try boiled carrots or parsnip for dishes that need a root veggie. If you want a gentle detox, try lemon juice in water to start your day.

 

Swiss Chard

Greens in a stir fry

Steamed

Boiled

 

Dino / Lacinto Kale. Lowest ox when boiled. Can also try mustard greens or dandelion greens.

Almonds

Snack

Baking

Gluten free crusts

For snacks, try pumpkin seeds. For baking, either go to coconut flour (rather than almond flour) or use a lower ox nut and smaller quantities. For bread, try pumpkin seed butter or sunflower seed butter. Pecans or walnuts are the lowest ox nuts.

 

Almond or peanut butter

 

Sunflower seed butter, macadamia nut butter, pumpkin seed butter, golden pea butter (golden pea is the lowest oxalate)

 

Sesame seeds

Used for both flavour and as the whole seed

While sesame seeds are high, the oil is zero oxalate! So, try using either plain or toasted sesame seed oil to flavour dishes.

 

Most dried beans, including red beans, adzuki beans, black beans, etc

Try subbing lower ox legumes like black-eyes peas, red lentils, green and yellow split peas, garbanzo beans and lima beans.

 

Brown rice

Side dish

Casseroles

Stir-fries

Sub with either brown rice that is soaked, drained and cooked like pasta (in lots of water), or use white rice. Uncle Ben's is one of the lowest rices.

 

Chocolate / Cocoa

Try lesser amounts of chocolate, or a combination of cocoa and chocolate flavoured stevia. Also, can sub white chocolate in many applications, like white chocolate chips for cookies. In a recipe, sub food grade cocoa butter in place of other specified oils / butter.

 

Tomato sauce

Instead of 100% tomato sauce, sub with 1-2 tablespoons of tomato paste, ½ cup pumpkin or butternut squash puree and water to thin as required. Add appropriate spices for the dish.

 

Black tea

Decaf green tea, many herbal teas or coffee

Nutmeg

Mace

 

Black pepper

White pepper

 

Sweet potatoes

Butternut squash or other suitable squash with the right texture and flavour.

 

Onion, carrot and celery to use to start soup

One of the most common combinations to start soup or stir fry

Garlic, shallot and red pepper is a favourite. You can also use garlic, shallot and green cabbage.

 

Lemon or orange rind

Lemon or orange juice, with a thickener. In some cases, lemon or orange extract.

 

Cinnamon

Cinnamon extract (purchased in a dry capsule supplement at the health food store. Break open capsules and put contents in your dish).

 

Regular potatoes

Boiled, or used in dishes

Baked

You can boil new, red-skinned, white-fleshed potatoes and then add to dishes. You can also sub cauliflower or radishes, 1 to 1. (Radishes are great cooked!) To sub for a baked potato or for a dish that uses potato raw, try rutabaga or turnip (which can be scalloped or turned into a baked fry.)

 

Regular pasta

Usually for main dishes or side dishes

Zucchini "noodles", or cornstarch noodles, or other tested and low ox pasta like Shiritaki noodles (which are also low carb and zero calories). You can get cornstarch "angel hair" pasta or Shiritaki noodles at Asian food markets.

Oatmeal

 

 

Sub with ½ oatmeal and ½ flax meal for cooked cereal with the same texture but lower oxalate.

Turmeric

Sub with curcumin extract. This can be purchased as a health supplement in capsules. Capsules can be opened and the contents added to food and beverages.

Ground ginger

 

Sub with fresh ginger or ginger root extract.
From the author:
If you have ever been diagnosed with an autoimmune disease and have been trying to lower oxalate, will you participate in the development of this science by filling out a survey?
We would also like to find out whether reducing oxalate has affected your autoimmune condition.
The link to our survey is here: https://www.surveymonkey.com/r/CMN5KK7