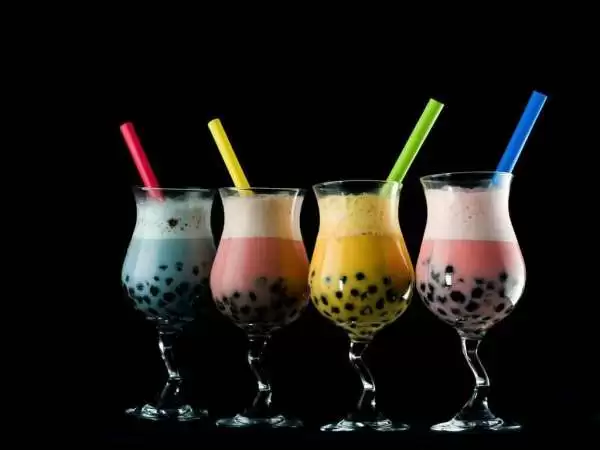 Caption: Image: CC BY 2.0-- ljguitar
Celiac.com 09/07/2020 - Anyone living in a bubble for the last decade or two might be excused for asking "What, exactly, is bubble tea, aka 'boba tea?'" Anyone not living in a bubble the last decade or two, and who has celiac disease, might be excused for asking "Is bubble tea gluten-free and safe for people with celiac disease?"
Created in Taiwan in the 1980s, bubble tea has become so popular in the United States in the last decade, that "Boba Tea" shops are popping up like weeds. If you live in a city, or go to a mall, you may have noticed the popularity of bubble tea establishments. San Francisco alone is home to dozens of bubble tea shops, including some much-loved northern California chains like T-Pumps, and Teaspoon. 
---
Celiac.com Sponsor (A12):


---
---
Celiac.com Sponsor (A12-m):


---
For the uninitiated, "Bubble tea," aka "Boba tea" is a drink made from sweetened black tea and milk, shaken with ice to make a foamy layer of "bubbles" that float on top of the drink. Chewy tapioca balls, aka 'boba' are also commonly added, as are many other ingredients, and flavors, including: taro, red bean, ginger, and even bran.

Flavors are commonly fruit based, such as: peach, mango, strawberry, passionfruit, strawberry, guava, and tangerine, among others.  

So, here's the gluten-free breakdown. As with so many questions, the answer can depends on what you add to your boba tea.

Bubble tea is just black or green tea, milk, sugar, fruit, and tapioca balls. All of these are gluten-free and safe for people with celiac disease. For reference, tapioca balls, or 'pearls,' are chewy little balls of tapioca starch, which is derived from the cassava root, which is gluten-free.

As with ice cream, the devil can be in the details. Or, in this case, the things we add to the final product. Any ingredient that includes wheat, wheat bran or gluten, will make the final product not gluten-free, so be careful what you add. Most additives to boba tea are fruit-based, but sometimes they offer bran, which is not gluten-free, so be careful. Cross-contamination can also be an issue, so if you do decide to try it be sure to explain to the person making it that you need to avoid any contamination with gluten.

If you're not sure about ingredients, it's best to avoid them. For a full list of safe and unsafe ingredients, consult Celiac.com's list of safe, gluten-free ingredients, and a list of unsafe, non-gluten-free ingredients. 

So, to recap: Bubble tea, aka 'boba' tea is basically gluten-free, as long as you don't accidentally add gluten ingredients to the final product. Stick to the basics, the tea, milk, sugar, fruit and tapioca pearls, and you'll be sure to stay in gluten-free territory.

Get Gluten-Free Bubble Tea Near Me: