Celiac Disease and Gluten-Free Diet Support
---
---
---
---
Follow / Share
FOLLOW US:
SHARE:

Popular Articles
"Free-From" Peanut Butter Cookies (Gluten-Free)
"Free-From" Peanut Butter Cookies (Gluten-Free)
Published 02/6/2009
Rating:
Ok, I know these cookies aren't free from peanuts, but they are peanut butter cookies, after all! If you can do almonds, but not peanuts, definitely try this recipe with almond butter – yum!
For the rest of us with other dietary restrictions, take heart! These cookies fit the bill! They're delicious, and still gluten-free, dairy-free, egg-free, soy-free, and sugar-free! Yes, they even have a low glycemic index! Enjoy these cookies on their own, or add chocolate chips (dairy-free chips are great too!) for a change of pace. High protein, loads of vitamins and minerals, dietary fiber – it's all there, and in a cookie!!! Maybe I should have called these "Guilt-Free Cookies"!!!
Don't be daunted by some of the unusual flour ingredients. Try them if you will, or just use my all purpose blend instead, for a quick and easy recipe substitution.
Ingredients:
1 ½ cups peanut butter (natural or no sugar added)
¾ cup agave nectar (light or dark)
1 Tbs. gluten-free vanilla extract
¼ cup unsweetened applesauce
½ tsp. salt
1 cup Nearly Normal All Purpose Flour*
¾ cup buckwheat flour (or Nearly Normal All Purpose Flour)
2 Tbs. mesquite flour (or Nearly Normal All Purpose Flour)
2 Tbs. almond meal (or Nearly Normal All Purpose Flour)
½ cup+ chocolate chips (optional)
Cinnamon and sugar (or granulated splenda) mixture (or cinnamon only) for tops of cookies
*Nearly Normal All Purpose Flour may be made using the recipe found in my cookbook, Nearly Normal Cooking for Gluten-Free Eating, or on my Web site.
Directions:
Preheat oven to 350 F.
Blend peanut butter and all liquid ingredients together, then add in the dry ingredients, mixing until fully incorporated.
Prepare a cookie sheet lined with parchment paper. Roll balls of dough approximately the size of ping pong balls in your hands and place on the prepared cookie sheet. Dip a fork in the cinnamon-sugar mixture and press into each cookie to flatten with a criss-cross design.

Bake for 10-12 minutes and remove to cool on the pan.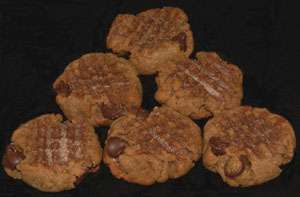 Finished "Free-From" Peanut Butter Cookies
Celiac.com welcomes your comments below (registration is NOT required).

Get Email Alerts (More Info)
Article Options
Jules Shepard
Atop each of Jules Shepard's free weekly recipe newsletters is her mantra: "Perfecting Gluten-Free Baking, Together." From her easy-to-read cookbook ("Nearly Normal Cooking for Gluten Free Eating") to her highly rated reference for making the transition to living gluten free easier ("The First Year: Celiac Disease and Living Gluten Free"), Jules is tireless in the kitchen, at the keyboard and in person in helping people eating gluten free do it with ease, with style and with no compromises.
 
In the kitchen, she creates recipes for beautiful, tasty gluten-free foods that most people could never tell are gluten free. As a writer, she produces a steady stream of baking tips, living advice, encouragement and insights through magazine articles, her web site (gfJules.com), newsletter, e-books and on sites like http://celiac.com and others. Jules also maintains a busy schedule of speaking at celiac and gluten-free gatherings, appearing on TV and radio shows, baking industry conventions, as well as teaching classes on the ease and freedom of baking at home.
 
Her patent-pending all-purpose flour literally has changed lives for families who thought going gluten free meant going without. Thousands read her weekly newsletter, follow her on Twitter and interact with her on FaceBook. Â 
View all articles by Jules Shepard
In Celiac.com's Forum Now:
Yes you are correct. Interestingly my genes in the US are thought to be more associated with RA. Which is something they thought I had prediagnosis. In the Middle and far East they are more likely to be associated with celiac and they are rare genes in Caucasians which I am according to my parent...
It seems like you really need a concrete or near concrete answer so I would say maybe you ought to get the gene testing. Then you can decide on the gluten challenge. Thanks! I am convinced our dogs are there waiting for us. Meanwhile they are playing, running, laughing, barking & chas...
I can't help thinking that all of this would be so much easier if the doctor I went to 10 years ago would have done testing for celiac, rather than tell me I probably should avoid gluten. He was looking to sell allergy shots and hormone treatment, he had nothing to gain from me being diagnosed ce...
Most (90%-95%) patients with celiac disease have 1 or 2 copies of HLA-DQ2 haplotype (see below), while the remainder have HLA-DQ8 haplotype. Rare exceptions to these associations have been occasionally seen. In 1 study of celiac disease, only 0.7% of patients with celiac disease lacked the HLA al...
This is not quite as cut & dried as it sounds. Although rare, there are diagnosed celiacs who do not have either of those genes. Ravenwoodglass, who posted above, is one of those people. I think she has double DQ9 genes? Am I right Raven? My point is, that getting the gene testing is not an...