Snickerdoodles (Gluten-Free)
Published 04/14/2010
Rating:
If you've been craving these old favorites and thought you may never have them again ... your wait is over! These cookies will fool any gluten eater and satisfy every craving. Caution: they're addictive!
Ingredients:

1 ½ cups granulated cane sugar
1 cup shortening, butter or other non-dairy alternative (e.g Earth Balance® Buttery Sticks/Shortening Sticks)
2 large eggs
2 ¾ cup Jules Gluten Free All Purpose Flour
1 tsp. baking soda
2 tsp. cream of tartar
¼ tsp. salt
Topping:

2 Tbs. granulated cane sugar
2 tsp. cinnamon
Directions:
Cream shortening and sugar until fluffy. Add eggs and beat until combined.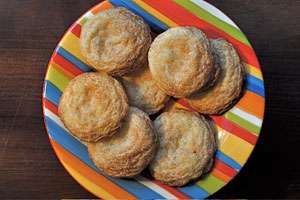 In a separate bowl, whisk dry ingredients together: Jules Gluten Free All Purpose Flour; baking soda, cream of tartar and salt. Add to wet ingredient bowl and mix until thoroughly incorporated.
Cover tightly and refrigerate until cold, at least 2 hours.
Preheat oven to 400 F (static) or 375 F (convection).

Shape dough into 1-inch balls by rolling in the palms of your hands. Roll each ball in the sugar and cinnamon mixture. Place on a parchment-lined baking sheet and bake for 8-9 minutes, or until lightly browning and puffed. Remove to cool on a wire rack; the cookies will sink slightly in the middle when cooled – this is normal.
Yield: approximately 3 dozen cookies.
Celiac.com welcomes your comments below (registration is NOT required).

Get Email Alerts (More Info)
Article Options
Jules Shepard
Atop each of Jules Shepard's free weekly recipe newsletters is her mantra: "Perfecting Gluten-Free Baking, Together." From her easy-to-read cookbook ("Nearly Normal Cooking for Gluten Free Eating") to her highly rated reference for making the transition to living gluten free easier ("The First Year: Celiac Disease and Living Gluten Free"), Jules is tireless in the kitchen, at the keyboard and in person in helping people eating gluten free do it with ease, with style and with no compromises.
 
In the kitchen, she creates recipes for beautiful, tasty gluten-free foods that most people could never tell are gluten free. As a writer, she produces a steady stream of baking tips, living advice, encouragement and insights through magazine articles, her web site (gfJules.com), newsletter, e-books and on sites like http://celiac.com and others. Jules also maintains a busy schedule of speaking at celiac and gluten-free gatherings, appearing on TV and radio shows, baking industry conventions, as well as teaching classes on the ease and freedom of baking at home.
 
Her patent-pending all-purpose flour literally has changed lives for families who thought going gluten free meant going without. Thousands read her weekly newsletter, follow her on Twitter and interact with her on FaceBook. Â 
View all articles by Jules Shepard
In Celiac.com's Forum Now:
I don't have a lot of time this morning but I did locate organizations section on gluten free label regs in Canada. There may be more info on this in that section that may be helpful in knowing why they are making that change. http://www.inspection.gc.ca/food/labelling/food-labelling-for-ind...
Funny you should mention this, I got a offer for some free ones from that company and just turned it down. The only gluten free products from the company are a 2 lines of dedicated nut type bars. The majority of their bars actually contain either barley (gluten grain) like the biscuits etc. Or wh...
There has been a recent recall of veggies because of listeria risk. Here is the FDA list of recalled items in the US and Canada https://www.fda.gov/Safety/Recalls/ucm581389.htm
I asked for their two products yesterday,onion and garlic.Onion powder's package doesnt have starch or wheat on ingredient list but garlic powder has corn starch . I dont have any intolerance to corn by the way. They told me they add starch to two of their products so they are not gluten fre...
Well endoscopy done this morning. Said that all looked normal no sign of celiac seen normal duodenal cap and preserved villi. but need to wait for biopsies. Report stated mild antral gastritis with erythema found but non specific. Seems like they took a lot of Biopsies. Report stated they took ...