Holiday Pumpkin Bread (Gluten-Free)
Holiday Pumpkin Bread (Gluten-Free)
Published 02/1/2012
Rating:
During the holidays I find myself missing certain holiday foods terribly. The one that really gets me is pumpkin pie. No matter what anyone says, it's just not possible to make a gluten-dairy-sugar-free pumpkin pie and call it a pie...

So, this holiday, in the quest for something pumpkin-y I came up with a simple recipe for pumpkin bread that I can eat with abandon, that tastes great, and that doesn't contain any gluten, dairy, or table sugar (sucrose).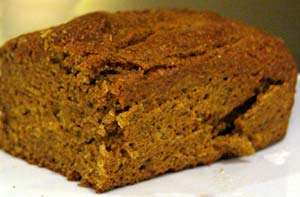 Ingredients

1 package (8 oz.) Fearn Brown Rice Baking Mix. The box contains 2 packages of mix – 8oz each.
1 - 15 oz. can pumpkin
½ to 1 tsp. cinnamon
½ to 1 tsp. pumpkin pie spice
2 eggs
½ cup olive oil
½ cup unsweetened applesauce
Directions

Preheat oven to 350F.
Place a small amount of olive oil in the bottoms of 4 mini-loaf pans. (I use ceramic pans purchased from Michaels for a whopping 99c each).
In a large mixing bowl, mix eggs and pumpkin until well blended.
Add oil and applesauce and mix well.
In a separate bowl, combine one package of Fearn Brown Rice Baking Mix with the cinnamon and pumpkin pie spice. (I vary my amounts of spice depending on the mood of the day but usually use between ½ - 1 tsp of each.)
Mix the dry ingredients into the pumpkin mixture until all ingredients are well blended. The mixture will be quite thick.
Spoon into 4 prepared mini-loaf pans.
Bake at 350F for 35-45 minutes or until the tops are brown. Test for "doneness" with a toothpick.
I enjoy my pumpkin bread served warm with Organic Smart Balance butter spread. My children (who can thankfully eat mostly anything) eat it with a dollop of Redi Whip. If I eat it for dessert, I heat up a slice and then add Silk Soy Vanilla Yogurt on the side. This quite satisfies my dessert-with-cream longing.
Happy gluten-free eating!

Celiac.com welcomes your comments below (registration is NOT required).

Get Email Alerts (More Info)
Article Options
Jennifer Arrington
I first learned of celiac disease while studying for my masters in nutrition and immunology at Texas A&M University. Prior to this, I had been sick for over six years with unexplained health problems. After discussing my options with a local physician, I decided to try the gluten free diet.  Within days the symptoms had resolved!  Ten years and two healthy children later, I am still gluten free.  In an effort to help bring celiac disease into the mainstream, I have recently published a Christian romance novel, Trusting for Tomorrow, that highlights the struggles of diagnosing and living with celiac disease.  Follow my blog at www.jenniferinjupiter.wordpress.com.
View all articles by Jennifer Arrington
In Celiac.com's Forum Now:
"October 20, 2017 (Mississauga, ON) The Canadian Food Inspection Agency (CFIA) has made an announcement that the words ?gluten-free? will be removed from all Cheerios package sold in Canada by January 1, 2018. The Canadian Celiac Association first objected to the claim in August 2016 and str...
If you were gluten-free for months before the blood work, it should be negative. It is meaningless as a test for Celaic at that point. IF you have been eating gluten for the last 2 years, keep eating it and get a new blood test.
this article made no mention of "gluten free beer". There is no reason to think that they are not actually gluten free as they are made with only gluten-free ingredients. This article is about beer made with barley. These are not gluten-free beers but often called "gluten reduced" or "glut...
Hello, i need some input. Two years ago I had an upper endoscopy with 6 biopsies showing some interepithelial lymphocytes and shortened villi so I was sent for blood work which came back negative but I had been on a gluten feee diet for 2-3 months prior to bloodwork. What are the chances I had a...
It's funny you post this as the other day I was looking at the supermarket shelves in the gluten free section. There was a very impressive choice of beers. A couple of years ago there would be one or two, but I think I counted 8 including a very tempting IPA and another real ale type alongside t...