Celiac Disease and Gluten-Free Diet Support
---
---
---
---
Follow / Share
FOLLOW US:
SHARE:

Popular Articles
Dear Subway: Please Share the Gluten-Free Oregon Love
Dear Subway: Please Share the Gluten-Free Oregon Love
Celiac.com 08/14/2015 – Recently I took a last minute, end of Summer road trip with my family and on one of our pit stops I was delighted to discover the often rumored, highly elusive and possibly "Holy Grail" of gluten-free food: Subway's gluten-free sub rolls! Yes, I am here to tell you that they do indeed exist, even though I almost couldn't believe it even when I saw them—but there they were...a whole stack of six inch long gluten-free Subway rolls—sitting right in front of me in tidy, individually wrapped cellophane packages.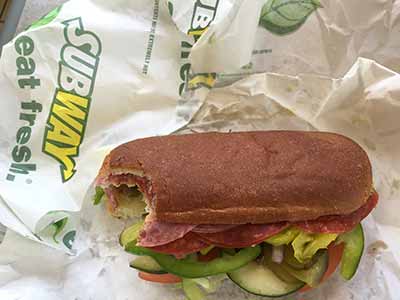 I had to rub my eyes and look twice to make sure that I wasn't dreaming because I, like many people, believed that Subway had discontinued them after a temporary Oregon-only trial run, and had decided against a permanent gluten-free roll out. Apparently though, in Oregon at least (and perhaps in other states?), they are still going strong many months after their rumored demise. To top this off, they even offered a gluten-free brownie for dessert!
Rather than getting stuck with a chopped Subway salad again I was finally able to order a real submarine sandwich—just like everyone else. So, I immediately honed in on an old favorite and decided to try their Spicy Italian sub on a gluten-free roll. What...no bewildered look on their faces when I asked for gluten-free? They seemed to know exactly what I wanted, and the employee who prepared my sandwich seemed to follow a carefully prepared script—she first cleaned off the prep counter, then changed into a new pair of clean gloves, and finally pulled out a new, clean sheet of paper onto which she set the packaged roll. The roll was pre-cut, thus she didn't have to use the bread knife to cut it, which was likely contaminated. While making the sandwich I was offered the option of having it toasted (some sensitive celiacs may want to skip the toaster oven part), and I noticed that when she toasted mine she made sure that it went into the oven solo, so that it would not touch other sandwiches (it was also on its original sheet of clean paper when it went in).
At this point you are probably wondering how it tasted, right? It was simply fantastic! Why can't other companies make gluten-free bread taste like this? It was soft, strong and slightly chewy. It wasn't at all dry, and seemed very fresh. My wife wanted me to ask them if they were sold separately so that I could take some home with me, which I didn't do, but you get the idea—they were really good and tasted very fresh.
I was so excited about the prospect of being able to once again eat Subway sandwiches that I ended up stopping at Subway several times during our road trip.
Each time I visited a Subway in Oregon I noticed that other people were also ordering or eating gluten-free subs, and in each case the staff seemed to follow their gluten-free script perfectly. It is difficult to estimate the exact ratio of gluten-free customers from such a small sampling, but it seemed to me that around 10-20% of total visitors ordered the gluten-free roll. Most companies would do almost anything to grow their business by 10-20%, but in this case the opposite could be the case—businesses should be willing to offer gluten-free options so they don't lose 10-20% of their business! I certainly hope that Subway's Oregon test bed is going well, and that Subway has learned that offering gluten-free sub rolls is great for business.
And now for the $64,000 question: Will Subway roll out their gluten-free rolls to other states, and if so, when? It's time for Subway to share the gluten-free love beyond just Oregon! Of course with the P.F. Chang's litigation still ongoing, they are likely now in a holding pattern to see how that case turns out.
Have you seen gluten-free Subway rolls outside of Oregon? Please let us know below.
Celiac.com welcomes your comments below (registration is NOT required).

Get Email Alerts (More Info)
Article Options
Scott Adams
In 1994 I was diagnosed with celiac disease, which led me to create Celiac.com in 1995. I created this site for a single purpose: To help as many people as possible with celiac disease get diagnosed so they can begin to live happy, healthy gluten-free lives. Celiac.com was the first site on the Internet dedicated solely to celiac disease. In 1998 I founded The Gluten-Free Mall, Your Special Diet Superstore!, and I am the co-author of the book Cereal Killers, and founder and publisher of Journal of Gluten Sensitivity.
View all articles by Scott Adams
In Celiac.com's Forum Now:
The AGA/IgA and AGA/IgG tests are reliable and I am not sure why some consider them not as reliable. They are just the older versions of the current DGP testing, which is more sensitive than the AGA testing. I have full blown Celiac Disease and I failed both AGA tests at diagnosis by high numbe...
Whitepaw, I also meant to say that my friend who has been having gastritis issues since the winter (now it seems to be getting better after tapering off Lanzaprazole and introducing more natural remedies) told me that she used to feel acid in her stomach first thing, too. It is good to know that...
So I have another son with a different autoimmune disorder (jia). But my brother has type one diabetes which I've read is gene related to celiac. I myself have been tested for celiac twice because I have gastro issues with it but it has always been negative. Yes they said it may be while. H...
With omeprazole I never felt entirely good really - some time every day I felt off, but I think it might have been the bloating. Perhaps I never gave it long enough. Yet that nauseous feeling and diarrhea carried on for a few days after I stopped taking it. Now on day four of Ranitidine/Za...
Re: food diary. That is a really good way of keeping a food diary - I always thought it was a question of just scribbling everything down. But categorising things into what one can always tolerate, sometimes tolerate, never tolerate is such a good way of making things seem clearer. Re:...