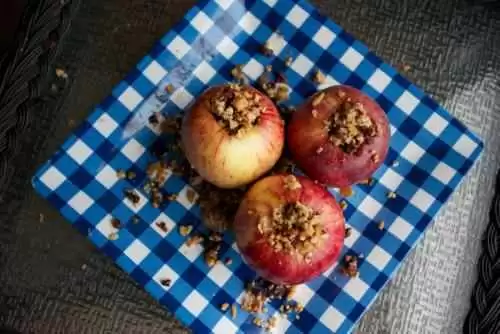 Caption: These baked apples are just the way to start your Halloween season. Photo: CC--Healthier Michigan
Celiac.com 10/14/2017 - Filled with nuts and cranberries, these easy to cook baked apples are slow-cooker magic. Top them with sea salt caramel sauce and vanilla ice cream, and you've got the makings for a memorable treat.
Ingredients:
4 tart baking apples, such as Granny Smith, medium sized
⅓ cup dried cranberries, chopped
⅓ cup finely chopped walnuts or pecans
⅓ cup packed brown sugar
1 cup apple cider
1 teaspoon lemon zest
2 tablespoons lemon juice
3 inches of stick cinnamon
1 tablespoon butter, cut into four pieces
⅓ cup packed brown sugar
¼ cup whipping cream
¼ cup butter
1 tablespoon light-color corn syrup
1 teaspoon vanilla
½ teaspoon coarse sea salt
Vanilla ice cream, as desired
---
Celiac.com Sponsor (A12):


---
---
Celiac.com Sponsor (A12-m):


---
Directions:
Core apples, and peel the very top away from each apple. Arrange the apples, top side up, in a slow cooker.

In a medium bowl, combine cranberries, walnuts and brown sugar. Spoon mixture into centers of apples, patting in with a knife or narrow metal spatula.

Combine apple cider, lemon zest and lemon juice and pour around apples in cooker. Add stick cinnamon to liquid. Top each apple with a piece of butter.

Cover and cook on low-heat setting for 5 hours.

Sauce Directions:
In a heavy small saucepan, bring the ⅓ cup brown sugar, whipping cream, butter and corn syrup to a light boil over medium-high heat, whisking occasionally; reduce heat to medium.

Boil gently, uncovered, for 2 minutes more. Remove from heat.

Stir in vanilla and sea salt. Cool to room temperature before serving.

Transfer warm apples to dessert dishes.

Top each apple with a bit of the cooking liquid.

Serve with sea salt-caramel sauce and ice cream, as desired.