Dungeness crab season in San Francisco means great crab recipes and great crab cooking in restaurants and at home. Cioppino is our own hometown dish. This time of year, nearly every restaurant has a crab dish on special, and numerous folks at home follow suit with wonderful crab recipes of their own. Cioppino is one of my all-time favorites, and I put up a delicious recipe last year. But I'm always looking for versions that are easier and quicker to prepare, but still deliver big flavor.

This recipe owes a debt of gratitude to a friend who came to visit recently, and who cooked up a version of this delicious cioppino in under thirty minutes. She was kind enough to share her recipe for what she calls 'fast and easy cioppino.' After she left. I fine-tuned the recipe to my tastes and came up with the following.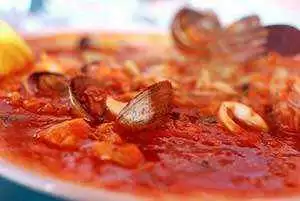 Ingredients:
10 manilla clams
10 mussels, fresh, cleaned and de-bearded
10 shrimp, fresh, cleaned and deveined
8 scallops, fresh, rinsed
1½ pounds cod, halibut, or other whitefish fillets, in 2-inch chunks
1 whole Dungeness crab, cleaned and cracked, plus juice
Note: If you add just meat, then about 1 pound of cooked Dungeness crabmeat
1 fennel bulb, cut lengthwise into wedges
2 medium onions, chopped
2 shallots, chopped
3 garlic cloves, chopped
3 tablespoons extra-virgin olive oil
2 or 3 bay leaves
3 teaspoons dried thyme
1/8 teaspoon dried hot red-pepper flakes
1 (28-ounce) can crushed tomatoes in juice
1 can 12-ounce V-8 juice (spicy, if preferred)
1 cup chicken broth
1 1/2 cups water
1 1/2 cups dry white wine
1 (8-ounce) bottle clam juice
Salt and pepper to taste
Directions:
Chop fennel, onion, shallots, and garlic.
Heat oil in a 5- to 6-quart heavy pot over medium-high heat, then stir in chopped vegetables, bay leaves, thyme, red-pepper flakes, 1 1/2 teaspoons salt, and 1/2 teaspoon black pepper.
Cover and cook over medium heat, stirring a few times, until vegetables start to soften, about 4-5 minutes. Add tomatoes with their juice, water, chicken broth, V-8 juice, wine, and clam juice.
Cover and cook at a low boil for 20 minutes, stirring occasionally. 
Stir in seafood and simmer, uncovered, until fish cooks through and mussels open wide, about 4 to 6 minutes (remove and discard any that do not open after 6 minutes).
Remove the bay leaves and toss out.
Serve with your favorite buttered bread, or over rice for a hearty meal.
Note: This recipe is very flexible. You may vary the seafood as you like in this dish. Add more or less clams, mussels, scallops to taste. Even throw in some fresh squid, if you like.

---
Image Caption: The finished San Francisco Cioppino. Photo: CC--karen_neoh