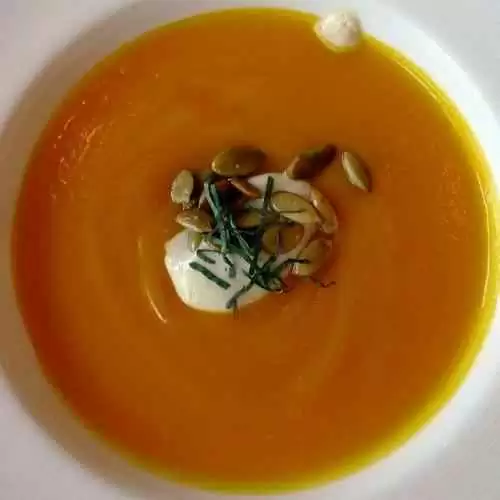 Caption: Perfect hot or cold, this butternut squash soup delivers. Photo: CC--Ruth Hartnup
Celiac.com 09/20/2016 - Pears freshen up this fall classic and make it perfect for summer or the early days of fall. Served warm or chilled, this soup makes a great focal point of a light dinner.
Ingredients:
4 tablespoons butter
4 cups chicken broth
4 ripe pears, peeled, quartered and cored
2½ pounds butternut squash, peeled, seeded and cut into 2-inch chunks
2 medium tomatoes, cored and quartered
1 large leek, pale green and white parts only, halved lengthwise, sliced and washed thoroughly
2 cloves garlic, crushed
2 tablespoons extra-virgin olive oil
½ teaspoon salt
1 sprig rosemary
Freshly ground pepper, to taste
1 tablespoon thinly sliced fresh chives, or scallion greens
Heavy cream
Directions:
In a 4-quart saucepan melt the butter over medium-high heat, add the leeks and garlic, and sweat them a bit.
Add squash, tomatoes, and pears, and sweat them a bit. Add salt.
Pour in just enough stock to cover the main ingredients.
Add sprig of rosemary, and bring to a simmer and cook until squash is fork tender about 15 to 18 minutes.
Remove rosemary.
Puree with immersion blender. Or carefully blend in small batches.
Add a touch of cream and season, to taste.
Top with fresh pepper, and sliced fresh chives, or scallion greens, and serve warm or chilled.