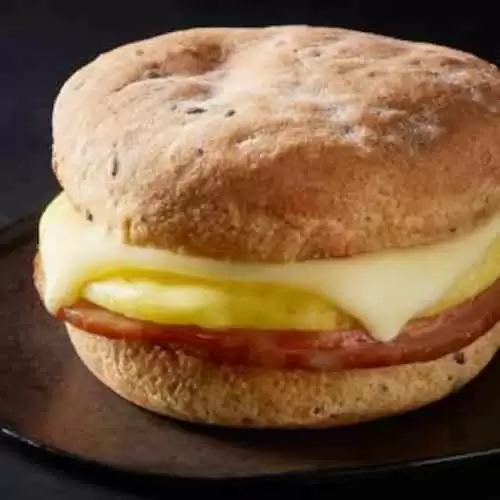 Caption: Is Starbucks' new breakfast sandwich really gluten-free? Photo: Starbucks Gluten-free Breakfast Sandwich--Starbucks
Celiac.com 03/24/2017 - Does it meet the FDA standard for a gluten-free product? Is it safe for people with celiac disease?
Starbucks' new Gluten-Free Breakfast Sandwich looks yummy. But, why does Starbucks' website feature a disclaimer saying the company cannot guarantee the absence of allergens, including wheat?
---
Celiac.com Sponsor (A12):


---
---
Celiac.com Sponsor (A12-m):


---
The sandwich itself is pretty standard fare, consisting of two slices of cherrywood-smoked Canadian bacon, an egg patty and reduced-fat white cheddar on a gluten-free roll.

The company website uses boldface type to tout the "gluten-free"-ness of the new offering, noting that the sandwich uses a "gluten-free roll," is "prepared in a certified gluten-free environment," and sealed "in its own oven-safe parchment bag to avoid any cross-contamination." Sounds good, so far, perhaps even safe for celiacs.

But then there's this little disclaimer at the bottom of the page saying that Starbucks "cannot guarantee that any of our products are free from allergens (including dairy, eggs, soy, tree nuts, wheat and others) as we use shared equipment to store, prepare and serve them."

Wheat? This product may contain wheat? Wheat contains gluten. Things that contain wheat are not gluten-free, and usually cannot be labeled as such.

So, what's the deal? Is the sandwich gluten-free or not? Is this a bit like when Pizza Hut offered a gluten-free pizza crust, but wouldn't guarantee a gluten-free pizza? How much wiggle room is built into Starbucks' disclaimer? The questions are basic ones. Is the product gluten-free? Is it safe for people with celiac disease, or not? If it is, then Starbucks has been unclear in declaring the suitability of their product for people with celiac disease.

If not, then Starbucks has been equally unclear in declaring the unsuitability of their product for people with celiac disease. Also, if the company can't guarantee a gluten-free product, and won't recommend it for people with celiac disease, then who is this product for?

The Starbucks website features lots of talk about the "gluten-free," aspects of the product, and the serving process, but there is no language stating that the sandwich, as served is "under 20ppm" gluten, which is the FDA standard for advertising package goods as "gluten-free." There is no claim that the product is safe for people with celiac disease.

The Starbucks Gluten-free Breakfast Sandwich sounds very much like something that many people in the celiac disease community might welcome…IF it's actually gluten-free. Let's hope it is. Let's hope this was just a mix-up by Starbucks, perhaps the result of an over-zealous legal department.

Otherwise, it would seem that, without more clarity, people with celiac disease could be confused or mislead by the claims, and maybe influenced by the ubiquitousness of Starbucks and their promotional campaign into trying something that might harm them.

Celiac.com is reaching out to Starbucks for comment. We look forward to sharing their reply.

Until it becomes clear that this product is actually gluten-free, and suitable for everyone, Celiac.com urges celiac sufferers to use caution, and to follow the story here for more updates.

Source: