Celiac Disease and Gluten-Free Diet Support
---
---
---
---
Follow / Share
FOLLOW US:
SHARE:

Popular Articles
Angel Food Cake with an Irish Twist (Gluten-Free)
Angel Food Cake with an Irish Twist (Gluten-Free)
Published 02/26/2009
Rating:
In the spirit of all things Irish this month, I thought I'd experiment with a twist on an old favorite – Angel Food Cake.
Irish Cream Liqueur may be made at home or purchased as a manufactured product. It does contain whiskey derived from gluten-containing grains, but the distillation process removes all gluten, and (lucky for us) renders the drink gluten-free.
There are several brands available, but only some that are willing to state that they are gluten-free. Bailey's Irish Cream is not one of them. Despite the fact that there should be no gluten-containing ingredients whatsoever in Irish cream, Bailey's is unwilling to make any statement that it is gluten-free (despite my repeated attempts to get information from them on the gluten-free status of their product). In stark contrast to Bailey's corporate policy, St. Brendan's Irish Cream clearly states on its website that it is gluten-free.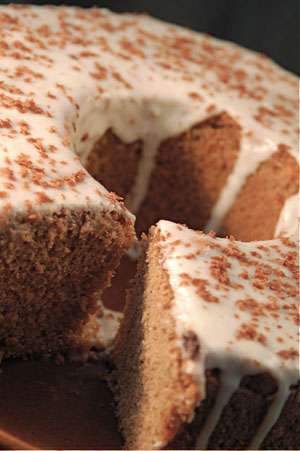 While it is unlikely that brands such as Bailey's contain any gluten (in fact, they state that their whiskey is triple-distilled!), there is no reason to patronize a brand that refuses to take the time to determine whether or not their product contains gluten. Reward companies which acknowledge the importance of their gluten-free consumers; go directly to brands like St. Brendan's if you want to purchase Irish Cream Liqueur. I have also posted a homemade recipe for Irish Cream Liqueur below the cake recipe, if you'd like to go head-first into the Irish spirit!
You can make this cake as written, or feel free to substitute orange or lemon juice for the Irish Cream Liqueur and lose the cocoa if you don't want that either. This recipe is a great foundation for whatever taste you're seeking, any time of year!
Angel Food Cake - Irish Style
Ingredients:
6 eggs, separated
1 cup granulated cane sugar
½ cup confectioners sugar
1 ¼ cup Jules' Nearly Normal GF All Purpose Flour
2 tablespoons cocoa (optional)
3 tablespoons Irish Cream Liqueur
¼ cup boiling water
Directions:
Preheat the oven to 300 F convection or 325 F static.
Sift the All Purpose Flour, cocoa and confectioners sugar together in a small bowl and set aside.
Separate the eggs, beating the whites until stiff peaks form, then set that bowl aside. In another bowl, beat the yolks and the granulated sugar until light. Add the boiling water and Bailey's next, beating until blended. Finally, stir in the flour-confectioners sugar mixture until incorporated.
Fold the beaten whites into the other mixture by gently stirring with a rubber spatula. When mixed, pour into an ungreased 10-inch tube or spring form pan. Bake for 30 minutes, then increase the heat to 325 F convection or 350 F static and bake for another 20-25 minutes, or until a cake tester comes out clean. Invert the pan and allow to cool before removing the cake by sliding a knife around the outside of the cake to release the cake from the sides.
Glaze (optional):
8 oz. cream cheese (can use fat free or Tofutti Better than Cream Cheese)
1 cup confectioners' sugar
½ cup heavy cream (can use half & half, but use less than ½ cup or use Soyatoo Soy Whip)
Chocolate shavings (optional)
Whip the cream cheese and sugar until smooth, then slowly stir in the cream to make spread-able consistency. Drizzle over cake and sprinkle chocolate shavings on top.
Recipe for homemade Irish Cream Liqueur
Ingredients:
1 ¼ cup Irish whiskey or bourbon
1 can (14 oz.) sweetened condensed milk
4 eggs
2 tablespoons gluten-free vanilla extract
2 tablespoons chocolate syrup
½ teaspoon almond extract
1 tablespoon powdered instant coffee or espresso
Directions:
In a blender, blend all the ingredients at low speed until smooth. Refrigerate in a tightly-sealed bottle for up to one month. Shake or stir before serving over ice or in recipes.
Celiac.com welcomes your comments below (registration is NOT required).

Get Email Alerts (More Info)
Article Options
Jules Shepard
Atop each of Jules Shepard's free weekly recipe newsletters is her mantra: "Perfecting Gluten-Free Baking, Together." From her easy-to-read cookbook ("Nearly Normal Cooking for Gluten Free Eating") to her highly rated reference for making the transition to living gluten free easier ("The First Year: Celiac Disease and Living Gluten Free"), Jules is tireless in the kitchen, at the keyboard and in person in helping people eating gluten free do it with ease, with style and with no compromises.
 
In the kitchen, she creates recipes for beautiful, tasty gluten-free foods that most people could never tell are gluten free. As a writer, she produces a steady stream of baking tips, living advice, encouragement and insights through magazine articles, her web site (gfJules.com), newsletter, e-books and on sites like http://celiac.com and others. Jules also maintains a busy schedule of speaking at celiac and gluten-free gatherings, appearing on TV and radio shows, baking industry conventions, as well as teaching classes on the ease and freedom of baking at home.
 
Her patent-pending all-purpose flour literally has changed lives for families who thought going gluten free meant going without. Thousands read her weekly newsletter, follow her on Twitter and interact with her on FaceBook. Â 
View all articles by Jules Shepard
Attachments
4 Responses:
In Celiac.com's Forum Now:
Welcome! Here is a link to our Newbie 101 thread that you might find useful. I can only comment on those foods that I have in my home or have purchased. 1. Nutella is and it states it in the label. 2. Skippy PB is gluten-free (not stated, but ingrediants are). 3. ...
In the beginning, you might find ANY gluten free bread abhorrent. So, you might wait a few months to give yourself time to forget what wheat bread tasted like.
In my brief research, I did not find any public papers indicating villi blunting for Losartan specifically. There was research and a law suit on olmesartan (other celiac.com members have pointed out). Dr. Hart may have been making clinical observations or has access to medical research that is...
I did find a local store that carries the Canyon House brand and will give that a try. It can be tough as I live in a fairly rural area and we don't have a lot of the resources many of the more urban areas do. It is a 1 hour round trip just to get to the closest town with anything like a Trader ...
Hello, Often drugs that end in ?artan are ARBs, and they work by blocking the angiotensin receptors. I?m not sure what the exact difference is between the two medications you mention, though. Have you called the manufacturer of losartan to see if any of the fillers contain gluten? It might b...