Celiac Disease and Gluten-Free Diet Support
---
---
---
---
Follow / Share
FOLLOW US:
SHARE:

Popular Articles
Crusty Gluten-Free French Bread (Baguettes)
Crusty Gluten-Free French Bread (Baguettes)
Published 11/24/2009
Rating:
If you crave the crusty on the outside, soft and chewy on the inside French breads of your former life with gluten, give this recipe a try. It's simpler than you might think, and it will make quite an impression on your table for any meal!
This recipe is easily doubled to make two baguettes.
Ingredients:
1 ¼ cup very warm water
2 ¼ tsp rapid rise yeast (1 packet)
1 tsp. granulated cane sugar
1 tsp. sea salt
2 ¼ cups Jules Gluten Free All Purpose Flour
Milk (dairy or non-dairy) or mixed egg wash for brushing on uncooked loaf (the milk will help to brown the loaf; an egg stirred with a tablespoon of water will make the loaf shiny and lightly browned)
Corn meal
Directions:
Prepare a proofing area to let your loaf rise; a good option is to place the loaf in a preheated 200 F oven after you turn the oven off.

If you have a baguette pan, spray with non-stick cooking spray and sprinkle corn meal along the bottom of the pan. If you are using a cookie sheet instead, line with parchment paper and sprinkle corn meal onto the paper, then line up two dowl rods or other forms to help keep the bread in the long thin shape while it's rising and cooking; wrap these dowl rods with aluminum foil and spray with cooking oil.

In a small bowl, mix the sugar, yeast and very warm water and set aside to proof for 5 minutes (if, after 5 minutes, the yeast is not bubbling, throw it out and start again with fresh yeast).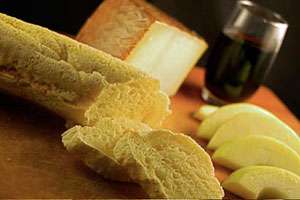 In a large mixing bowl, whisk together the Jules Gluten Free All Purpose Flour and salt. With the beater blade or dough hook on your mixer, slowly work in the yeast mixture with the flour and salt. Once fully integrated, beat an additional 2 minutes on medium-high. The dough will be very wet at this point.
Scoop the dough into a gallon size zip-top bag with 1 inch cut from a bottom corner of the bag. Squeeze the bag to remove the air, then squeeze the dough through the cut hole to form one long loaf in your prepared baguette pan or in between your prepared dowls on the parchment-lined cookie sheet.
Gently brush the milk or mixed egg wash all over the exposed areas of the loaf with a pastry brush. Cover the loaf with wax paper sprayed with cooking spray and set it in your warmed oven or other proofing spot for 20 minutes.
Preheat oven to 410F and place a baking pan with water into the oven. Leave this pan in the oven during the baking process as well – the humidity created by this heated water will help the bread to form an extra crunchy crust.
Once risen, uncover the baguette and make 3 or 4 diagonal cuts into the dough with a serrated knife, cutting approximately ¼ inch deep. If you have a clean spray bottle, fill it with water and spritz the bread with water before baking.

Bake for 20 minutes and brush the top of the bread with milk or egg wash again, then bake for 20 minutes more, or until a toothpick inserted into the bread comes out clean and the internal temperature of the bread is 205-210F.
Cool on a wire rack, removed from the pan, until ready to serve.
Celiac.com welcomes your comments below (registration is NOT required).

Get Email Alerts (More Info)
Article Options
Jules Shepard
Atop each of Jules Shepard's free weekly recipe newsletters is her mantra: "Perfecting Gluten-Free Baking, Together." From her easy-to-read cookbook ("Nearly Normal Cooking for Gluten Free Eating") to her highly rated reference for making the transition to living gluten free easier ("The First Year: Celiac Disease and Living Gluten Free"), Jules is tireless in the kitchen, at the keyboard and in person in helping people eating gluten free do it with ease, with style and with no compromises.
 
In the kitchen, she creates recipes for beautiful, tasty gluten-free foods that most people could never tell are gluten free. As a writer, she produces a steady stream of baking tips, living advice, encouragement and insights through magazine articles, her web site (gfJules.com), newsletter, e-books and on sites like http://celiac.com and others. Jules also maintains a busy schedule of speaking at celiac and gluten-free gatherings, appearing on TV and radio shows, baking industry conventions, as well as teaching classes on the ease and freedom of baking at home.
 
Her patent-pending all-purpose flour literally has changed lives for families who thought going gluten free meant going without. Thousands read her weekly newsletter, follow her on Twitter and interact with her on FaceBook. Â 
View all articles by Jules Shepard
In Celiac.com's Forum Now:
Designed to reduce or eliminate symptoms of gluten contamination in gluten-sensitive individuals, the product known as AN-PEP, marketed in the U.S. as Tolerase G, is a prolyl endoprotease enzyme, derived from Aspergillus niger, that has shown promise in breaking down gluten proteins. The latest ...
I can not help you with a cheaper price (google it), but if you have celiac disease, I would make sure the alternative gluten free flours are not milled with gluten flours by calling the manufacturer. I personally make sure that my gluten-free flours are certified gluten free. I do not worry ...
I think that your villi are intact. So, normally that would mean no evidence of celiac disease. But Victoria is right, that they should have run a celiac blood panel to help rule out celiac disease. Why? The small intestine is vast. If spread out, it is larger than a tennis court! The biops...
Yes, it is the same test. When used in conjunction with celiac testing, it verifies that the celiac IgA test results are valid. Used alone (not running the celiac tests), if the Immunoglobulin A result is above or below range....then you are dealing with another set of problems. For example,...
Grass fed is just the natural, traditional way of cattle eating -- eating grass on the range. People now pay a higher price for this kind of meat. It is a leaner meat because cattle do a lot of walking around to graze. Cattle, in feed lots or a combination, fatten up fast on a grain diet (e...