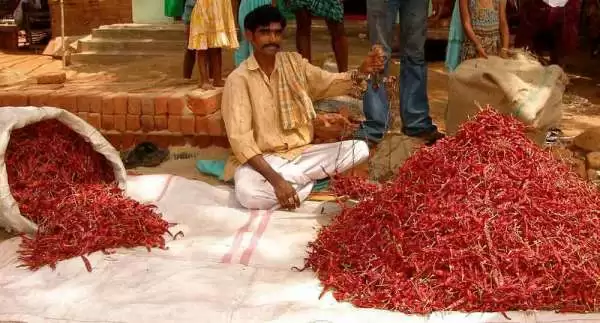 Caption: Indian spice vendor. Image: CC BY 2.0--Bryce Edwards
Celiac.com 05/25/2020 - A food survey in India found that ten percent of grain-based foods labelled "gluten-free," and more than one-third of products that are "naturally gluten-free," have been found to be contaminated with gluten, with some products testing at 90 times permitted gluten levels.
Gluten contamination is a serious and potentially dangerous problem for people with celiac disease, since gluten consumption by celiacs triggers an immune reaction that damages the small intestine, and can lead to serious health complications over time.
---
Celiac.com Sponsor (A12):


---
---
Celiac.com Sponsor (A12-m):


---
For people with gluten or wheat allergies, gluten consumption can trigger serious allergic reactions, including anaphylactic shock, and potentially death. A research team at the National Institute of Nutrition (NIN) in Hyderabad, India bought 160 grain-based food products, including RTE foods, flours, grains, from regional retail shops and online grocers. They then analyzed these products for gluten content. A total of 51 products were labelled "Gluten-Free," while 109 were naturally gluten-free, and supposedly contained no added gluten, including dahl, millet, quinoa, buckwheat, oats, etc.

Tests showed that many of these products labelled "Gluten-Free" contained gluten at levels above the legal limit of 20 ppm the Food Safety and Standards Authority of India (FSSAI). Other products contained gluten at levels above 200 ppm for products labelled "Low-Gluten."

The team's analysis showed that nearly 40% of naturally gluten-free products and 10% of food products labelled "Gluten-Free" contained gluten levels above legally permitted limits. One of the biggest culprits was oats, with almost 85% of oat products showing gluten levels above 20ppm, and the most contaminated sample clocking in at 1,830ppm of gluten, over 90 times the permitted levels.

Flours labelled "Gluten-Free" are "still risky no matter the source though - nearly 70% of the local brands, 30% of the flour mill samples and 13% of the branded samples were contaminated, likely due to cross-contamination from the usage of common collection bags, utility areas or handling procedures with wheat flour."

Of the naturally gluten-free products, rice (44%), ragi (32%) and sorghum (20%) all showed significant levels of gluten contamination, as did all four samples of gram flour. By contrast, for products labelled "Gluten-Free," the biggest problem was seen in from multigrain products, with high gluten levels seen in 25% of those products.

The team found no gluten contamination in branded rice, ragi or sorghum, but did find contamination in branded millets and gram flour, said principal investigator Dr Devindra. The safest products in this study turned out to be buckwheat, quinoa, pulses, millets and soy, none of which showed elevated gluten levels.

Products labelled "Gluten-Free" were generally safer than those which are "naturally gluten-free." Prior studies have shown that celiac disease rates in India may be higher than 1% previously reported. In India, as in many countries, many people rely on naturally gluten-free foods to treat celiac disease and lower the financial costs of a gluten-free diet. That makes the revelations about the dangers of "naturally gluten-free" foods even more disturbing.

The problem of gluten contamination in gluten-free foods is not limited to India, as Australia, Brazil, UK, and the United States have all had similar reports about gluten contamination in our otherwise gluten-free food supply chain.

Contaminated products could be one reason that so many people with celiac disease, who are trying to follow a gluten-free diet, are exposed to gluten on a regular basis.

Read more in Food Additives & Contaminants: Part A; Volume 37, 2020 - Issue 4