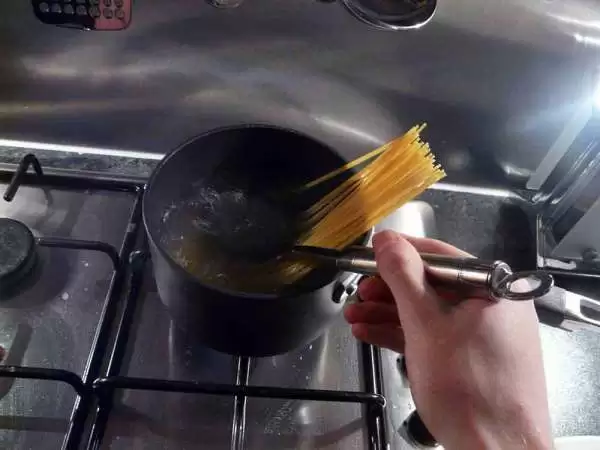 Caption: Image: CC BY-SA 2.0--threefingeredlord
Celiac.com 10/14/2019 - One of the big debates among people with celiac disease concerns how vigilant celiacs need to be to make sure they avoid gluten. What does science say about gluten contamination in three common scenarios? How careful do you need to be about gluten contamination?
For example, how likely are you to get gluten over 20ppm if you share a toaster, pasta water, or slice a cupcake with the same knife used to cut a non-gluten-free cupcake?
---
Celiac.com Sponsor (A12):


---
---
Celiac.com Sponsor (A12-m):


---
A team of researchers recently set out to assess three common scenarios where people with celiac disease might reasonably fear gluten contamination. How did the actual risk for each situation measure up?
Scenario 1: Water used to cook regular pasta is reused to cook gluten-free penne and fusilli. The gluten-free pasta is then rinsed and served.
Scenario 2: Toasting Gluten-Free Bread in an Uncleaned Shared Toaster Gluten-containing bread is toasted in a toaster. Immediately afterward, gluten-free bread is toasted in the same toaster.
Scenario 3: Slicing a Gluten-Free and Regular Cupcake with Same Knife
The research team included Vanessa M. Weisbrod, BA; Jocelyn A. Silvester, MD PhD; Catherine Raber, MA; Joyana McMahon, MS; Shayna S. Coburn, PhD; and Benny Kerzner, MD. They are variously affiliated with the Celiac Disease Program, Children's National Health System, Washington, DC, USA; and the Harvard Celiac Disease Program, Boston Children's Hospital, Boston, MA.
Their paper titled, Preparation of Gluten-Free Foods Alongside Gluten-Containing Food May Not Always Be as Risky for Celiac Patients as Diet Guides Suggest, appears in Gasterojournal.org.
Control samples of gluten-free pasta, bread, and cupcakes all tested below the limit of detection. Samples were individually packaged in plastic bags with randomized sample numbers. To avoid "hot spots" and ensure even analysis, all items were homogenized for analysis. 
Gluten content was measured with R5 sandwich ELISA (R7001, R-Biopharm, Darmstadt, Germany) which has a limit of detection of 5 ppm gluten by Bia Diagnostics (Colchester, Vermont). All control samples were similarly tested. 
The team then quantified gluten samples as under 5ppm, 5-10ppm, 10-20ppm, or over 20ppm, and based their confidence intervals upon binomial distribution.
Boiling Gluten-Free Pasta in Regular Pasta Water
In the first scenario, the team boiled sixteen-ounce packages of gluten-containing Barilla brand penne and fusilli separately in stainless steel pots in fresh tap water for 12 minutes, then removed with strainers. The water was reused to cook Dr. Schar gluten-free penne and fusilli. The team also tested the effect of rinsing some samples of the cooked and contaminated pasta under cold tap water for 30 seconds. 
The team found that Gluten was detected in all pasta samples cooked in water used for gluten-containing pasta, ranging from 33.9ppm to 115.7ppm. The rinsed gluten-free pasta samples tested at 5.1 ppm and 17.5 ppm detectable gluten. 
Interestingly, rinsing pots with water alone after cooking gluten-containing pasta was as effective as scrubbing with soap and water to prevent detectable gluten transfer. 
Toasting Gluten-Free Bread After Non-Gluten-Free Bread
In the second scenario, the team toasted regular gluten-containing bread in two rolling toasters in a busy hospital cafeteria at 20-minute intervals, or in one of three shared pop-up toasters. Immediately after toasting the gluten-containing bread, they toasted Dr. Schar Artisan White Bread. Gluten-containing crumbs were visible in all toasters. They team did not clean the toasters. 
The team found that toasting in a shared toaster was not associated with gluten transfer above 20ppm; the four samples with detectable gluten had levels ranging only from 5.1 ppm to 8.3 ppm gluten.
Slicing a Gluten-Free Cupcake with Knife Used on Gluten Cupcake
In the third scenario, the team used a knife to slice frosted gluten-containing cupcakes. The knife was then reused to slice a frosted gluten-free Vanilla Cupcake from Whole Foods Gluten-Free Bake House. 
The knife was then washed in soap and water, rinsed in running water, or cleaned with an antibacterial hand wipe (Wet Ones) and a new gluten-free cupcake was sliced. Both gluten-free cupcakes were analyzed for gluten content.  Although 28/30 cupcake samples had detectable gluten transfer, only 2/28 tested over 20ppm. 
The team found that cutting cupcakes with a knife used to cut frosted gluten-containing cupcakes was associated with low-level gluten transfer even when crumbs were visible on the icing adhered to the knife. All three knife washing methods tested were effective in removing gluten. 
The team acknowledges the limitations of their study, including small sample size, etc. They are calling for further study to assess best kitchen practices for people with celiac disease who are trying to avoid gluten contamination in shared kitchens.
Main Takeaways
1) Some kitchen activities may pose less of a risk of cross-contact with gluten than is commonly believed. 
2) Standard washing effectively removes gluten from shared utensils.
3) Cooking gluten-free pasta in the same water as regular gluten-containing pasta is likely okay, as long as the pasta gets rinsed well.
4) Sharing a toaster is unlikely to result in gluten contamination.

Read more in Gastrojournal.org
Conflict of Interest Declaration: JAS has served on an advisory board of Takeda Pharmaceuticals and received research support from Cour Pharma, Glutenostics, and the Celiac Disease Foundation. The other authors have no conflicts of interest to disclose. Funding Source: Supported by philanthropic gifts from the Celiac Disease Foundation, Dr. SCHAR USA, and Bia Diagnostics. JAS is supported by the National Institute of Diabetes and Digestive and Kidney Diseases of the National Institutes of Health under Award Number K23DK119584.